The Independent's journalism is supported by our readers. When you purchase through links on our site, we may earn commission.
20 pledges for 2020: One month into my new vegan diet, I'm feeling positive about what lies ahead
One month into his pledge, Adam Hamdani isn't missing anything. Well, maybe except Domino's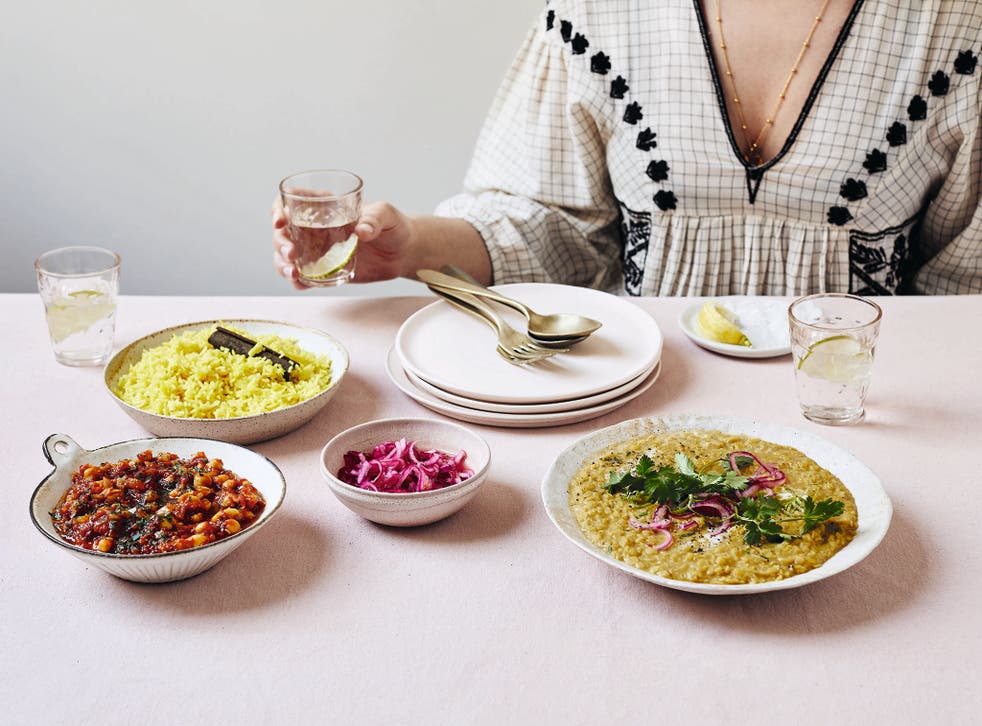 It's 9am on New Year's Day. I'm lying in bed feeling refreshed after opting not to enjoy the festivities too much on the most overrated evening of the year, when suddenly it hits me: I'm vegan now.
The realisation struck as soon as the 10-second countdown to midnight finished: from this moment on there will be no more dairy or meat in my life.
Rewind 24 hours and I was, for lack of a better word, shoving anything meat-related down my throat. My mum made me her incredible lamb curry for lunch (I had two servings obviously) and dinner was KFC. Not the talked about – and quite frankly disappointing – new vegan range, but fully fried chicken goodness. I wanted to savour the last moments.
Luckily, I had prepared. The intimidating feeling of cooking a type of food you've never made before wasn't there. For breakfast? Beans on toast with vegan cheese from Violife. Nice and easy.
For lunch was Oumph's meatless kebabs with sweet potato fries and vegetables. You can taste the difference – but that's not a bad thing. They're packed full of flavour.
My big concern, silly enough, was what would I snack on throughout the day? Fruit is good but I want chocolate, I want savoury, I want sweet. Galaxy do a really nice range of vegan chocolates, which still taste really nice. You couldn't tell the difference.
12 best vegan cookbooks

Show all 13
Then it was on to dinner; I was looking forward to this. I had a range of ready-made food available to me from Allplants, a subscription service that sends you ready-made meals with lots of vegan versions of popular cuisines.
There's Mexican, Chinese, some classic British food and a whole host of options to take your pick from. Luckily too, they're both healthy and affordable – boxes start from £4.99 and there's always a sale or deal on to get yourself a bargain. If they don't take your fancy then plenty of other places do similar subscription-style packages too, Abel & Cole and Greedy Lama are both recommended by us.
It's not just the food that I'm looking to change, either. I want to incorporate other things into my daily life: cruelty-free beauty products included (I have a vigorous skincare routine) which my fellow pledger Jessica Jones is committing her 2020 to and even dishwasher and washing machine tablets, smol do a great range. I'm hoping to find some good ones over time so I can completely erase my use of the typical shelf items you see.
One month down the line, I feel good. I've kept up my running every week, I'm losing weight at a healthy rate and – bar one weekend when my housemates ordered a Domino's and I was sat there eating an aubergine tagine – I haven't missed any foods or come close to a slip-up. Yet.
Register for free to continue reading
Registration is a free and easy way to support our truly independent journalism
By registering, you will also enjoy limited access to Premium articles, exclusive newsletters, commenting, and virtual events with our leading journalists
Already have an account? sign in
Register for free to continue reading
Registration is a free and easy way to support our truly independent journalism
By registering, you will also enjoy limited access to Premium articles, exclusive newsletters, commenting, and virtual events with our leading journalists
Already have an account? sign in
Join our new commenting forum
Join thought-provoking conversations, follow other Independent readers and see their replies