Israel moves out of Gaza
The withdrawal of Israeli forces and settlements met with resistance from some Jewish settlers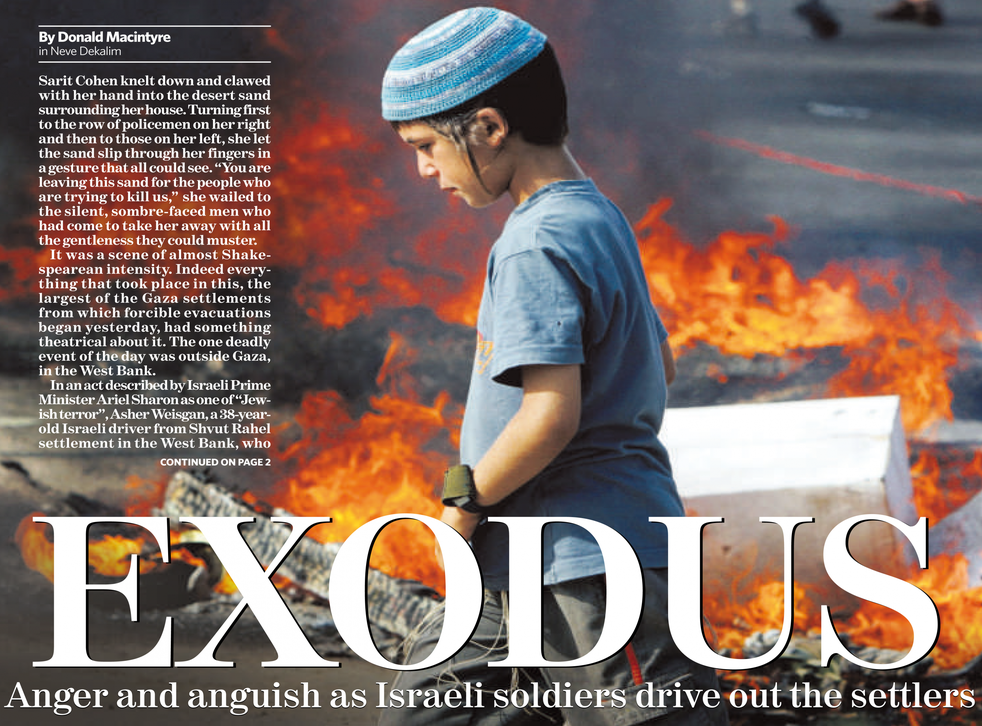 18 August 2005
Sarit Cohen knelt down and clawed with her hand into the desert sand surrounding her house. Turning first to the row of policemen on her right and then to those on her left, she let the sand slip through her fingers in a gesture that all could see. "You are leaving this sand for the people who are trying to kill us," she wailed to the silent, sombre-faced men who had come to take her away with all the gentleness they could muster.
It was a scene of almost Shakespearean intensity. Indeed everything that took place in this, the largest of the Gaza settlements from which forcible evacuations began yesterday, had something theatrical about it. The one deadly event of the day was outside Gaza, in the West Bank.
In an act described by Israeli Prime Minister Ariel Sharon as one of "Jewish terror", Asher Weisgan, a 38-year-old Israeli driver from Shvut Rahel settlement in the West Bank, who transported workers to and from the industrial area in the settlement of Shiloh every day, killed two Palestinian passengers with a stolen gun and ran into an industrial area, killing another worker and wounding two others.
In Neve Dekalim, as security forces converged on the synagogue where most of the extreme right anti-disengagement youth were holed up, Sarit Cohen's family sang their last prayers outside the house. Led by the matriarch, wearing a pillbox woollen hat and long skirt and clutching a large, black bound and embossed Bible, a slow procession of about 15 people took place: the family itself, with two daughters weeping copiously, and local well-wishers. It ended at the waiting bus, the matriarch herself stopping frequently to declaim to passing soldiers and policemen the error of their ways. As the family boarded the bus, a friend of the Cohens and their religious teacher, declared: "This is a beautiful family who has never hurt anybody and had a life project. To give a prize for terror, to show that terror works, that is not what the world needs."
The atmosphere was funereal. The Cohens' friend tore his shirt as the family reached the bus in the familiar gesture of Jewish mourning. The police made us wait 10 metres down from the garden gate as the family left, out of respect for their wishes. It was hard to realise that no one had died here. Or that the dark mood of bereavement was because a democratically elected government was dismantling communities on occupied land, long declared illegal under international law; a move which the world community judges as an essential contribution to peace. And one for which the 8,500 settlers themselves are being lavishly compensated and rehoused at a cost of around $1bn.
This is not, of course, to underestimate the strength of feeling of the settlers as the army began yesterday afternoon to evacuate them with a combination of what was officially described as "sensitivity and determination". An apt description for an operation by an army not known for its gentleness in other conflicts. Although only about 100 of 450 families had volunteered to leave by the official deadline, Brigadier General Nitzan Muriel, observing the operation, said that "the level of struggle" by the settlers themselves was so far lower than the army had allowed for. Some people had put up a "small struggle" for example by insisting on being carried out of their homes "because they want to be in a position to say to their children and their grandchildren, 'yes we resisted evacuation'."
Yet this does not adequately describe another Cohen evicted yesterday. Shmuel, a check-shirted, black-bearded bear of a man, struggled with such ferocity for every one of the 15 metres from his front door to the waiting bus, that seven well-trained soldiers were required to carry him before forcing him into the vehicle.
His wife required four women soldiers to carry her as she also struggled all the way, as did several of their seven tearful children. The officer in charge of the operation, who gave his name only as Major Sagy, said this family was not unique. Most had either walked out quietly, or had asked to be carried out simply in order not to be seen leaving voluntarily. "But we visited this family in the morning and we realised that unfortunately we would have to use force," he added.
The Zanora family refused to answer the door to police. Having at first said they would do so after they had prayed at 1.30pm, they failed again to answer the repeated knocks. Police used a little sledge hammer to force open the door and found the couple, with their three children, sitting impassively on the floor awaiting their forcible eviction.
And so the evacuation went on. General Muriel said they would deal with the bulk of the infiltrating youths, "up to 3,000 of them", once families were out. The woman who set fire to herself was in hospital with 70 per cent burns. By yesterday evening the only deaths were those of the three Palestinians in Shiloh.
Yet even late yesterday, some could not believe what was happening. A US tax attorney who came to Gush Katif from Boston, Massachussets, urged, in a stage whisper, a gang of extreme right infiltrators to stop burning green plastic skips of rubbish to create billowing, angry clouds of smoke.
The skips would be needed in months to come, he told them, because even at this late stage God would prevent the evacuation taking place. Around him, police were carrying scores of screaming, struggling, teenage ideologues into prison buses.
Register for free to continue reading
Registration is a free and easy way to support our truly independent journalism
By registering, you will also enjoy limited access to Premium articles, exclusive newsletters, commenting, and virtual events with our leading journalists
Already have an account? sign in
Register for free to continue reading
Registration is a free and easy way to support our truly independent journalism
By registering, you will also enjoy limited access to Premium articles, exclusive newsletters, commenting, and virtual events with our leading journalists
Already have an account? sign in
Join our new commenting forum
Join thought-provoking conversations, follow other Independent readers and see their replies