AIDSfree: The crumbling hospital that treats 120,000 people for HIV
Global epidemic sees teenage girl infected with HIV every three minutes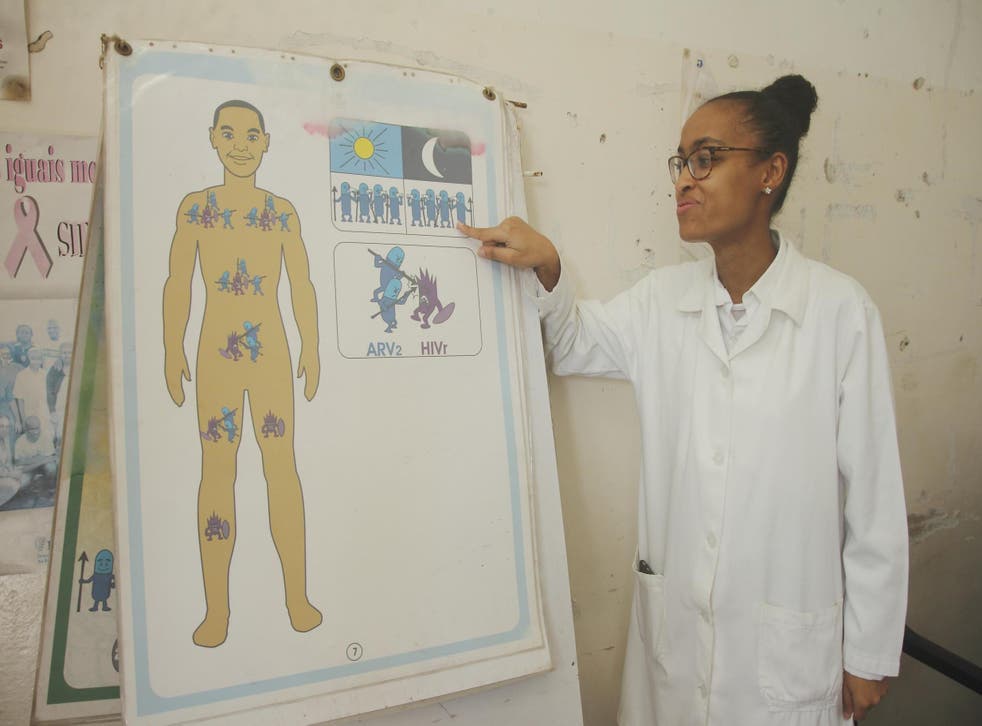 Amid the peeling paint and damaged walls of Maputo's largest hospital, the medical staff are working on the front line of a global epidemic that sees a teenage girl infected with HIV every three minutes in Mozambique.
It is a statistic – one meaning some 750,000 girls aged between 15 and 19 around the world live with HIV – that is particularly resonant in the capital of Mozambique which, along with its neighbour South Africa, is one of the countries worst affected by Aids.
"Here we have 120,000 people in treatment," said Maputo's HIV supervisor Dr Sheila Issufo of Clinic 1 Maio, the colonial-era hospital that is the city's HIV treatment centre. "In a month we can identify 2,000 new cases."
Dr Issufo is honest about the limitations staff operate under. There are no computers, meaning records risk being lost, and there is also often a risk of a lack of adequate medicines.
"This is an old building," she said. "Some blocks are not used at the moment. It is not safe."
Faced with such a situation, help often has to come from outside sources, particularly the Elton John AIDS Foundation and Britain's Department for International Development.
The UK is the second largest donor to the Global Fund to Fight Aids, Tuberculosis and Malaria, which last year disbursed £445m to Mozambique.
Britain is also focusing on trying to help the country's teenage girls avoid infection, and unwanted pregnancy, with £8m to help provide access to contraception and family planning facilities.
Low access to contraceptives, and a prevalence of early marriage, means that almost half of girls have two children by the time they are 18.
Elton John launches The Independent's AIDSfree campaign
"We are channelling funding to the Global Fund as that is for treatment such as antiretrovirals and other commodities such as tests," said Etelvina Mahanjane, DfID's local health adviser. "It also provides technical support to the ministry of health."
Similarly the Elton John AIDS Foundation supports programmes in the city, including to provide counselling for young people with HIV, which will now be kept going with the help of funds raised though our AIDSfree appeal.
Adelia was 19 when she learnt she was HIV positive. She believes she contracted the virus from her then boyfriend.
"I could not accept it," she said. "But when I started talking to people [through the EJAF-supported programme], I realised I was not alone. Hearing other people's stories made me realise I was not in the worse position. There were people who contracted HIV from rape, or were born with HIV. That helped me accept myself."
Some 13 per cent of people in Mozambique have HIV and 1.16 million people are being treated, which is believed to be just half of those that need it.
International Development Secretary Penny Mordaunt said: "We are proud that through UK Aid Match, the Elton John AIDS Foundation will accelerate access to HIV testing and treatment for vulnerable young people in Maputo city."
Join our new commenting forum
Join thought-provoking conversations, follow other Independent readers and see their replies