How AlUla's sustainability plan will stand the test of time
How AlUla's sustainability plan will stand the test of time
The Journey Through Time Masterplan is underpinned by 12 principles to overcome the environmental and socio-economic challenges to sustainability
Thursday 22 April 2021 13:10
With 200,000 years of human history and several millennia of flourishing civilisations, AlUla is undoubtedly a special place.
It's here that the early pilgrims passed through, stopping to rest their feet in AlUla Old Town, before continuing their journey from Damascus to Mecca.
It's here that travellers left their marks on the canyon walls at Jabal Ikmah in Aramaic, Dadanitic, Thamudic, Minaic and Nabataean, some thought to date back to the 1st millennium BCE, creating the Open Library of AlUla.
And it's also here that the Nabataeans built Hegra, the most important city in the southern reaches of their kingdom, and now Saudi Arabia's first Unesco Heritage Site, where the origins of the Arabic language can still be found.
Such rich cultural history is priceless. But how do you protect that heritage and the delicate desert landscape around it for the future? And how do you ensure that, like the archaeological treasures here, the safeguarding plan can withstand the test of time?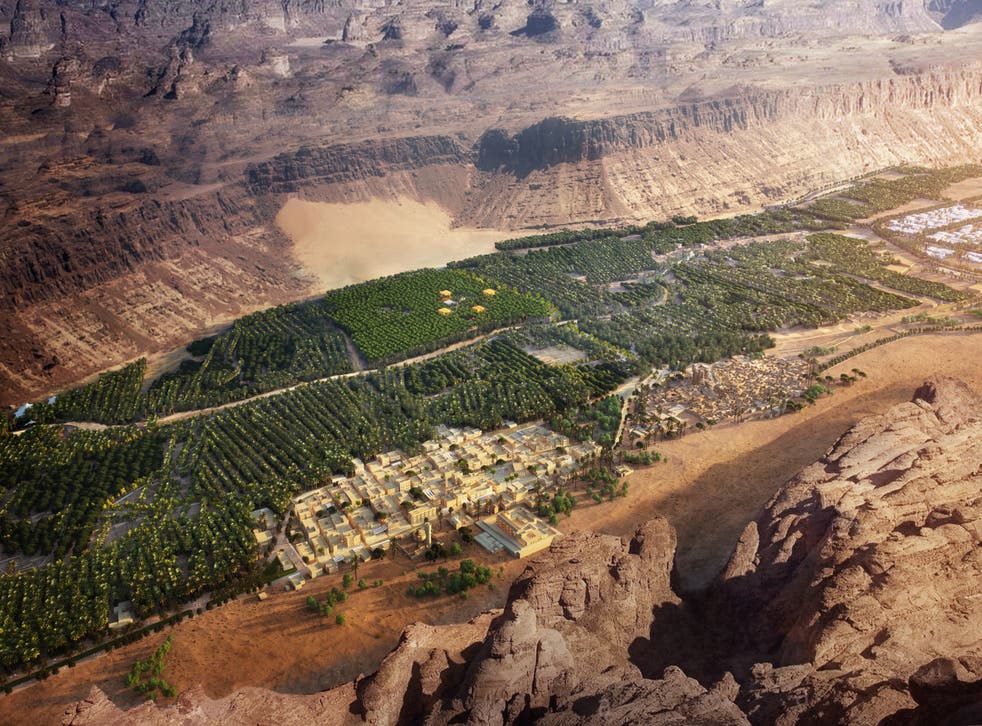 These are some of the questions that the Royal Commission for AlUla (RCU) has tried to address in developing the Journey Through Time Masterplan, a 15-year project to sensitively redevelop the region that's devised under the leadership of HRH the Crown Prince Mohammed bin Salman and the guidance of HH Prince Badr, the Saudi Minister of Culture and the Governor of RCU.
The Masterplan is underpinned by 12 principles, covering everything from tourism and conservation to community building and education initiatives, which all feed into each other. It creates an ecosystem that has an multiplier effect and ensures that it can continue to evolve over time - because sustainability isn't just about the environment, it's also about the people who live in it.
Across the board, a zero carbon policy has been applied to developments to ensure that AlUla will be net carbon neutral by 2035, which will in turn contribute to the Saudi Green Initiative.
To help achieve that goal, there's a concerted effort to reduce energy consumption. The use of renewable energy sources will be increased, and land such as the ancient oasis will be rejuvenated through the replanting of trees and better water management. On top of that, circular economy principles will be applied so that as much material as possible is recovered, recycled and reused to reduce waste.
Naturally, innovative technology will be adopted - but AlUla will also be taking the opportunity to reintroduce sustainable practices that have been used by past civilisations. It will build on the work done on developments like Jean Nouvel's Sharaan, a luxury resort that not only takes inspiration from the Nabataean architecture but also takes advantage of the cooling properties of a subterranean design - ideal for the arid environment - all while blending into the landscape.
To help conserve the delicate desert habitat, policies will be introduced to increase the environmental resilience of the area. New flood and water management policies will be employed to reduce and even reverse desertification for example. A new state of the art nursery will be tasked with growing over 200 species of native plants for land rejuvenation projects in AlUla. And to reduce the likelihood of man-made damage, new off-road policies will be introduced.
Of course, part of what helps a development stay sustainable over time is that it can also address social and economic challenges. That's why heavy investment in the local people has been integrated into the Masterplan.
Educational initiatives will be used to inspire those who live in AlUla to be invested in protecting their local environment and the heritage of the area.
By 2035, some 38,000 jobs will have been created through a strong local economy, driven by a productive and sustainable agricultural industry, thriving eco-tourism initiatives as well as a flourishing cultural hub of artists and artisans. There will be training opportunities, including for languages, arts and crafts, hospitality, and agriculture, to foster local talent and draw new ones to AlUla.
Discover AlUla: The Journey Through Time
And to improve the livability of the region, more public spaces will be created, including parks and gardens as well as scenic trails and paths, that will not only inject greenery into the region but also encourage low-impact forms of transport.
AlUla has already had millennia of civilisations under its belt, but thanks to Journey Through Time's multifaceted approach to sustainability, it will continue to thrive and grow for many more to come.
Learn more about AlUla and the Journey Through Time Masterplan here.