Brighton i360: The 500ft tower set to change the eccentric city by the sea
Residents are at odds over the i360 tower, which opens next week. Does it symbolise a golden future or encroaching corporatism? And why does a city with so many other problems need it? Kashmira Gander reports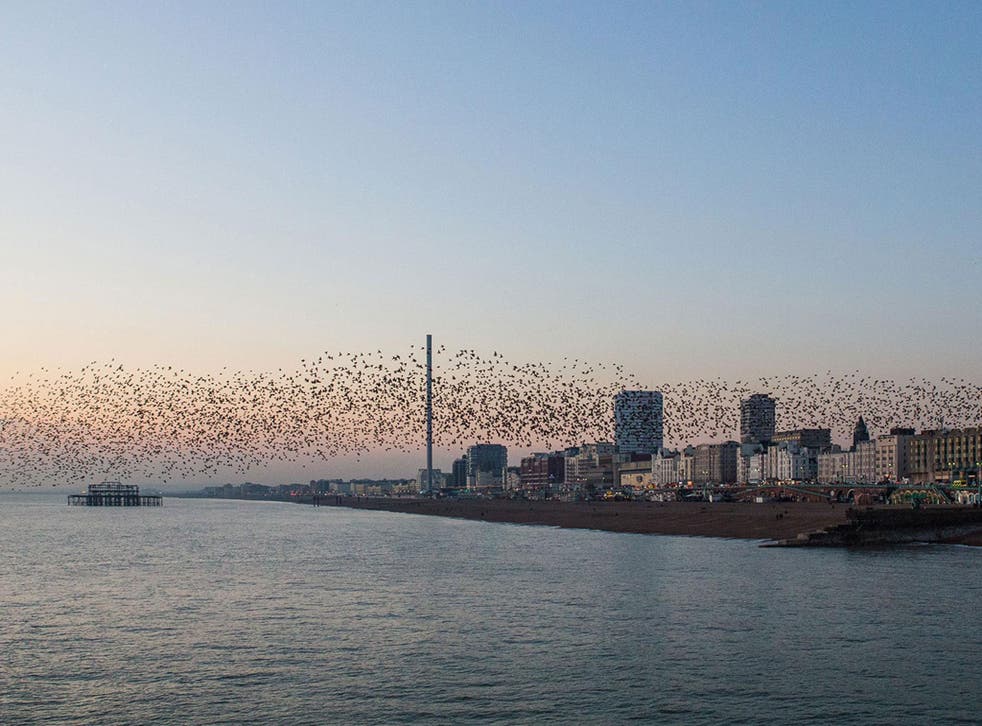 Illumined by the high-summer sun, my hometown of Brighton (pop: 273,400) throbs with life. The stretch of pebble beach between the gaudy rollercoasters of the Palace Pier and the burnt-out remains of the West Pier is filled with sunbathers. Among them, parents chat while their children happily pile up rocks - who cares that there's no sand? - or spread ice-cream around their chops. Cyclists ring their bells on the promenade above, across the road from the luxury Victorian beachfront hotels. A human wave of trendy sun-starved locals and tourists – both excitable teenage exchange students and well-dressed day-trippers from London – has spilled onto the burgundy-coloured cycle path. As always, the smell of burning cannabis wafts into a mix of hot concrete, vinegar-soaked chips and mini-donuts fried to the soundtrack of decent buskers; and a live cover-band performs to a happily boozy crowd outside a seafront club.
Not today, though. Today, Brighton looks tired under grey clouds. Although it is mid-July, the wind bites as I step onto the straight, mile-long road connecting the station to the seafront. In this unflattering gloom, the street's ornate whitewashed buildings – so resplendent in the sunshine - look like a mouthful of old yellow teeth. It's 4pm on a Friday afternoon, but the promenade between the two piers is deserted save for resilient dog walkers, a cluster of officer workers at a pub, and hardy tourists sneaking chips into their mouths before the salty sea air blows their hair over their faces. The jingle of the Victorian-style merry-go is a little unsettling without the happy murmur of a crowd.
It's on days like this that it is painfully clear that Brighton, which I left six years ago for a London university and never looked back, needs a little TLC. Since being awarded city status at the millennium, it has struggled to dovetail its history as a somewhat seedy, shifty seaside town with its future as a "proper" city (properly called Brighton and Hove, since it takes in its slightly more staid neighbour): one with a progressive and vibrant counter-culture, partly fuelled by its student population and thriving LGBT community, and cemented when the Brighton Pavilion constituency elected the UK's only Green Party MP in 2010. Now, the time for struggling should be over. Hundreds of millions of pounds is being poured into this liberal bubble sandwiched between the rolling South Downs and the sea. It has a wave to ride. Yet a fear of the unknown has only created new divides.
The Brighton i360 tower, the crowning attraction of the city's redevelopment – standing outside the derelict West Pier and opening to the public on 4 August – is a neat symbol of this rift. Sponsored by British Airways and designed by the London Eye architects Marks Barfield, the i360 is a 568-ft silver column on which a 200-person-capacity UFO-shaped glass pod with a mirrored bottom will slowly glide up and down. Each ride will take 20 minutes and give a view over 26 miles which includes not just the city but the English Channel, the South Downs and, on a clear day, the town of Bexhill and the city of Chichester on either side. Afterwards, visitors can dine at a restaurant using ingredients from Sussex.
It's a shame, then, that I'm introduced to my hometown's controversial new resident on such a miserable day. The weather doesn't flatter the aluminium facade when the impressive futuristic capsule isn't in action. But it's certainly an improvement on the derelict entrance to the West Pier, which was gutted by a mysterious fire in 2003. (In a nod to the site's history, the i360 is flanked by two beautiful replica-Victorian ticket booths.) And the i360 chief executive Eleanor Harris tells me the tower, proposed almost a decade ago, has been a catalyst for change in Brighton. She believes it has the potential to transform the city like the London Eye transformed the capital's Southbank, with the help of the Tate Modern and Millennium Bridge. It is tipped to attract 800,000 extra visitors and £25m a year, and create at least 440 new jobs in the city as a whole.
Already in the pipeline are plans to demolish the ugly concrete Brighton Centre venue and Odeon cinema on the seafront to make way for a £540m new exhibition and performance centre. A little over a mile west to the i360 on the coast, £200million is being thrown at the dilapidated 1930s King Alfred leisure centre site to make way for a new complex boasting swimming pools, badminton courts, a gym, a gymnastics centre, cafes, crèches and a martial arts dojo designed by Stirling Prize winners Haworth Tompkins. Almost two miles along the east coast from the Palace Pier, the Brighton Marina – an odd yacht-harbour that is home to pedestrian chain restaurants, a drive-through McDonald's and a strangely pleasant Whetherspoons – is the site of a £250million high-spec housing development. The success of the i360, then, is being closely watched.
Marks Barfield are confident it will succeed, because it is forward-thinking while respecting the city's heritage. "The i360 is a phoenix rising from the ashes of the West Pier," David Marks, one half of Marks Barfield, tells me of what he calls the world's first vertical cable car. "It could do in a very modern way what the Victorian pier did. Rather than people walking on water, it will enable them to walk on air." But angry Brightonians aren't so convinced. Some dismiss the monument, recently named the world's slenderest tall tower at 3.9metres wide, as a doughnut on a stick. A big grey pole. A middle finger gesturing towards the West Pier's rusted carcass and the white square of Regency era houses by the shore. "It's a very ugly intrusion which insults the seafront," says Valerie Paynter of the Save Hove campaign group. This isn't the first time redevelopment has made this Jekyll-and-Hyde city nervous. Plans have often failed to become reality due to a combination of a hung council and the impact of the world-wide financial crisis, all underlined by a grumbling populace.
Campaigners claimed victory in 2008 when a £290m flat and sports complex to replace the King Alfred was scrapped due to the credit crunch. They had labelled the asymmetric towers designed by Frank Gehry (the celebrated Canadian architect whose Guggenheim building in Bilbao breathed life into the worn-out Spanish seaside city), "Tin Can Alley". Residents of Falmer, near Sussex University, were for years reluctant to give Brighton and Hove Albion FC a stadium, which was finally completed in 2011. Even small public art projects unveiled on the seafront in the late 1990s – including a turquoise bronze donut and an abstract, curved, recycled-cast-iron structure – were met with contempt, not least at their cost.
Brighton i360 - In pictures

Show all 6
Still, Brighton's confused state is understandable. Like other seaside towns, its population suffers from multiple deprivations linked to poor education and the prevalence of low-skilled and low income jobs, explains Fred Gray, Emeritus Professor at the University of Sussex's Centre for Community Engagement. A 2015 Government study found that Brighton and Hove had some of the country's most deprived, but also the most affluent, areas in England, with wide disparities in crime rates, educational achievement, employment rates and housing provision. Public services are struggling under Government cuts, with £25m more to come in 2016/17. Those who commute to London must contend with a rail network at breaking point. As a place for escape – well, the town has long struggled with addiction problems and has repeatedly been named the UK's drug-death capital.
This mix of wealth and poverty sees affluent Brightonians living to the west of the i360 in Hove – referred to jokingly as 'Hove actually' by residents who want to make it clear they do not live in a tiny central Brighton flat – as well in Kemp Town which runs east of Palace Pier. At the geographically extreme ends of the city are the deprived areas largely composed of council housing. My old haunt of Portslade to the west begins when Hove runs out of steam – it was once hurtfully described by one of my secondary teachers as "the armpit of the universe" – while behind the marina to the west are Whitehawk and Moulsecoomb, among the most economically disadvantaged areas of the country. And so, despite the fact that the money used to pay for the i360 – which is partly funded by the Public Works Loan Board and the architects themselves - couldn't have gone into building a new hospital or a school, locals eye it with suspicion.
Still, Brighton can leave this uncertainty behind and become a major city, if it will only let itself. Coming to the rescue may be the digital sector, attracted by Brighton's proximity to the capital, its (when they are working) rail links and the pool of creatives from Brighton and Sussex universities. The economic presence of the 1,500 plus businesses that make up the "Silicon Beach" rose by 91 per cent between 2010 and 2013 and has already pumped £1bn into the existing £5.2bn economy, putting it on par with tourism. Brighton now has the highest density of digital companies in the country.
What's more, the city has developed an employment and skills strategy alongside businesses and education providers to improve its institutions from primary school to university. And let's not forget that 48 per cent of population already hold a degree or equivalent. On top of this, thanks to the prosperity of London and the South East as well as the flow of students – who Professor Gray calls "30-weeks-a-year holidaymakers" – the city has a safety-net that gives it room to experiment. Other seaside spots like the poorly-connected Hastings dream of such things.
Moving forward, the city must shake of its "London-by-the-sea" image, which has attracted many of the capital's exhausted middle-class residents. Sick of that city's own housing crisis, they have been attracted by affluent pockets in Hove and the centre as well as private schools including Brighton College and Roedean to the east. The result? Price inflation. A typical two-bed flat in Brighton may rent for £15,000 a year, for example, compared to the £20,000 it would cost in gentrified Brixton – but £15,000 is still eye-wateringly high.
And money worries lie behind a lot of the concern. Gearing up to ride a roller-coaster of change, many locals fear that corporate uniformity will crush the vibrancy that makes Brighton unique. "I think it's fair to say that the council are determined to make the whole of the seafront very, very slick," says Magi Altwegg, a crochet and knitwear designer who rents her shop Mia Beach in the refurbished Victorian arches next to the i360. "Nobody really knows what it's going to be like," she says. "For example, if they put on an events, are they going to be a lot of fun and very Brighton-y? Or very corporate and fenced off, so that you can only get in for 20 quid?" She hopes that it will at the very least bring footfall to her shop in the tough winter months.
I ask an old friend, who like me had to make do with one of the city's dodgy state schools which has turned into an academy since we left almost a ten years ago. "I certainly won't be going on the i360," says Sasha Hopkins. "When I think of Brighton, I see colour and vibrancy, not a grey pole." The 25-year-old Brighton University graduate, who works in the financial sector, has considered moving away but has stayed because, instilled with the city's liberal spirit, she believes in "making where you live a better place." But she says, "I don't feel that Brighton is investing in its people in the same way. What does the i360 do for me as a resident? Not a lot." And she says she "hates" how many chain stores are now opening in a city famed for its independent traders, most notably in The Lanes and North Laine (although not without a fight, as Starbucks discovered a decade ago).
Paynter of Save Hove goes a step further, and slams the i360 as "geegaw nonsense". She'd prefer it if the West Pier had been refurbished. "Our council needs to buck up, and concentrate on events instead of thinking of buildings all the time and words like 'iconic' and 'landmark'," she says. "The Brighton Festival is a draw, but not anything like it should be; and the national papers rarely bother to review its offerings. Things like the i360 just make people think of Blackpool, and end-of-the-pier, cheap, junk rides – but this is not cheap."
Such a debate is exactly what the i360 architects says they hoped for. And indeed, what else is the point of building a monument to put a city "on the map"? (Brighton should count itself lucky it has an i360, when Ilfracombe in Devon got Damien Hirst's 65ft Verity, a disturbing statue displaying the insides of a pregnant woman, and Morecambe a "Polo" tower.) "We're trying to make it fit in and stand out at the same time," says Julia Barfield, the other half of of Marks Barfield. "Any city is alive and growing and it needs to embrace change. Cities can die if they don't change. If you don't change, you're kind of moving backwards."
She continues: "Brighton has its own very individual character. It is creative, bold, and not afraid to say things differently from other cities. So in that respect it [the i360] does fit in very well." She points to the city's other eccentric monuments, like the 18th century Royal Pavilion, which is sometimes mistaken for a mosque, and the high-tech, all-glass Jubilee Library – and Marks agrees. "Hopefully, Brighton and Hove will take the i360 to their hearts in the same way that Londoners have taken the London Eye to theirs," he says, recalling how an Evening Standard critic dismissed the Ferris wheel during construction, but hailed it when it was finished. "But it doesn't happen overnight."
Clearly a little hurt by the venom with which some residents speak of the i360, Marks is keen to defend it both as a feat of engineering – it is after all a 162metre high tower carrying a 90-ton pod – but also as a civic achievement. "It is very much about creating something that people can enjoy in a way that maintains the dignity of the city," he says. "It's not a fairground, it's not the end of the pier show. It's new symbol for the city, and indicates that it's open for business, a great place to come to, and a great place to be."
Bill Smith, CEO of the Latest Brighton TV station, couldn't agree more. He has very high hopes for the project, which he calls "punk architecture." According to Smith, "Brighton has for too long been dominated by ancient tourist attractions.The i360 shows that it's becoming one of the most modern cities in the world. It will be like what Antoni Gaudi did for Barcelona.
"We want to attract the most amazing, exciting people here," he continues, claiming that the city is losing talented young people to its lack of jobs. He says he's already written to Google, Netflix and Amazon in the hope of enticing them to join in the city's tech boom, and make the most of the city's educated and open-minded workforce.
Brighton must now make a choice. It could stay scared and conservative or, take on the responsibility that comes with being a thriving city. As a Brightonian who fled from the seaside in search of jobs, higher wages and pizzazz, I urge the city to take the same advice its resident gives to tourists worried by its unusual seafront. Grit your teeth as you hobble over the uncomfortable pebbles, hold your breath at the edge of the water, and let the cold waves of the unknown wash over you. It'll be worth it in the end.
Join our new commenting forum
Join thought-provoking conversations, follow other Independent readers and see their replies