Prince Charles discovers 10 ways to antagonise architects with list of 'geometric principles'
The Prince is urging town planners to take more inspiration from 'nature's order' by burying wires and removing street signs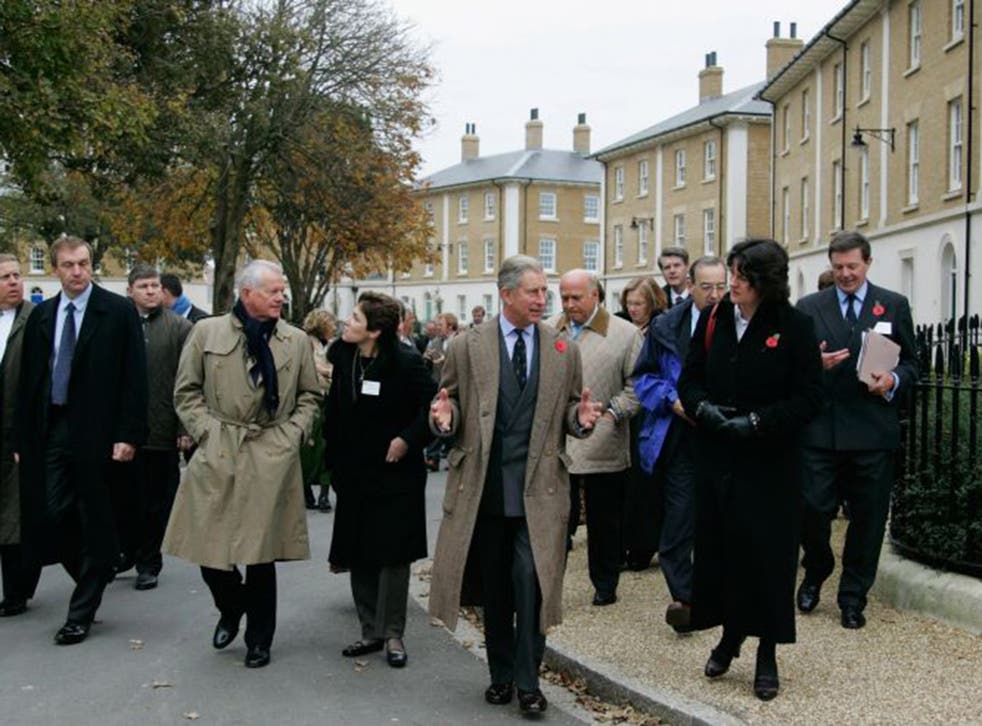 The Prince of Wales has been dismissed as a cranky elitist who believes that architecture should reinforce hierarchical society, after he outlined his 10 "geometric principles" for urban design.
Charles, who once described the proposed National Gallery extension as "a monstrous carbuncle", is now urging town planners to take more inspiration from "Nature's order". He proposes an array of rules that include burying as many wires as possible and removing most street signs.
"Reduce speed now" signs, for example, could be taken down and replaced by features such as bends in the road that "naturally" encourage motorists to reduce their speed.
In an essay for The Architectural Review, the heir to the throne paid homage to the "charm and beauty of a place like Kensington and Chelsea" as he espoused the benefits of terraces and mansion blocks over high-rise towers.
By royal command: Prince Charles' 10 'geometric principles'

Show all 10
And the Prince urged designers to pay more heed to the "universal principles" embodied by the common circle – "an age-old symbol of unity and out of that key relationship between the point and the line comes a multiplicity of shapes and patterns".
Stephen Bayley, the design critic, dismissed the Prince's comments as a combination of the strange and the blindingly obvious. "The good bits are commonsensical stuff about public utility and democratic beauty which no sensible person would ever dispute. The original bits are, frankly, cranky," he said.
Tim Abrahams, an architectural critic, added: "His idea about reconnecting with traditional approaches and techniques is really just a flight of whimsy from an elderly laird strolling in his tweed plus-fours around an estate.
"And 'nature's order', whatever that is, sounds rather like the justification for a hierarchical society with a king at the top and peasants at the bottom than a sensible proposition for how architecture should work. It reads like the list of requirements for a particularly fussy grandmaster of a masonic lodge."
Others pointed out the apparent hypocrisy of a man who lives in vast royal palaces arguing for "land-efficient" buildings that "relate to human proportions".
Alister Scott, professor of environment and spatial planning at Birmingham City University, said: "The combined impact of these principles, when backed up with the examples he uses, is socially regressive and elitist. When he considers the 'charm and beauty of a place like Kensington and Chelsea' he sort of forgets that the average price of property is £2,085,950."
Critics also challenged the Prince's insistence that he did not want to "turn the clock back to some Golden Age" despite the nostalgic feel of Poundbury, his experimental new town in Dorset.
"His words would be more credible if his own experiment in Poundbury was more lovely," Mr Bayley said. "But Poundbury is stiff, lifeless, dry and, withal, an architectural retro-kitsch fantasia."
By royal command: His 10 'geometric principles'
1. Developments must respect the land.
2. Architecture is a language, with grammatical ground rules.
3. Scale is key. Buildings should relate to human proportions.
4. Harmony – the look of each building should be in tune with its neighbours.
5. Avoid jagged clusters by creating well-designed enclosures.
6. Use local building materials and regional, traditional styles.
7. Don't over-use signs, lights and utilities.
8. Put the pedestrian first by reclaiming the streets from the car.
9. Don't resort to high-rise tower blacks which alienate and isolate.
10. Try not to be too conventional. Flexibility is the key to achieving the above.
Join our new commenting forum
Join thought-provoking conversations, follow other Independent readers and see their replies