The 3D printing revolution: Architects promise anything from a new floor to an entire skyscraper
Chris Green
Tuesday 24 June 2014 11:24 Comments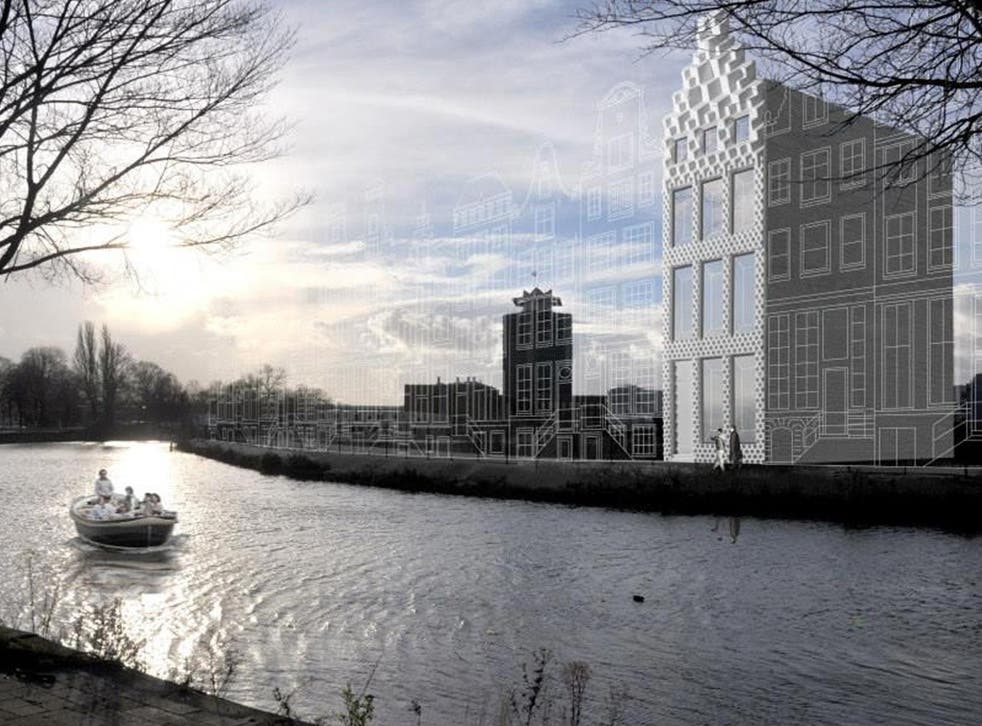 They are already able to churn out everything from food to guns and pieces of art, but could a 3D printer eventually contribute a skyscraper to the skyline of a British city? Yes, according to an architect at one of the country's most famous firms.
Michele Pasca di Magliano, an Associate at Zaha Hadid Architects, told The Independent that building small 3D-printed buildings was the "next step" for the firm, which currently produces around 40 scale models a month using its five machines.
Asked it if may eventually be possible to print a skyscraper, he said: "Yes – you could print big parts of it, for sure. If you think about it, concrete is a form of 3D printing. If you look at how the machine works, it's purely pouring powder on a bed… concrete is not that different. There are similarities between this and what's already there in the construction industry."
But while the technology is available, Mr Pasca di Magliano said there were obvious legal barriers which have so far prevented large 3D printed buildings becoming viable – so the first Zaha Hadid creation directly from a printer is likely to be a small showcase pavilion rather than something to rival the Shard.
"We already use it in product design for jewellery and shoes, but with buildings there is this whole issue of durability, liability and insurance – and obviously there is the cost of it. So there are a number of issues that haven't really allowed 3D printing to break into the construction market," he said.
Mr Pasca di Magliano was speaking ahead of a talk organised by Archiboo, which aims to help architects be more creative.
Jay Short, business development manager at 3D printing specialists Hobs Studio, said the problem was that the technology was moving faster than the insurance industry. "Construction firms want to be creating not only spectacular buildings but also buildings that are deemed to be safe. If there's a risk, it pushes up the cost vastly because of increased insurance premiums."
But in other parts of the world, 3D printed buildings are already taking shape. At a canal-side site in Amsterdam in March, construction began on what a Dutch firm of architects claimed would become the world's first 3D printed house. The 13-room building is modelled on a traditional Dutch gabled canal dwelling and will take an estimated three years to complete.
Chinese company Yingchuang New Materials claimed in April that it had managed to 3D print 10 basic houses in the space of 24 hours using a mixture of cement and construction waste. The Shanghai-based firm's president, Ma Yihe, said that each house was made for less than £3,000 and that he hoped recycled building materials would eventually be used in 3D printed high-rises.
In the UK, 3D printed houses could also raise the possibility of endless house-by-house customisation, with homeowners constructing one floor and then seamlessly slotting a second one on top when they have enough money, Mr Pasca di Magliano said.
"In theory, if you print each of them one by one, you're not talking about components any more, you're actually building every one from scratch. That's exciting. [It] will change our suburbias, which now are only repeats of prefab housing blocks. The number of rooms, number of windows, exposure of a particular tree you want to see through your window… those are the possibilities."
Zaha Hadid's firm is not the only big name in the 3D printing game. Foster + Partners are the second-biggest user of the technology in the world after Nike, and are equally as stargazing when it comes to what the future could hold. Last year it announced that it was working with the European Space Agency to explore the possibility of using soil found on the moon to build a lunar base using a robot-controlled 3D printer.
According to Xavier de Kestelier, co-head of the Specialist Modelling Group at Foster + Partners, the project is nowhere near as far-fetched as it sounds. "We actually don't think this is so far in the future," he said. "You don't need to transport your material – 1kg of material costs about £200,000 to bring to the moon. So 3D printing a protective shell with moon dust totally makes sense in that location."
Although there is an obvious rivalry between the big architecture firms, both men agree that the technology should be used to create beautiful, ground-breaking buildings that would be impossible using other methods, rather than trying to reinvent the wheel.
"I don't think it's a matter of who gets there first. It's really a matter of who can demonstrate it's a feasible and realistic approach that creates a benefit for the wider community, and that it actually makes total sense to do it in that way," said Mr Pasca di Magliano. "If you 3D print a traditional building – what's the point? You may as well do it with bricks. You have to make sure you 3D print something that is worthwhile."
Register for free to continue reading
Registration is a free and easy way to support our truly independent journalism
By registering, you will also enjoy limited access to Premium articles, exclusive newsletters, commenting, and virtual events with our leading journalists
Already have an account? sign in
Join our new commenting forum
Join thought-provoking conversations, follow other Independent readers and see their replies