The best artwork from Burning Man 2018, including The Orb, Odd Jelly Out and Rainbow Bridge
The star of the show was The Orb, but there was lots more to charm on the playa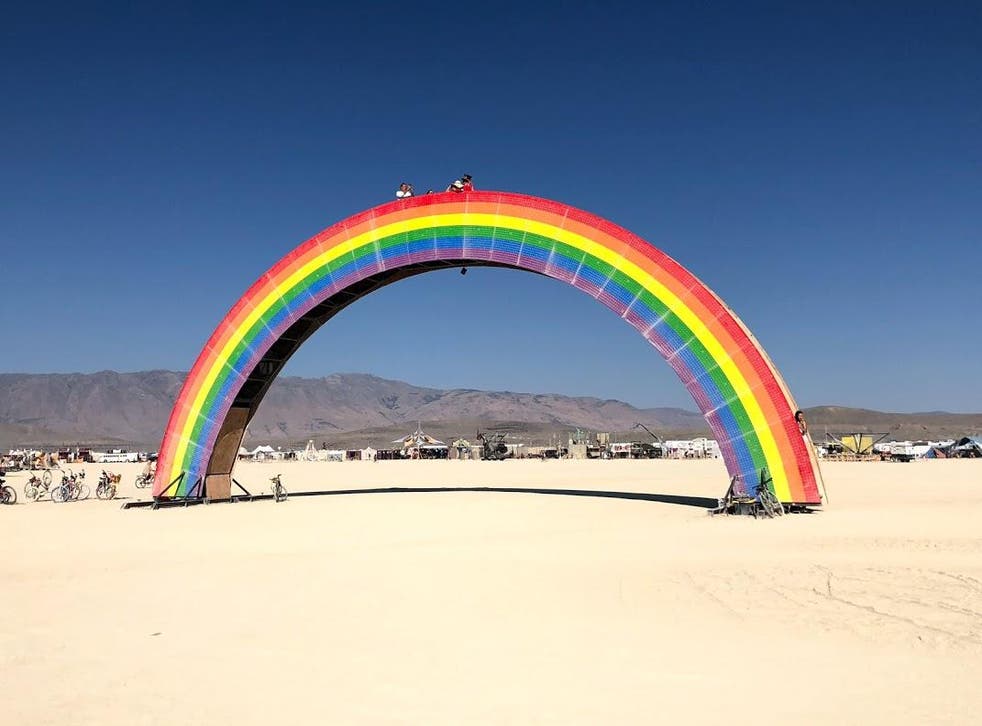 It's the ultimate blank canvas - seven square miles of flat, clear desert, lit by the blazing sun. Burning Man is a temporary community, a music mecca, and a place where artists go to experiment and exhibit.
Given the vast open playa which sits in front of the crescent-shaped camp site, there are few limits when it comes to the scale and scope of the projects.
Take the giant reflective mirrored sphere called The Orb, which sat atop an inclined steel mast. It was designed to inflate to 500,000th of the size of the earth's surface, and measured nearly 100 feet (30 metres) in diameter.
The Best Of The Artwork At Burning Man 2018

Show all 12
It rapidly became a gathering spot for revellers, a waypoint for lost campers, and one of the most recognisable pieces of art at this year's event.
Nearby stood a 100-foot-long rainbow, with steep stairs on either side allowing people to clamber to the top for stunning views.
Burning Man 2018: The Independent torches '1m' to highlight global corruption
But the charm of Burning Man is unexpected discovery. Hop on a bike and pedal hard for half an hour and you might reach the very edge of 'deep playa', the stretch of desert far beyond the tents and RVs.
There, with the main Burning Man site just a speck in the distance, you can still find an array of art - ranging from a line-up of chunky, silver 'Jelly Babies' - to a full-sized cottage that you could explore.
Register for free to continue reading
Registration is a free and easy way to support our truly independent journalism
By registering, you will also enjoy limited access to Premium articles, exclusive newsletters, commenting, and virtual events with our leading journalists
Already have an account? sign in
Register for free to continue reading
Registration is a free and easy way to support our truly independent journalism
By registering, you will also enjoy limited access to Premium articles, exclusive newsletters, commenting, and virtual events with our leading journalists
Already have an account? sign in
Join our new commenting forum
Join thought-provoking conversations, follow other Independent readers and see their replies