American Impressionism: An exhibition shows how Monet and Degas influenced a generation of artists
An exhibition in Edinburgh shows how the big impressionists influenced a generation of American artists. There are treasures among the imitations
Adrian Hamilton
Sunday 31 August 2014 23:05 Comments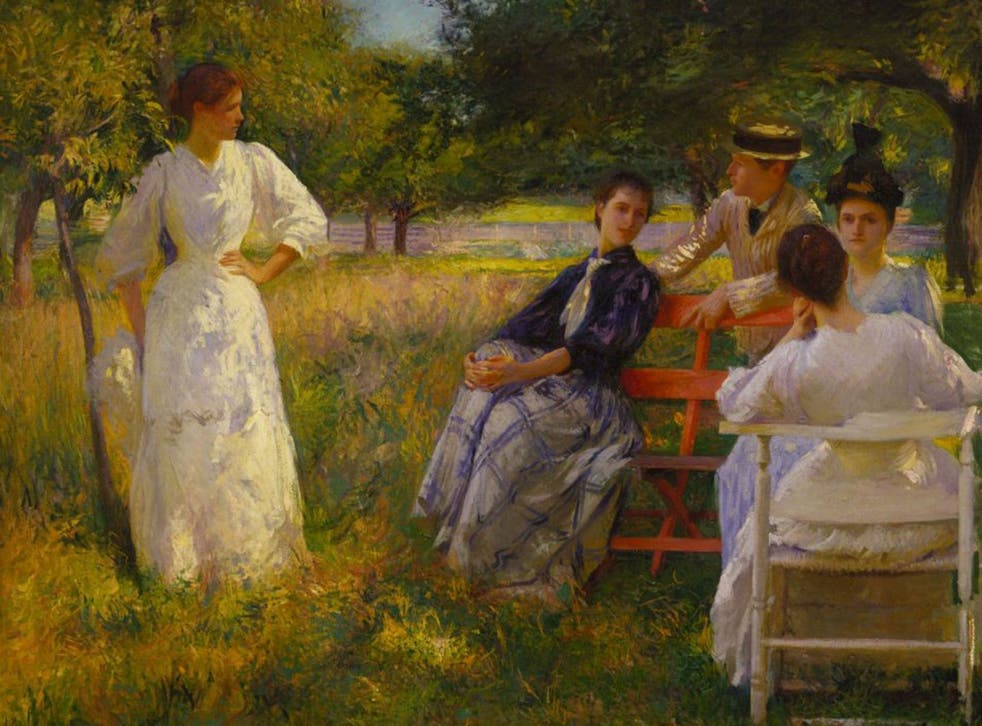 It's a brave curator that can put on show his national artists against the originals which influenced them and hope to emerge with reputations intact. Even more so when the originals are the French Impressionists whom almost everyone knows and loves. Yet that is what the organisers of a new exhibition, American Impressionism, now on display at the Scottish National Museum of Modern Art in Edinburgh, are clearly intending.
The aim of the show is to delineate, and promote, the generation of young American artists who went to Paris in the 1870s to 1890s and returned – or in some cases stayed – imbued with the lessons and examples of the French masters revolutionising the art scene with their ideas of light and modernity. The danger is that all it does is reinforce the French view that the rest of the world remained mere imitators – unless they became, like Mary Cassatt, honorary Frenchmen.
Going through the first rooms of this show and viewing many of the pictures, you might well feel the French were right. Kick off an exhibition with Edgar Degas' unfinished A Nanny in the Luxembourg Gardens, with its brilliant balance and diminishing perspective, or one of Monet's imposing Haystacks and set them against John Leslie Breck's studies of the same subject and there is no doubting who were the masters.
But then it's wrong to see a show such as this as a talent competition between the Old World and the New, although James Abbott McNeill Whistler, John Singer Sargent and Mary Cassatt could vie in works with the best of them. Rather the exhibition sets out to examine the way in which the young generation of eager American artists came to the artistic capital of the painting world and how they responded to the great flowering of art going on there.
Impressionism has become so set in the imagination of the West from biscuit tins to T-shirts that is easy to think of it as some cohesive movement which artists from other parts of Europe and across the Atlantic came to copy and learn from. But it was never that, although its major figures knew each other and regularly met. Edouard Manet, usually regarded as its precursor, never actually showed in any of their group exhibitions and followed a course of colour very much his own.
Degas, who showed in seven of the eight exhibitions, was always more concerned with composition than light. Claude Monet could be said to be quite the opposite. What united them was more than anything a shared rejection of past classicism and monumentality and a determination to portray the new world of bourgeois bustle and ease that was growing up around them. Looking at these artists you could learn quite different lessons of technique and subject matter – the dense colours and combinations of Manet, the perspectives of Degas, the subtleties of effect of Monet or indeed the radical designs of the Japanese wood block artists so admired by the French impressionists.
A lasting impression

Show all 5
The United States, fresh out of the Civil War and eager to take its place in the wider world, provided the bulk of foreign artists descending on Paris. Urged on by their teachers at home instructing them to go out and learn from the vibrant centres of a Paris being rebuilt after the devastations of the Franco-Prussian war, they descended on the Ecole des Beaux Arts and the Acadamie Julien as well as the studios of teaching artists, much as US writers collected together in Paris after the Second World War. Tending to stick together they gathered en masse at Giverny, where Monet had made his home, grumbling (justly as it often turned out) at the way they would copy his latest works and suspicious (also with some justice) of their advances on his four step-daughters.
Far from being immediate devotees of the impressionists, most of them actually studied with older salon artists such as Carolus-Duran or Manet's teacher, Thomas Couture. Only a few grew intimate with the inner circle of the Impressionist leaders, Degas, Monet and Pissarro and then mostly those such as James Abbott McNeill Whistler and John Singer Sargent who could speak fluent French. Other than Sargent, Theodore Robinson was one of the few American artists who descended on Giverny for the summer who were allowed into the Monet household. Others like Leslie Breck were banished when they became too intimate with his female charges or were felt to be copying too closely the great man's oeuvre.
The one prominent figure who could properly be termed an American impressionist was Mary Cassatt, who came to Paris in 1866, formed a deep and lasting friendship with Degas and showed in a succession of of impressionist exhibitions, becoming an honorary member of the grouping as a result and continuing to live in France until her death in 1926. The exhibition has half-a-dozen of her works, all of them of women and children which provided her main subject. One's first impression is how American her women are: clean jawed and fresh faced in a manner that could never be confused with Berthe Morisot's pensive French girl in The Cheval Glass. But what also strikes one are how well Cassatt learned the techniques of broad brush and emphatic colour of her French artistic friends. The pictures of children might be somewhat sentimental for modern tastes, but her portrait of her sickening sister Lydia, Autumn of 1880, and the picture of a woman and child in a boat, Summertime, painted 14 years later when she was more influenced by Monet, are full of mood and feeling.
Of the two other major American artists who dominate this show – Whistler and Sargent – neither could be said to be truly impressionists, although both were influenced by them and are sometimes categorised as such. Both were genuinely cosmopolitan and both chose to live most of their lives in Europe (or Britain to be more precise). Whistler arrived early on in 1855 and took to the role of Bohemian as much as the art student. He was profoundly influenced by the work of Manet and sought the company of Degas, whom he treated with respect. But when you look at the Tate's sublime Nocturne of the Thames and his later French coastal views on display, it was clear that he marched to a different more modernist drum than the French impressionists.
Sargent is more difficult to pin down. He enrolled at the Ecole des Beaux-Arts in 1874 and was for a time in the 1880s close to Monet, whom he painted at work in a singular tribute, Claude Monet Painting by the Edge of a Wood, in 1885. His paintings in subject matter and in their quick, foreshortened brush strokes show the clear influence of the formidable father figure of French Impressionism and none the worse for it. But in the end it was the bold colour of Manet applied to the traditional art of portraiture which were to make him rich and successful in the 1890s.
What the American artists did share with the French at this time was a common sense of a generation emerging from war to a new world of leisure and colour in a way that wasn't true of Munich, London and other capitals US painters visited. It may be this as much as any technique which they took back with them to a thriving American north. The exhibition ends with what happened to these young American painters when they returned home.
They came back to an art world already fully aware of French impressionists through the shows mounted by the French art dealer, Paul Durand-Ruel, but anxious that they apply the lessons to making a truly American art. Taking their cue as much from subject matter as palette, they took their easels into the parks and near countryside of Boston, New York and other cities very much as the French impressionists did in and around Paris. The paintings assembled here of parks by William Merritt Chase and Childe Hassam, the garden groups of Edmund C Tarbell, the pretty girls of Frank Benson and the rural pastures of Dennis Miller Bunker are barely known this side of the Atlantic. They are formidably professional in their capture of light, their confidence in colour and their quick brushstrokes. They have the sense of place and time. What they lack is the sense of discovery of the French masters, the capture of the fleeting moment of a new world.
The one exception is a name new to me, John Henry Twachtman. Drawing on a range of influences from Japanese prints to Whistler's Nocturne, his winter landscapes and snow scenes are full of poetry and impermanence. He is worth the exhibition alone, for all that his paintings fell on an unreceptive market at the time.
In the end the Impressionist experience, sharp and intense although it was, didn't make American art anew. It was too polite for that. It was left to a new generation of more expressionist painters such as Frank Burroughs and photographers like Edward Steichen to lay the foundations of an American art for a new century, ironically by doing what the impressionists had first set out to achieve in Paris: to depict modernity. The real influence of Paris across the Atlantic came not with Impressionism but with the post-impressionism of Toulouse Lautrec and Cézanne, the Modernism of Picasso and Matisse and the radical experiments of the Surrealists.
American Impressionism is a rewarding exhibition less for its revelations than for the complexity of influence it adds to a crucial moment when Paris asserted its artistic leadership of the world.
Register for free to continue reading
Registration is a free and easy way to support our truly independent journalism
By registering, you will also enjoy limited access to Premium articles, exclusive newsletters, commenting, and virtual events with our leading journalists
Already have an account? sign in
Join our new commenting forum
Join thought-provoking conversations, follow other Independent readers and see their replies