Antony Gormley on Sculpture: Inside the mind of an artist
In an exclusive extract from his new book, Antony Gormley, Britain's foremost sculptor, reveals the inspirations behind his key works – and his debt to Buddhism
Antony Gormley
Friday 16 October 2015 12:29 Comments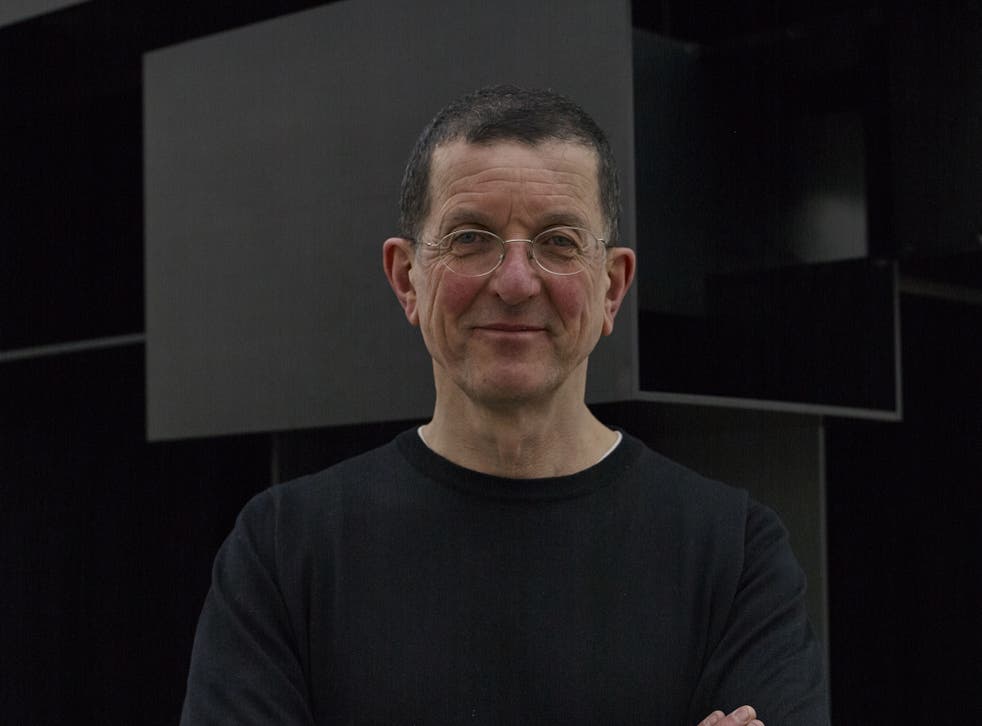 'Re-arranged Desert', 1979, Temporary installation, Arizona
In 1979 I went back to the place where Walter De Maria made his parallel chalk line drawings in Arizona. The work of De Maria, Robert Smithson and Richard Serra, and their place in American art, was critical for me, as was the engagement of body with material and place, irrespective of image-making. Here, I simply threw a hand-sized stone as far as I could, cleared all the stones within that radius, made a pile that I stood on, and then I threw them out again.
You can see from the photographs that I made a huge difference to the topography! You can just see, in the middle of this picture, where the pile was. There's a kind of absent body there. All of these stones are radiating outwards only as far as I was able to throw. This is the action of a living, willing, feeling body on other bodies, which has made a displacement in space. […] What kind of space mentally, physically, imaginatively does it transmit to others?
'Land, Sea and Air II' (1982) Lead and fibreglass. Dimensions variable
This three-piece work is Land, Sea and Air II (1982). It is an early attempt to try to make this memory of a real body connect, not to the white cube of a gallery or the context of an exhibition, but to the elemental world: to land, to sea, to air, and to link each of those elements with a physical posture and to link that physical posture to a perception. The work Land is a carapace pierced with holes at the ears, listening to the ground. Sea is the first work I made that opens the possibility of a sculpture as a body relating to the horizon. It has its eyes open, looking out to sea. Air is an empty plaster mould covered with lead, a body case with nostrils open. Lead is a wonderful insulator – against liquid or sound leakage, against radioactivity. […] These two ideas – not taking the skin of things as a limit, and the power of immersing a culturally made object in the elements – I have put to work again and again.
'Earthbound: Plant', 2002 - Cast iron, 195 × 57 × 42 cm - Permanent installation, McDonald Institute for Archaeological Research, Cambridge
The question for me is how can you make these bodies work? How can you transfer the representational, traditional function of the statue into reflexivity? Here is the sculpture that I gave the Royal Academy as my diploma work. It has been permanently installed in the Archaeology Department at the University of Cambridge. It's called Earthbound: Plant (2002), a 650-kilogram sculpture buried entirely in the ground and the only thing you see is the soles of the feet. You can stand on the feet and the sculpture becomes like a materialised shadow. This is a way of activating that democratising horizontal that we take so little notice of – the ground beneath our feet.
Still Standing, exhibition view. The State Hermitage Museum, St Petersburg, September 2011-January 2012
I love museums and they are very particular places in which thought and object come together in an interesting way. The issue for me is how you energise things. Museums can become catalogues of objects that are examples of a culture rather than actually acting on it in a dynamic and direct way. The objects in such a museum are in danger of losing their phenomenological power. The idea of a museum as a warehouse of booty or treasure is really very sad. Each object is trying to tell us, in its own way, about our human history and our need to make things. At the State Hermitage Museum in St Petersburg [for the exhibition Antony Gormley: Still Standing in 2011-12] it was very important to me to put the viewer on the same level as the maker. We have become so used to seeing a sculpture on an elevated platform. For an observer, a body living now that is trying to relate to this thing two thousand years or so after it was made, standing in the same position as the sculptor did when making it is a good place to start.
'One and Other', 2009, Fourth Plinth, Trafalgar Square, London
The Fourth Plinth in London's Trafalgar Square was originally made to take a statue of an English king. One and Other (2009) took this space of privilege, this platform 14 feet long and five feet wide, and made it democratic. It was occupied by living bodies: throughout one hundred days, for 24 hours a day, one person for one hour, come rain or shine, night and day. The total number of participants was 2,400, which gives us 2,400 hours of lived time – a monument in time. There was some terror in it. As a participant you were separated from the ground, exposed in space and to the elements, as well as to the public in the square. It was a celebration of the viewer as much as the viewed. There was a sense in which this shared examination of the space, instead of the object of art, was a way in which people could make a collective portrait of us now: subverting the object of art by their own presences, considering our values, considering what we hope for and what we fear.
Mindfulness
It was Buddhism, rather than the Western canon, which gave me the idea of the abstract body. It gave me the idea that you can make sculpture about being rather than doing; that you can make sculpture that becomes a reflexive instrument rather than existing as a freezeframe in a narrative. I think this is a critical break with the grand history of Western sculpture that perhaps started with the Pisani brothers and ended with Rodin. In Ernst Gombrich's model of sequential attempts to make the perfect copy, the relationship between skin, bone and muscle, he describes how the body was put to work to illustrate historical or mythological stories and then put to work in the statue to support the status quo. With Buddhist and Jain Tirthankara sculptures the idea of the body as a place is conveyed. There is an important distinction to be made between a sculpted body used for the illustration of a narrative and the making of a body as a still object that invites projection...
This is the great Buddha of Bamiyan, Gandhara school, probably made in about AD554. It is at 2,500 metres above sea level. I visited it in 1971 when it looked like this. This is an image of Vairocana, the celestial Buddha body. The core idea of the dharma is that we can achieve sunyata and become unified with the void if we follow the noble eight-fold path and release ourselves from the cycle of rebirth. It is ironic that through their destruction the Taliban completed this work so beautifully. The work as it was when it was made probably had a wooden and gilt masked face from the lips upwards. It was very highly coloured, the underlying form created in stucco. […] What interests me in Buddhist thought, and what I experience in meditation, is its interest in a continuity between the space of consciousness and space at large. This site, in its evolution and destruction, becomes an instrument of realisation. The Taliban have completed a working meditational device. I want to show you a few experiments in which I and others have tried to make devices like this, treating the body as a place and making a bridge between consciousness and space at large.
A statue of Buddha stands cut into the mountainside, AD554, Bamiyan, Afghanistan, 32 m high: empty niche in cliffs where the carved Buddha once stood, destroyed by the Taliban in 2001. Bamiyan, Afghanistan, 541⁄2m high
'Form', 2013, Cast iron, 73 × 55 × 63cm and 'Murmur', 2014 (background) 20mm square section stained stainless steel tube and plastic spigots, 420.5 × 430 × 411 cm
I am not interested in the idea of man as the measure of all things. I am much more interested in ideas of in-dwelling within a bodily organism. I am inspired by the small Michelangelo marble in the Hermitage of a crouching boy holding his foot; he could be removing a thorn, an old classical subject, but for me it was the image of a body attending to itself, to its own condition. This internalised moment became Form (2013), a stack of blocks which still holds that feeling of introspection, but it has been expanded incrementally to the point where we reach a cube: Murmur (2014). This is an increase in scale by increment: the application of the cosmological constant, the incremental expansion of the dimension of space itself, an objective measure, on to subjective space.
'Expansion Field', 2014, 4mm Corten steel, 60 sculptures, dimensions variable, installation view, Zentrum Paul Klee, Bern
With Expansion Field (2014), I wanted to make an environment of dark, inaccessible, constructed spaces that hold a resonance of the body but are expanded, like Murmur, in a way that reflects the ever-expanding universe. Le Corbusier and Modernist architects still believed in a Renaissance vision of our ability to control nature and our habitat. Now, in a time of global warming, we understand that this is an illusion. This field is about the incommensurable, what we don't understand: the darkness that is inside these hermetic bunkers which shares the darkness of deep space.
Antony Gormley on Sculpture by Antony Gormley, edited by Mark Holborn is published by Thames & Hudson, £19.95 clothbound hardback (thamesandhudson.com)
Register for free to continue reading
Registration is a free and easy way to support our truly independent journalism
By registering, you will also enjoy limited access to Premium articles, exclusive newsletters, commenting, and virtual events with our leading journalists
Already have an account? sign in
Join our new commenting forum
Join thought-provoking conversations, follow other Independent readers and see their replies