Grayson Perry: Provincial Punk loses his edge
While rarely out of the headlines, whether as himself or his female alter-ego, Perry's latest exhibition struggles to match those mass-media excursions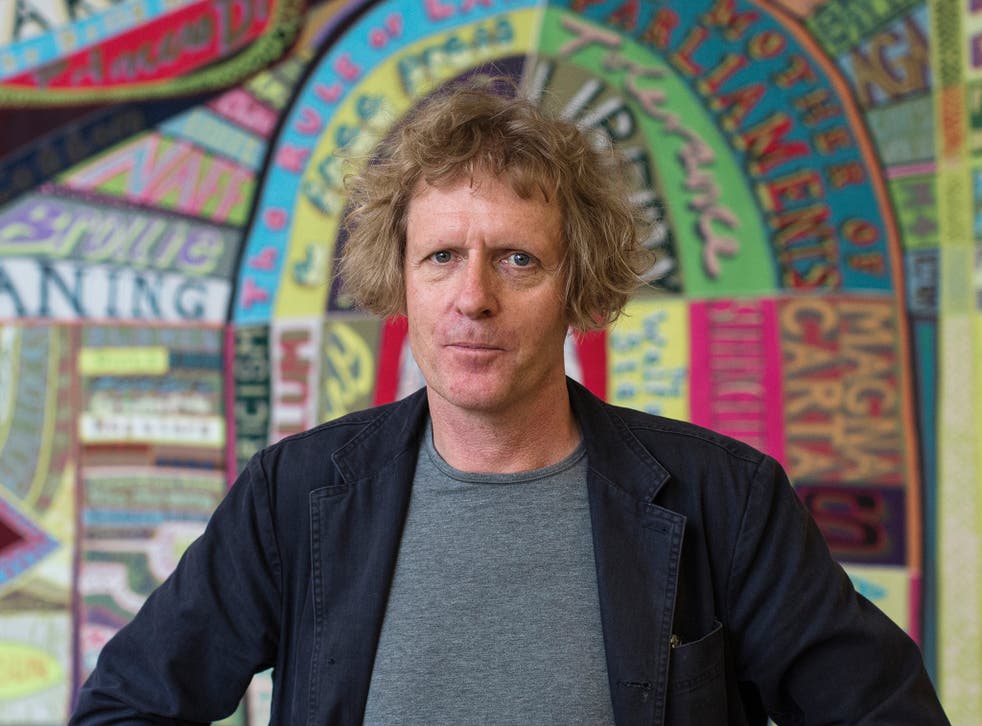 In the wake of his acclaimed Reith Lecture series, British Museum show, recent tapestries, and Channel 4 TV series Who are You?, Grayson Perry has been embraced as one of the most articulate observers of the contemporary arts scene, an inspired curator and champion of the overlooked, and one of the most amiable dissectors of our prejudices, fashions and foibles.
His newly unveiled A House for Essex, subject of a TV show and enthusiastic write-ups, is causing mild traffic congestion in the small village of Wrabness. Like many of Perry's best works it is a constructed as a homage: this time to "single mums in Dagenham, hairdressers in Colchester and the landscape and history of Essex".
Perry is, by popular consent, a national treasure – a role he inhabits easily, whether dressed as his girly alter-ego Claire, his 6ft frame enveloped in one of his many gorgeous "arty" frocks, or in his everyday attire.
His art – which cherishes "unloved" or untrendy vernacular forms, and draws inspiration from a bewildering variety of sources, ranging from early English craft and German prints to Russian folk art and American transvestite magazines – is now the subject of a major exhibition in the coastal town of Margate called Grayson Perry: Provincial Punk. His humour translates particularly well to this relaxed seaside setting – as does his teasing affinity to the "unfashionable". But does the art match the man?
Grayson Perry: Provincial Punk exhibition

Show all 9
There is no doubt that Turner Contemporary's survey of the work of this Turner Prize-winning artist will be hugely popular. When I visited over a Bank Holiday weekend, with the gallery's spaces thronged with observers of all ages, it was clear that his ceramics, prints, and tapestries, with their seductive glazes, riveting detail, love of social history and saucy sense of fun, speak to many people in a way that not much contemporary art does or can. His works are so consciously homely in their subversiveness, so wry and affectionate in their observations, and so lacking in any real sense of rage or provocation, that children were able to play a Where's Wally?-type game as they went around, eagerly spotting a London double-decker bus imprinted on the back of a "Bronze Age" skull (The Fallen Giant), but missing the ejaculating penis on a 2003 vase.
In the second room of the exhibition, a 1990s photographic work – in which Perry, as Claire, proudly displays a giant Airfix model decorated with "feminine" motifs – reveals him as a true cross-dressing man of the people. Perry loves such seeming oxymorons. He describes himself as "a punk in the provincial sense… I was there in my bedroom with an old school shirt stencilling the word 'hate' onto it, looking out onto the lush turf of the north Essex countryside". Later, in London, he hung out with cutting-edge artists while making pottery "with a Shetland woolly-jumper view of the world". As Claire, he has created a chaste girl, whose frumpy style has transformed her into an unlikely fashion icon.
So does Perry's art – ranging from a Japanese Edo-type vase with skateboarders to early Super 8 films parodying Thatcherite Britain, to epic contemporary tapestries and an aluminium Early English Motorcycle Helmet – prove as interesting as its maker?
There are more than 50 works in the show, tracing his development from the early 1980s to 2014. But his work is at its most compelling when presented as part of a coherent world of his own creation – often focusing on a richly imagined character. His Charms of Lincolnshire exhibition in 2006 conjured up the dark, fictional world of an unknown Victorian female artist. Perry described it as "a poem written in objects" and it had real emotional power. His A House for Essex, with is views over the Stour estuary, while gently critiquing the cliched minimalism of the Grand Designs generation, is a loving shrine to the life and tastes of an imaginary Essex woman called Julie.
In Margate, however, an extensive museum-style show of his pots in free-standing display cases, dating back to his early works of the late 1980s, tends to lose its edge, as contemporary riffs on class, sex, elitism, religion, self and consumerism, are repeated – albeit in different "Classical" ceramic forms. Perry's consistent fascination with his core themes: the "unpopular", the "second class" (craft), the "naive" (folk art), the tribes we belong to, the rural "idyll", the "feminine", is an undoubted strength and makes him a wonderfully incisive social commentator. His detailed and absorbing prints, inspired in part by medieval maps of the world, reflect this. But, when his work exists outside of a coherent narrative context or a sustained emotional response, its reliance on a particular British style of humour perhaps limits it appeal too much to the here and now.
Grayson Perry has described his role as an artist as "similar to that of a shaman or witch doctor – I dress up, tell stories, give things meaning, make things a bit more significant". Art, one feels, almost serves as a narrative device – even though individual pieces occasionally manage to transcend the story he tells. But when his work becomes too detached from his persona, when it exists outside of his remarkable ability to curate the experience, it tends to lose its ability to persist in the mind.
Grayson Perry: Provincial Punk is at Turner Contemporary, Margate, until 13 September (www.turnercontemporary.org)
Join our new commenting forum
Join thought-provoking conversations, follow other Independent readers and see their replies