In the studio: Julie Brook, artist
'My work is very light-footed and transient. The best stuff is unexpected'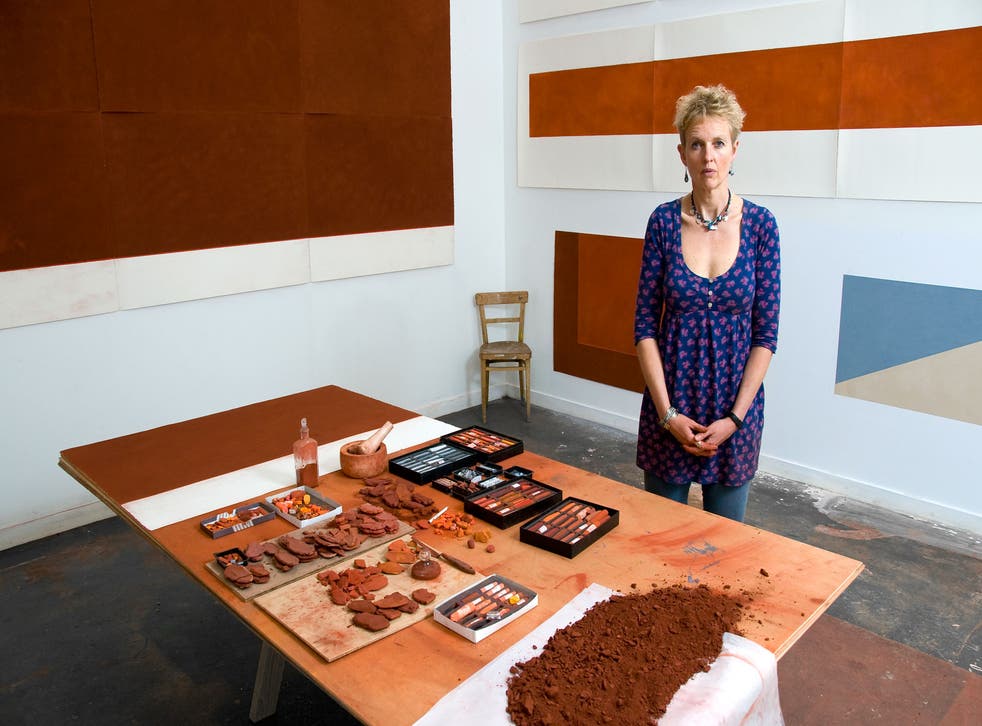 Meeting Julie Brook on Skye confounds expectations. Having read up on the history of the process of her work – living in a cave on an island off the coast of Scotland, decamping to deserts for weeks on end – I anticipate someone tough and grizzled; so the lithe and sociable woman who arrives is a surprise.
Brook lives with her film producer husband, Chris Young, and their three daughters and one son. A recently completed studio down the driveway enables her to retreat, yet still be part of the family. At other times, she goes off on her travels for six weeks at a time, staying with native guides who have learnt to work alongside her. I ask her if it is difficult to uproot, and she admits that her husband has to do the lion's share of child-care. With his busy filming schedule – he is currently working on a Gaelic drama for the BBC – it is not surprising that a huge date planner dominates their kitchen/diner.
At the moment, her studio is steeped in the dust of the red ochre pigment that she has been mining in Namibia. She discovered it when she offered some Tuareg girls a lift and the loan of her pickaxe. In return, they allowed her to film them mining the pigment, which is used for body decoration. As a result, she discovered the material in its raw state. Her studio is full of drawings in saturated pigment and intense colours, while notebooks filled with notations, measurements and ideas lie open on a table.
Process has always played a part in Brook's work. A graduate in painting from the Ruskin School, she discovered a remote site on the Scottish island of Jura, decided to build a raw camp and remained there for over a year to experience the landscape. She and her husband moved from Glasgow and settled on Skye before she admitted that she needed new destinations, far from Scotland, to fuel her artistic needs. Her explorations in the desert started in Libya before she was forced by politics to go elsewhere – and chose Namibia.
Making interventions in the hostile landscape with simple tools and the help of her Tuareg guides, she chronicled the ephemeral works with her camera. The landscape around her dictates the content of the work. "In the central desert it is so stark I had to reduce my language to the slimmest form."
Brook clearly loves the challenges of the unforgiving landscape. She recalls how she was once working on a piece in the Sahara when a large cloud built up overhead and it poured with rain, making the exposed rocks shine for a few minutes – something that she was able to capture on camera. "The work is very light-footed and very transient. The best stuff is unexpected," she says. It is an inhospitable place and "you are taking a lot of risks, but this is a comfortable level of risk".
Julie Brook: Made Unmade, Wapping Project, London E1 (020 7680 2080) to Sunday
Register for free to continue reading
Registration is a free and easy way to support our truly independent journalism
By registering, you will also enjoy limited access to Premium articles, exclusive newsletters, commenting, and virtual events with our leading journalists
Already have an account? sign in
Register for free to continue reading
Registration is a free and easy way to support our truly independent journalism
By registering, you will also enjoy limited access to Premium articles, exclusive newsletters, commenting, and virtual events with our leading journalists
Already have an account? sign in
Join our new commenting forum
Join thought-provoking conversations, follow other Independent readers and see their replies