Mishka Henner's The Fields captures the scale of America's oil industry
The conceptual artist made use of the vast array of satellite imagery that captures every square foot of the globe to address issues of surveillance, ownership and the environment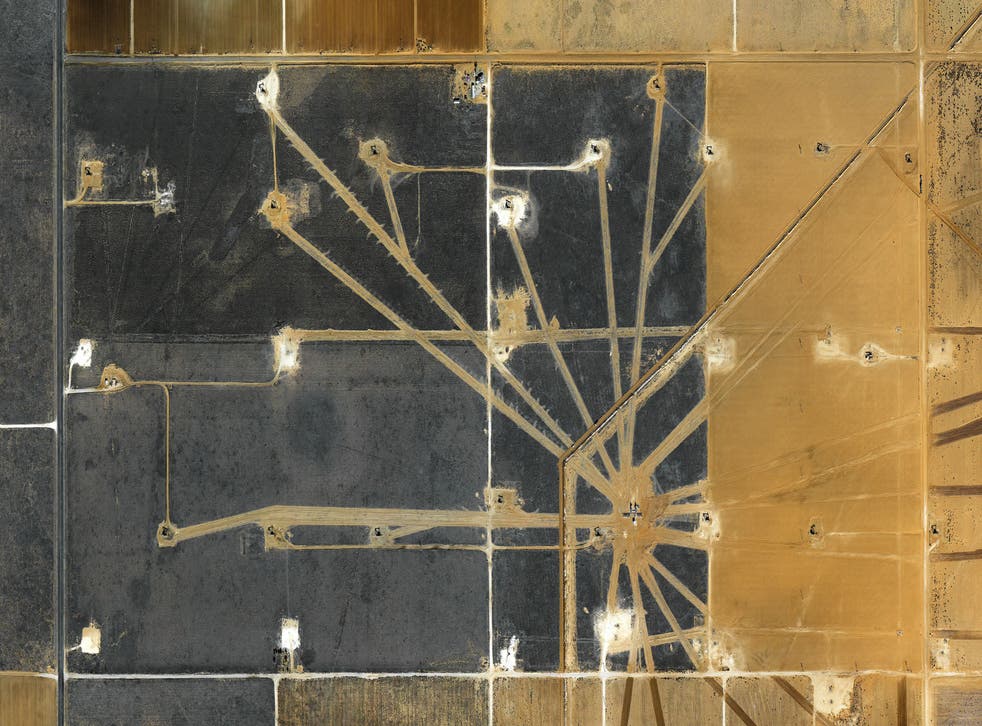 For Mishka Henner, oil represents the beating heart of America. "The tentacles of the oil industry span the vast territory of its landscape like the arteries of a body," he muses. "It's difficult to imagine the country and the values it exports without it."
While Henner trained as a photographer, to document these heartlands for his project "The Fields" he chose to make use of the vast array of satellite imagery that captures every square foot of the globe – much of it available to view by anyone online – to address issues of surveillance, ownership and the environment.
Mishka Henner's The Fields

Show all 4
The conceptual artist spent a year in his Manchester-based studio scouring the web for images of America's oil industry, and in the process learnt to decipher the visual clues of this landscape taken from hundreds of miles above: the difference between the shadow of a pipeline and that of a telegraph pole; an operational pumpjack from a disused one.
The resulting images not only capture the scale of America's oil industry, they offer an unlikely beauty, too: the Impressionist Cedar Point Oil Field and the mud-brown etchings of Kern River Oil Field could double as abstract art.
Henner was inspired to take a closer look, too, re-exploring these sites from the ground a few years later. Yet, driving across Texas, Nevada and California, understanding the scale of this circuitry at ground zero remained elusive for him: "Only in the silence and vacuum of space – several hundred miles above all the noise – does the network of America truly reveal itself."
'The Fields' can be seen at the digital-art exhibition Right Here, Right Now at The Lowry, Salford (thelowry.com), until 28 February
Register for free to continue reading
Registration is a free and easy way to support our truly independent journalism
By registering, you will also enjoy limited access to Premium articles, exclusive newsletters, commenting, and virtual events with our leading journalists
Already have an account? sign in
Register for free to continue reading
Registration is a free and easy way to support our truly independent journalism
By registering, you will also enjoy limited access to Premium articles, exclusive newsletters, commenting, and virtual events with our leading journalists
Already have an account? sign in
Join our new commenting forum
Join thought-provoking conversations, follow other Independent readers and see their replies