Painter Celia Paul: Lucian Freud's ex-lover tussles with ideas of uniqueness and identity
To help establish herself as an artist, she sent her child by Lucian Freud to be raised by her own mother. So with her latest exhibition, has the painter Celia Paul found the individuality she has sought all her life?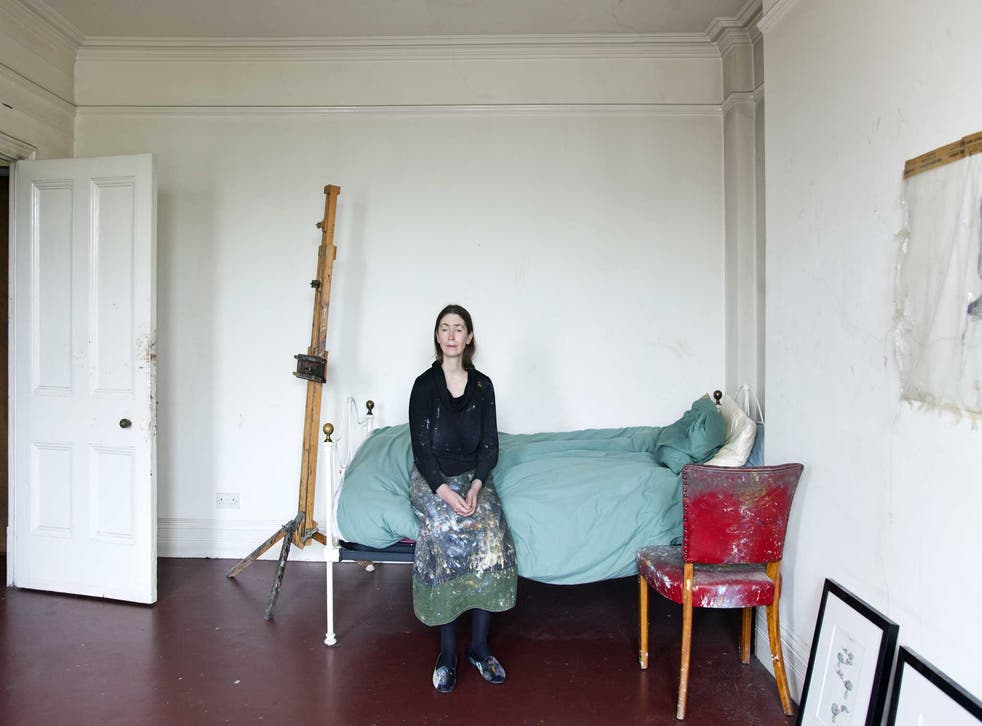 Celia Paul was four years old when her life was, in her own words, "blown apart". The fourth of five daughters, she was being raised in India where her father was a missionary; and in the aftermath of her younger sister's birth her parents decided to send her to join her older sisters at boarding school in the Ooty hills in Tamil Nadu. But the idea of separation from her adored mother, particularly in the wake of the birth of the new baby, left her devastated. "I decided to make myself into nothing," says Paul. She stopped eating, became very ill, was taken to hospital and diagnosed with leukaemia. But from then on, the wheels started to turn in a new way. Her parents decided their little girl would have a better chance of a cure in Britain. So, having been in India for 15 years, Paul's father gave up his job and the whole family relocated to London and an uncertain future.
Within a few months of their return, Paul was pronounced cured. "Everyone put it down to the power of prayer," she says. "But I've always wondered whether I really did have leukaemia. I so remember thinking about making myself ill, and then I was ill… and I think physical illness is very closely related to your mental state." The net result though was that, aged just four, Paul had managed to shape things in exactly the way she wanted them to be shaped. She didn't go to boarding school; she wasn't separated from her mother. And what that taught her, she says, was that power doesn't necessarily come from being "big", or noisy, or visible, or male. Small, quiet, invisible females can change the world too.
It's half a century now since the Paul family left India – Celia herself is 54 – but that theme remains the predominant feature in her paintings. And, as a new show of her work opens in London, you get the sense that this is her moment of proof. Because Paul has long felt herself to be bookended, as she puts it, between men: specifically, her one-time lover Lucian Freud, who died in 2011, by whom she has a son, Frank, now 29; and her brother-in-law Rowan Williams, the former Archbishop of Canterbury. Whenever her art is written about, these names are always dropped prominently into the articles. Now, Paul wants to break free from these noisy, visible, powerful males, and to show the world her own quiet, female power instead.
Where she works, she says, is hugely significant. Her flat-come-studio is a spartan space bought for her by Freud when they were an item (from the late 1970s to early 1980s), its paint-splattered floors and occasional pieces of furniture – a bed here, a moth-eaten sofa there – leaving you unsure as to whether this is a living or working space. But for Paul the two are really one; and the great thing about this flat, for her, is its location, directly opposite the entrance to the British Museum in Bloomsbury. "I'm surrounded by iconic buildings, all of them male," she says. "Virginia Woolf once likened the dome of the reading room to the male brain; another view from here is of the obviously phallic BT Tower. And behind me is St George's Church, with its statue of King George on top of the spire."
So her studio feels, says Paul, like a secret, female space from which she can observe these male creations, and paint the world as she sees it. Sometimes she paints the views; sometimes she paints portraits. Interestingly, the views of the masculine buildings tend to be small in size, while the portraits – almost all of women – tend to be the larger canvases. And not by chance.
What's fascinating about Paul's portraits is that, unlike many artists, she doesn't paint a wide range of subjects; indeed, for many years her main subject was her mother, Pamela. This was the same mother to whom she entrusted Frank for much of his childhood; like the sculptor Barbara Hepworth, who farmed out her young triplets to a nanny-training school, Paul didn't feel she could pursue her art properly while caring for a small child.
"An artist has to be very selfish," she says. "Being ruthless has been painful at times but my son is very close to me, and he has a very close relationship with his grandmother." As soon as Frank (who was named after Freud's great friend and fellow artist Frank Auerbach) started school, Pamela devoted more of her time to sitting for Paul; that early closeness, which was so formative in India, has continued; the portraits of Pamela are intimate and thoughtful, compelling and kind.
Being one of five sisters is another defining aspect of Paul's work. "My mother has always spoken about "all of you", and I think I've always been searching for a sense of identity, a sense of who I was amongst all these daughters," she says. So her sisters, whenever she has been k able to gather them together, have also been frequent subjects; she often dresses them in the same plain, white garments in order to show the physical differences – an incline of the head here, a crossing of the feet there; the way one sister looks at the artist, and another looks away. The differences are almost imperceptible, but they are there; Paul is interested in what unites them, but also in what makes them absolutely unique, completely individual.
In the same vein, some of her most recent work has been of the waves off the Devon coast (her family eventually moved to the west country after her father became the warden of the Christian community of Lee Abbey there, before moving on to be Bishop of Bradford); her interest in the waves, she says, is in working out what makes each one uniquely different, while still part of the great whole that is the sea.
Perhaps, she agrees, that is a clue as to what has been the search of her lifetime: to work out who she is, who she has been: one among so many sisters, one among so many of Freud's lovers, one wave among so many that crash on to the beach near her childhood home. What distinguishes her from the other sisters and the other lovers? She feels, she says, that turning 50 may have been the impetus to finding out.
"I feel freer now than I've ever been; so many constraints seem to have disappeared, and I no longer feel afraid," she says. "I think at this age the connection with men is easier, because when you're younger there's always a sense of role-playing, whereas now you can have more equal relationships and conversations. Women are wiser in later life; and so many great women artists – Paula Rego, Louise Bourgeois, Maria Lassnig – have done their best work as they got older."
At 88, Pamela Paul is now unable to make the journey to London from where she lives in Cambridge to sit for Celia, and she feels she couldn't work with her in her own home. For a while she wasn't sure who her new muse would be – she has painted her partner Stephen Kupfer, and she has painted Frank (who is himself a graphic artist, working in a quite different direction from either of his parents) – but in the end she has, possibly reluctantly but one feels almost inevitably, turned her mirror on herself. Previously, she says, it felt too difficult. "I would suddenly become self-conscious in a way I used to be when I was a young woman. But gradually it's got better, and I think I'm finally learning to be tender with myself."
She says she feels many women artists – too many, perhaps – have allowed anger to permeate their work, and she doesn't want to do that. "I think they've been angry because they've got to prove their dominance, which of course men don't need to do," she says. But she wants to prove that women are powerful in a different way, a quiet and hidden and understated way; but a way that can still, in the end, move mountains.
Celia Paul, at Victoria Miro Gallery II, 16 Wharf Road, London N1, until 2 August, victoria-miro.com
Join our new commenting forum
Join thought-provoking conversations, follow other Independent readers and see their replies