Penelope Curtis: Matriarch of the museum
Tate Britain's first female director Penelope Curtis is ready to realise her artistic vision when the gallery reopens next week, after a multi-million pound refurbishment. It's the next stage of her lifelong obsession with the arts, she tells Zoe Pilger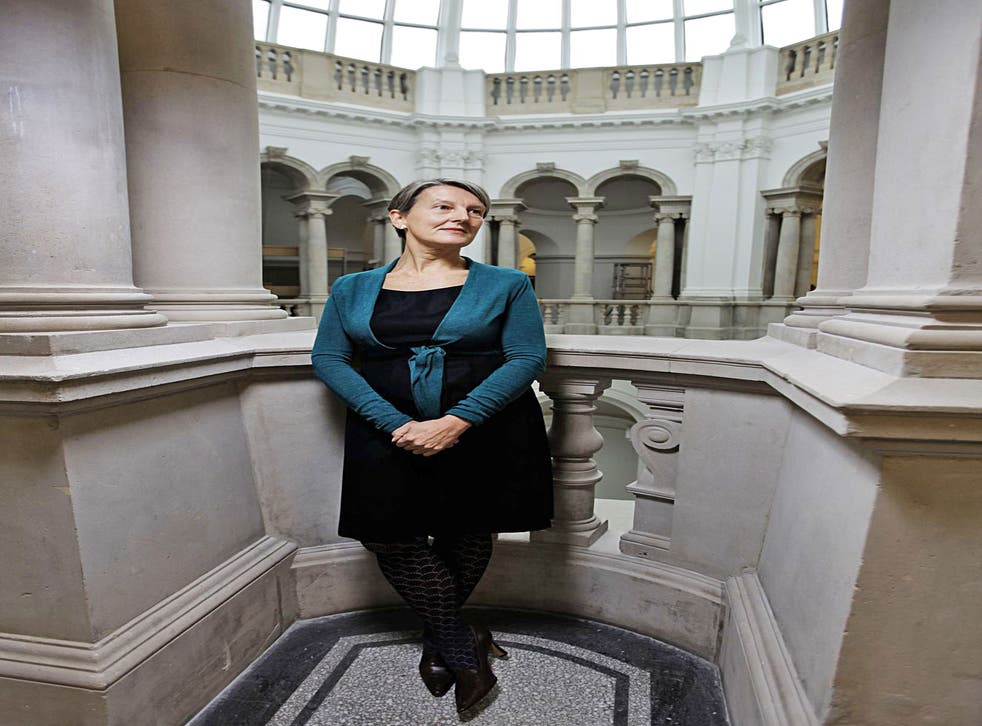 We are standing in a dust- covered circular room in the basement of the gallery, wearing hard hats and neon safety vests. "When you're down here you really feel like you're in the bowels of the building and you understand something of its age," Penelope Curtis, director of Tate Britain, is telling me. Builders are working frantically around us to ensure that this £45m, two-year refurbishment project is completed in time for the reopening of the gallery on 19 November.
Curtis, 52, is petite and stylish, with silver hair and a strong, youthful face. She is a deeply impressive person: the first woman in the top job, with a vision both inclusive and scholarly. She has a PhD on "Sculpture After Rodin" and has written widely on the subject, but she went to a state school before Oxford and has spent most of her career working in regional galleries: first Tate Liverpool, then the Henry Moore Institute in Leeds. She is both likeable and unnervingly erudite. "I just think you must never underestimate your audience," she says. "And as soon as you do, it's fatal. For everybody."
She explains that the Tate site was once part of Millbank Penitentiary, the largest prison in Europe, from where convicts were deported to Australia in the 19th century. "It was total surveillance," she says. This underground space will be the new Archive Gallery, where material from the Tate's rich history will be displayed. Curtis would like visitors "to think about the origins of the building. So this will be used for a space that refers to the original prison. We have a new terrazzo floor which is designed in the shape of the original prison plan."
Curtis is a great fan of 19th-century novels, and she tells me that the prison appears in both Henry James and George Eliot. The first archive display will be curated by Turner Prize-nominated artist Paul Noble, who was inspired by the idea of "the swamp, the prison, and the museum". Prior to a prison, the site was Millbank Marsh. "It had to be drained before the prison could be built. So Noble's idea is a kind of fantasy world, I think, of people emerging from the marsh alongside the idea of the prison gird. And the relationship of art to constraint and freedom."
The prison closed in 1890; the original gallery opened in 1897. While Tate Modern is only 13 years old and attracts three times more visitors a year, this is Tate Britain's chance to show off its advantage: history. Designed by architects Caruso St John, who were also responsible for the fantastic Nottingham Contemporary building and the Gagosian galleries, the approach of the refurbishment has been "archaeological". Original 19th-century and 1920s features have been enhanced, while the whole has been modernised. There are interventions by artists: an "artificial shadow" on the ceiling of the café by Alan Johnston and a new window by Richard Hamilton. The Millbank entrance will open once again.
In the restaurant, the famous mural The Expedition in Pursuit of Rare Meats (1926-7), painted by a 23-year-old Rex Whistler, has been restored for the first time since it was damaged in the flood of 1928. "The refurbished restaurant will be somewhat themed around the cuisines of the 1920s," says Curtis. "Our catering head has been doing lots of research into historical menus."
"This is the major feature of the new project," she says, leading me down a stunning Art Deco spiral staircase, adorned with scalloped black and white tiles. It matches the one that already exists. "The key idea was to restore the symmetry. I think it looks spectacular. But it also has a clear logic so that as soon you get here you understand you can go downstairs and there is a lower level."
Curtis was appointed director in 2010, the same year that the Government's Spending Review enforced budget cuts across the arts. Most of the £45m came from private individuals and foundations, however. The refurbishment follows the rehang of the gallery's British art collection from 1500 to present, which opened in May. It is indicative of Curtis's care and attention to detail that she and Chris Stevens, head of displays, hung the entire collection themselves.
Later, we have coffee in Curtis's office, which is peaceful with high ceilings and art on the walls. "These are not Tate works by the way, in case you're wondering," she says. There is a black and white, seemingly abstract photograph by Keith Wilson. "It's transparency of deep space," she tells me. "Slightly mysterious."
Born in 1961, Curtis moved to Glasgow at the age of six. "I had this English accent, and I was also half deaf at the time, so I think I was quite seriously dislocated when I arrived in Scotland. I never really believed that I was part of a crowd." Her father was a biologist and her mother looked after him. "I remember there was a time that I was about 16, I would try and make my mother not cook dinner for my father." She laughs. "I used to try and make sure that she wasn't there are the time that she had to be cooking. I wanted her to stand up for her rights! But that didn't really take off."
She didn't enjoy Oxford. "I was probably flattered that I got a place and I couldn't turn it down. I found it quite a lonely experience. I was also in the first year of women. So there were 18 girls and 150 men." She received no financial help from her parents; she was fiercely independent. "I think I made chances for myself. I found sources of money whether I was working as a catering assistant or applying for a scholarship." She has always felt like an outsider. "Yes – although I might look like I'm part of the establishment now, I suppose I feel I come from the margins."
Before studying for a masters at the Courtauld Institute, she went to Italy. "I think quite a strange part of my life was when I did a huge amount of travelling as a young woman, alone on InterRail trains, looking at galleries. That's all I did. If people spoke to me, I didn't want to get too involved in a conversation because I didn't want to be detained. Because I wanted to see as much art as possible. I was kind of obsessed with it, really." She pauses. "Now I've really turned that round. I love having random conversations with people on trains. And going with the flow a little more. I think I was terribly driven as a student."
Curtis is single and has no children. She lives in Shepherd's Bush. She loves reading – currently Pig Tales by contemporary French author Marie Darrieussecq, which is about a woman who turns into a pig. Does she have any siblings? "I have a younger sister. She's a dancer and a clown." Wow! "My sister always had a habit of meeting men on various methods of public transport and living with them. She met her first boyfriend on a bus and the next one on a ferry. She's married a German who she met on an aeroplane."
Today, Curtis is wearing sharply tailored pin-stripe trousers and brown brogues; she is glamorous. "I do like clothes, but I buy most of my clothes secondhand, actually. It's quite nice finding things just kind of haphazardly."
I ask her what has been her wildest moment? She laughs and suggests we go and look round the rehang instead. Eventually she says: "[In my early twenties] I used to travel on almost no money so that when I came back to Britain, I would lose about half my hair because I'd hardly been eating properly. I would have just a bit of bread and apples. I would never sit at a restaurant. I never bought proper food. I really punished myself in many ways. But I didn't think I was." I ask her if she enjoyed the element of self-denial? "No, not especially. I think I would have loved to have eaten some food."
For the past four years, Curtis has also been chair of the Turner Prize judging panel. What is the judging process? They have a meeting in the spring, when they each propose six artists, which they whittle down together to a shortlist of four. Then they meet again in December to decide the winner. "The result will very much depend on chance," she says. "It is inevitably circumstantial. That's what gives it some spark."
We speak for two and a half hours, and I could go on. Curtis leads me downstairs to the rehang, which is chronological, based on "juxtapositions and conversations". She points out a Sickert and a Burra, a Nicholson and a Hepworth. She explains that she wants "to really allow people to enjoy and not feel they have to know something before they can enjoy". µ
Register for free to continue reading
Registration is a free and easy way to support our truly independent journalism
By registering, you will also enjoy limited access to Premium articles, exclusive newsletters, commenting, and virtual events with our leading journalists
Already have an account? sign in
Register for free to continue reading
Registration is a free and easy way to support our truly independent journalism
By registering, you will also enjoy limited access to Premium articles, exclusive newsletters, commenting, and virtual events with our leading journalists
Already have an account? sign in
Join our new commenting forum
Join thought-provoking conversations, follow other Independent readers and see their replies