The Independent's journalism is supported by our readers. When you purchase through links on our site, we may earn commission.
Painting the Modern Garden: Royal Academy's new exhibition evokes a horticultural heyday​
Hollyhocks, chrysanthemums, dahlias, iris, lilies and waterlilies fill the Impressionists' garden paintings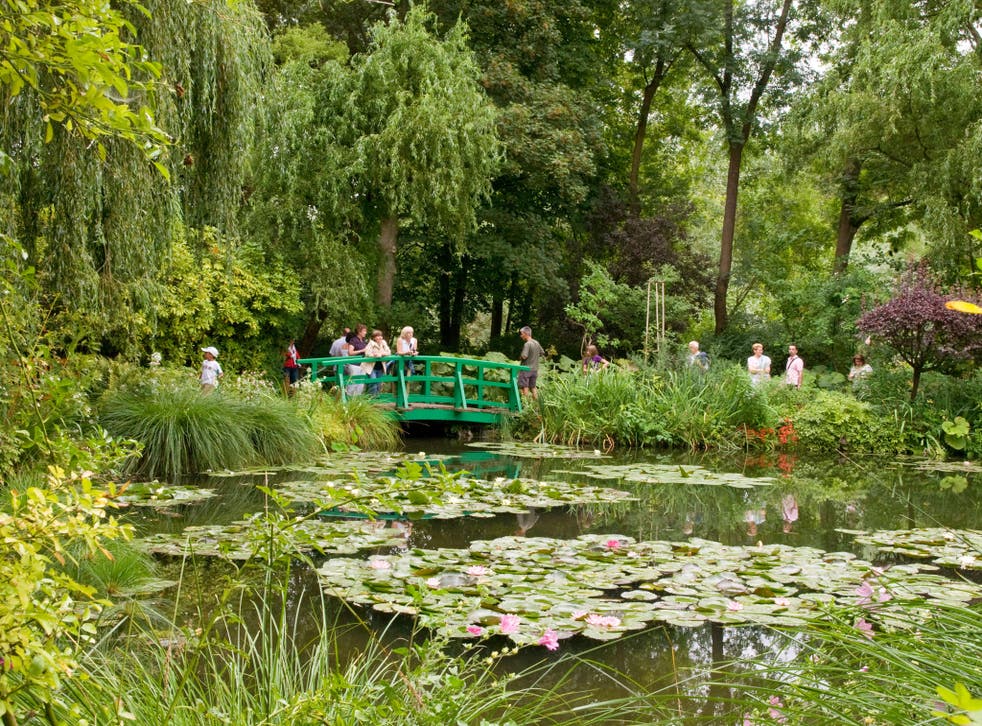 It comes at a good time, the new Royal Academy show, Painting the Modern Garden: Monet to Matisse. Anyone who gardens in this country has had a gruesome couple of months. We need a shot of light, of colour, of hope that the sodden mass of hideousness outside the back door is going to burst into life again. Here at the RA is a reminder of why we bother.
Monet and his friends were lucky in that technical advances, such as paint in tubes, were making painting outside easier. Gardening was advancing too; the period has been called the golden age of horticulture. Glass became cheaper, facilitating greenhouses. Thus tender plants such as pelargonium became wildly popular. Monet, Pissarro, Cézanne and Manet all painted them.
Newly invented rubber hose made watering easier. Pioneering industrial techniques produced better knives, clippers and, of course, secateurs, a French name so anglicised we forget that this essential bit of kit was invented in France in 1881, hand forged in the city of Moissac, Tarn-et-Garonne.
Culture news in pictures

Show all 33
There was a publishing boom too, and at Giverny, Monet had a complete run of the Belgian magazine Flore des serres et jardins de l'Europe. Horticultural societies were set up, such as the one in Monet's home town, Le Havre. As the French journalist Eugene Chapus wrote in Le Sport, "everyone in the middle class wants to have his little house with trees, roses, dahlias".
Plants became available in staggering quantity, with nurseries producing extravagantly illustrated catalogues. Horticultural shows sprang up in increasing numbers, as did the trial grounds laid out by plantsmen and seedsmen. Both Monet and his artist friend Gustave Caillebotte were regular visitors.
Hollyhocks, chrysanthemums, dahlias, iris, lilies and waterlilies, poppies, geraniums, roses and nasturtiums fill the Impressionists' garden paintings, but the kind of bourgeois garden spilling over with flowers that Renoir painted in the 1870s was a relatively recent phenomenon. Nasturtiums were an especial favourite; Degas even proposed that they should be the symbol of the Impressionist group, not just because they all loved them, but because their first show had been held in Nadar's studio on the Boulevard des Capucines (nasturtiums) in Paris.
The first hybrid tea rose appeared during the Impressionist era, developed by the French nursery Guillot Fils. It was a silvery-pink flower patriotically called "La France". Monet grew the single cream-flowered "Mermaid" over the porch of his house at Giverny. Over arches in the garden he planted "Paul's Scarlet Climber" (bred by William Paul in 1916), and yellow "Maréchal Niel" bred by Henri Pradel in 1864.
For late summer, dahlias had long been a favourite flower. Monet painted them in his garden at Argenteuil and later grew them with nasturtiums and asters either side of the Grande Allee, the broad gravel path that leads down the centre of his garden at Giverny. Red "Bishop of Llandaff" was among his favourites.
He also adored chrysanthemums, which were part of the period's craze for all things Japanese. After Japan opened up, plant hunters such as Robert Fortune and John Gould brought back chrysanthemums, cherries such as "Hokusai" and lacy-leaved Japanese maples like "Osakazuki", which arrived in 1898. Specialist shops sold Japanese artefacts: fabrics, furniture and ceramics, like the blue and white pots that appear in several of Monet's garden paintings.
"Here is the name of the Japanese plant that I got from Belgium: Cryptochaete," wrote Monet to Caillebotte. "Try to speak to M Godefroy [a botanist friend] and give me some information on how to grow it. Unfortunately there doesn't seem to be a plant called that. The only Japanese Crypto name is the Japanese cedar Cryptomeria." Caillebotte and Monet were different to the rest of the Impressionist gang. Both of them were committed gardeners, not just observers of the garden scene, as Renoir, Cézanne and Pissarro were.
As a painter, Monet preferred single flowers, which he said "transmitted" light better than doubles. He loved poppies, for instance, because of the way the sun shone through the petals. You notice, looking at his garden paintings, how rarely you see the sky. You are immersed in his gardens, saturated with its flowers. Three quarters of the paintings (that's around 500) Monet made in the last 26 years of his life were of his garden. Famously, he said, "My garden is my most beautiful masterpiece".
Painting the Modern Garden: Monet to Matisse is at the Royal Academy, London W1 (royalacademy.org.uk) until 20 April
Register for free to continue reading
Registration is a free and easy way to support our truly independent journalism
By registering, you will also enjoy limited access to Premium articles, exclusive newsletters, commenting, and virtual events with our leading journalists
Already have an account? sign in
Register for free to continue reading
Registration is a free and easy way to support our truly independent journalism
By registering, you will also enjoy limited access to Premium articles, exclusive newsletters, commenting, and virtual events with our leading journalists
Already have an account? sign in
Join our new commenting forum
Join thought-provoking conversations, follow other Independent readers and see their replies