In the Studio with Susan Hiller
'I would never regret the fact that I studied anthropology... it gave me an insight into art'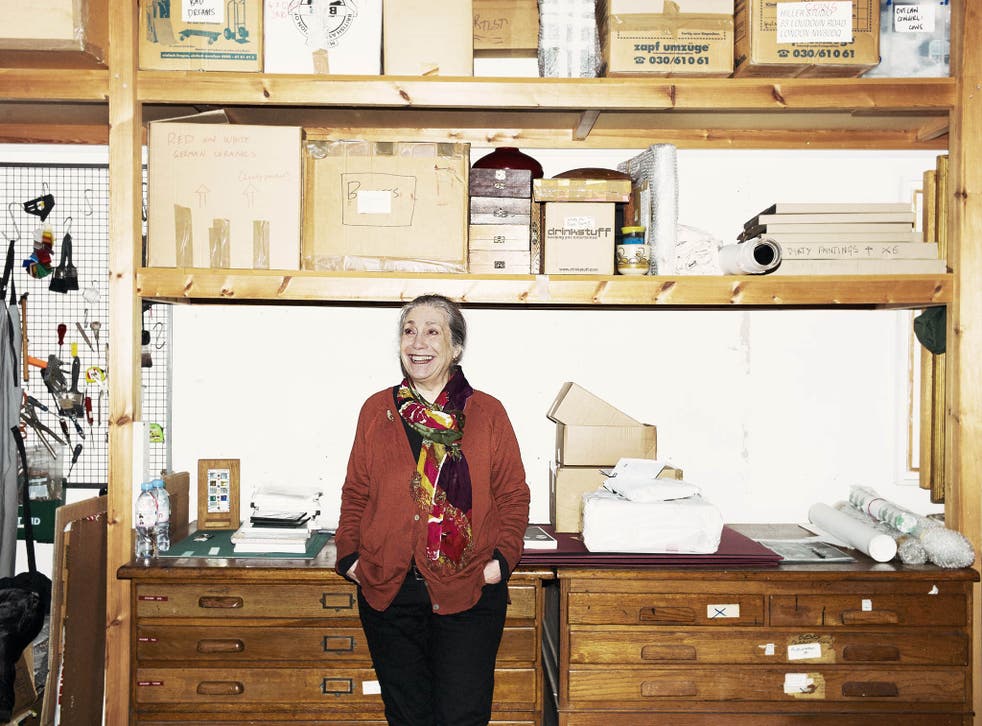 Susan Hiller's voice greets me at the gate to her studio in the borough of Camden in north London. I hear "follow the woman with the dog". I am grateful as the stairs leading up to her top floor are difficult to locate. The space when I get there is worth the climb: lofty and yet surprisingly cosy.
Her first words are "I'm in the process of moving out of this space. I have had a lease here for many, many years… about 15 years now. I'm here because a friend of mine had this studio, a very good artist who died, so I took it as a studio."
Hiller is relocating to a studio in Bow, and it will take her an hour by Tube to get there. It is larger but unheated – she sighs thinking about it. She is campaigning to have this building listed through the Twentieth Century Society to avoid its planned demolition. "Camden has turned its back on artists."
Hiller was born in the United States in 1940 and moved to Europe after meeting her English writer husband. She studied anthropology first. "I would never regret the fact that I studied anthropology. It was the most interesting thing I could imagine studying. And it did give me an insight into art that I'm happy about." Her work currently in exhibition in a West End gallery shows her embracing many mediums: video, painting, and installation, as well as many concerns, the disenfranchised, the different, the occult and movies.
Artist creates amazing body painting camouflage

Show all 7
I spent a wonderful hour with Hiller's work in the last Documenta in Germany. I revelled in the experience of being encouraged to pick my own choice of tunes from a list including protest songs and folk songs on a colourful jukebox. "I always used to say touch with your eyes, and also one of the reasons I like to use sound is because it touches your ears, physically." It stood out from its neighbours with its ability to create intimacy among the cacophony of other works.
I am surrounded by art students when I walk around her exhibition. Seeing the diversity of ideas with works such as Belshazzar's Feast, the Writing on Your Wall, I understand their interest. Hiller tells me that she stopped painting when someone compared her white paintings to those of Italian artist Piero Manzoni.
"In those days we would never tread where other artists had gone." I laugh with her, saying but your paintings are so different, cut, sewn and burnt. Her considered response: "I think it's extremely hard to keep innovating, if you like, in your own terms, whatever innovating means, when you know people liked the last thing you did more than what you're going to do".
Susan Hiller continues at Lisson Gallery, London NW1 until 9 January (lissongallery.com)
Join our new commenting forum
Join thought-provoking conversations, follow other Independent readers and see their replies