The Oligarts: How Russia's very rich are buying up the World's very best art
Russia's super rich are spending fortunes buying up some of the world's greatest works of art – just as Catherine the Great did in her imperialist day, says Marcel Therou
Saturday 27 September 2008 00:00 BST
Comments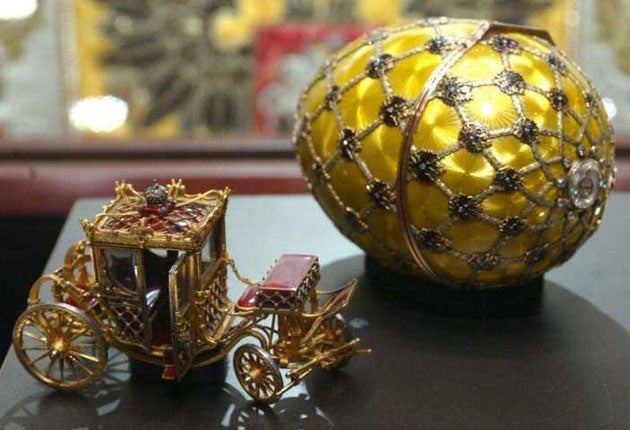 In an art storage depot in south London, James Butterwick, an old Etonian art dealer in motorcycle leathers, is showing me the first piece of Russian art he ever bought. It is a pencil drawing by Léon Bakst, a painter and graphic artist who designed for Diaghilev's Ballets Russes.
James acquired the taste for Russian art while studying in the Soviet Union and bought the picture in 1987, when Russian art was going for a song. James was able to snap up pictures by important Russian artists for relatively modest sums of money. Most of the pictures in the storage were painted between about 1910 and 1930, the period of the Russian avant-garde that includes Malevich, Kandinsky and Chagall.
It seems to be Russia's fate to be a latecomer to global trends and then make up for it its tardiness with sheer intensity. Russia left it until the 19th century to produce any writers of global stature, and then Pushkin, Tolstoy, Chekhov, Gogol, Dostoyevsky, and Turgenev all appeared. In politics, Russia had a frankly medieval set-up until 1861, with a tsar and legal serfdom; just over half a century later, it was leading the vanguard of world socialist revolution. The hordes of Russian shoppers on New Bond Street may have a different political ethos, but their single-minded pursuit of luxury has a similarly frenzied air of making up for lost time.
With Russian art, it's the same story. For centuries, Russia was epitomised by icons and onion domes, but by 1917, the country was a hothouse of artistic creativity. In painting, design and architecture, Russian artists were innovating, experimenting and open to new influences.
James tears the bubble wrap off a picture and stands it against the wall for me to admire. It's an oil painting by Natalia Goncharova. Goncharova and her husband Mikhail Larionov were part of this golden generation of Russian artists who came of age around the time of the Russian Revolution.
This summer, at Christie's Impressionist sale in London, a painting by Goncharova sold for $10.8m and became the most expensive work by a female artist sold at auction; not bad for a woman whose paintings failed to reach modest reserves as recently as 20 years ago.
When Stalin got his grip on the Soviet Union in the 1930s, the artistic flowering ended. In 1932 Socialist Realism was declared to be the only legitimate form of painting. Any artist who hoped to make a living painted happy peasants, blast furnaces, and pictures of Lenin. The art of the Russian avant-garde was relegated to store rooms. Outside Russia, a few émigrés and connoisseurs collected it. Inside Russia, there was a small circle of enthusiasts who exchanged pictures or bought them for tiny sums.
I meet one of these enthusiasts in his house in west London. Alexander Shlepyanov amassed a collection of avant-garde art in the Soviet Union, buying from other collectors inside the country, and from the families of the artists themselves. He tells me he felt that he needed to save the paintings from the communists. "It was a kind of Atlantis," he says. For collectors like him, the avant-garde was the evidence of a flourishing civilisation that had been wiped out by the commissars.
But when I ask him if he still collects, Mr. Shlepyanov looks a little sad. He says collectors like him have been priced out of the market.
James Butterwick tells me that in the past three years the prices of Russian art have gone up by as much as 400 per cent. It's not hard to figure out the reason. A new generation of super-rich collectors started buying up the works of the Russian avant-garde with the same devotion that the earlier generation painted them.
Rumour has it that Roman Abramovich, the owner of Chelsea Football Club, was the buyer of the Goncharova at Christie's. Mr Abramovich, who before 2008 had shown no interest in painting or sculpture, this summer acquired a Bacon triptych, a Lucian Freud, and a Giacometti. He also underwrote his girlfriend Darya Zhukhova's foray into the art world. Ms Zhukhova opened a modern art gallery in Moscow two weeks ago.
Of course, the former Soviet Union's new rich don't simply collect the Russian avant-garde. They buy Impressionist paintings, icons and 19th-century Russian painters such as Ivan Aivazovsky. At Sotheby's Russian Evening Sale in June, I watched as a tiny Aivazovsky snowscape sold for five times its estimate. As surprising as the sums was the manner of the bidding. As the auctioneer led the bids up towards £100,000, a gruff accented voice announced: "Two hundred thousand!"
Aivazovsky's detractors say his works are chocolate-boxy and kitsch, that his land and seascapes are an easy entry point into Russian art for new collectors with more money than taste. At the Hermitage Museum in St Petersburg, one of its curators, Alexis Leporc, tells me that some of the new money is indeed spent indiscriminately, buying up job lots of art. But there's precedent for it. Catherine the Great put together the massive collection that's at the heart of the Hermitage in much the same way, as part of a scheme to make Russia an imperial power.
What's perhaps strangest of all is the way the once unfavoured artists have attracted the attentions of Russia's top brass. The billionaire part-owner of Arsenal, Alisher Usmanov, Hoovered up the collection of the late Mstislav Rostropovich, the cellist and Soviet dissident. Mr Usmanov bought the entire collection of 450 paintings and works of art and returned them to Russia where they fill room after room in St Petersbur's Konstantinovsky Palace, an official residence of the Russian President. It's an imperial display that Catherine the Great would understand.
'Oligart: The Great Russian Art Boom' is on Channel 4 tomorrow at 6.30pm
Five oligarchs who are redrawing the art world

Roman Abramovich: Billionaire owner of Chelsea Football Club, he emerged this year as the buyer of at least $120m worth of paintings. Chelsea supporters might be forgiven for wishing he'd spent the money on a couple of specialist penalty-takers. His girlfriend, Darya Zhukhova, has just opened the Centre for Contemporary Art Moscow in a converted bus garage.

Alisher Usmanov: Uzbek-born Usmanov owns 20 per cent of Arsenal football club. Last year he paid upwards of £20m to repatriate Mstislav Rostropovich's collection of Russian art.


Viktor Pinchuk: The Ukrainian oligarch Pinchuk made his fortune in the steel industry and has invested heavily in contemporary art.

Viktor Vekselberg: The Ukrainian oil and metals magnate paid an estimated £50m in 2004 for the world's second largest collection of Fabergé eggs. He also funded the repatriation of some historic Russian bells to the Danilov Monastery in Moscow. He's embroiled in a battle with BP for control of a Russian oil venture.

Pyotr Aven: Urbane and fluent English speaking, banking billionaire Aven is considered to have one of the finest collections of Russian art that is held in private hands.

Catherine the Great: Arguably set the pattern for today's oligarchs. Not Russian at all but German, she married into the Russian royal family. As empress, she collected the art that forms the centrepiece of the Hermitage, intended to emphasise Russia's new Great Power status.
Join our commenting forum
Join thought-provoking conversations, follow other Independent readers and see their replies