Turner at the Tate: Earth, wind, fire and steam
Tate Britain's exhibition of Turner's extraordinary later work, scorned and misunderstood by critics at the time, celebrates the prolific painter at his elemental best, says Karen Wright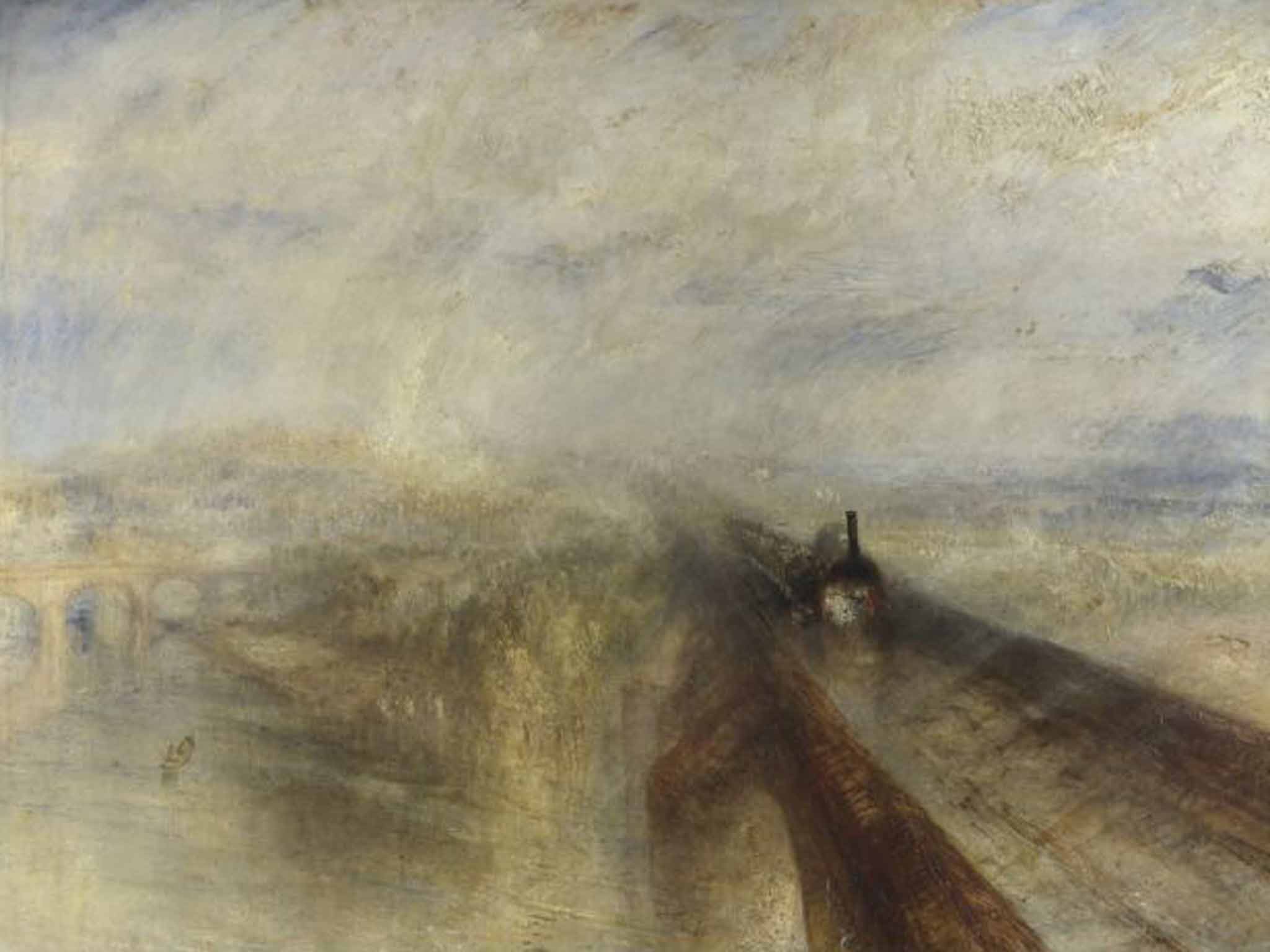 Late Turner: Painting Set Free at Tate Britain focuses on the last 15 years of Turner's long, prolific and often controversial life. Turner turned 60 in 1835 and died in 1851. It is hard to accept now, when we are asked as viewers and critics to consider literally anything as art, that Turner's late paintings and watercolours were met with scornful abuse by critics, even by those such as John Ruskin who had championed his early work. By the end of his career, Turner exhibited less frequently, received fewer commissions, and retreated into his work.
The excellent catalogue that accompanies the exhibition explores his physical condition – with doctors attesting that now he was 60 years of age he was entering into senility. However, if one judges his mental state only through his works on show, you see an artist who, like many others of his age, was facing mortality himself but was at the top of his professional career.
Turner was baptised Joseph Mallord William Turner in 1775, the only son of a barber and a wig-maker. Early illness in his family – his mother suffered from nervous complaints and his only sister died at an early age – led to him being sent to stay with his uncle. His humble beginnings probably meant he never felt comfortable about money. He is quoted as asking "Ain't they worth more?" than the 80 guineas his gallery had sold one of his late watercolours for.
He was quick to recognise the marketability of certain subjects, including Venice, and his paintings and watercolours with Venice as their subject are some of the most beautiful in the show. The Dogana, San Giorgio, Citella, from the Steps of the Europa, which depicts a former customs building – now a chic gallery housing the Pinault Collection in Venice – was the first of Turner's paintings to enter into the National Gallery through a bequest by Robert Vernon, a patron. Turner visited Venice in 1840 and by the time he left two weeks later he had made more than 200 topographical pencil drawings and more than 100 coloured sketches, many of which are in the show. I am dazzled not only by his prolific output but also by the extraordinary range of light, mood and range, from detailed works such as Venice: The Piazzetta, with San Marco and its Campanile; Night (c 1840) to the dreamy, quasi abstraction of a work like Fishermen on the Lagoon, Moonlight (1840).
Late Turner: In pictures
Show all 6
Bearing witness to the subjects that he would later turn into substantial paintings in his studio was central to Turner's practice, and the curators of this show have brought this to life, showing not only many watercolour studies, but also several of his sketchbooks and even his palettes – both travelling and permanent.
Many of the works on display come not unexpectedly from the Turner bequest (he left the entire contents of his studio, containing several thousand works, to the country and the Tate holds this gift). But there are also some important loans, including wonderful works from the National Gallery. Rain, Steam and Speed – the Great Western Railway (1844) elicited the comment by the contemporary critic William Thackeray that "the world has never seen anything like this picture". Peering into this canvas I am sucked into the experience of motion interrupting the placid landscape. I fully understand the comment by his peer John Constable, who described the work as being "painted with tinted steam". Sadly, it received abuse from John Ruskin, who could not understand why Turner felt it necessary to engage with such unattractive modern subject matter.
This work is carefully positioned next to The Burning of the Houses of Parliament, which Turner was to exhibit in the Royal Academy in 1835. He was thought to have been a spectator of the event and this canvas, a version of which was allegedly painted largely on varnishing day at the RA, shows both his bravura technique and his sheer courage, knowing that he was capable of technically handling any subject. Turner never travelled north, but the exhibition includes a compelling group of canvases and watercolours of the whaling industry, showing an artist who was unafraid of chronicling unpleasant subjects, even if only witnessed through literary and imagined sources.
It is this movement between the particular and the heightened abstraction of the conflagration and ominous skies that draws the viewer through the rooms, displaying such diversity and technical virtuosity that, even with well over 100 works, there is no room for boredom. This is also the first time that the nine square paintings have been shown together, reframed for the occasion. Cunningly placed on dark blue walls they are allowed to glow, showing off the central vortex common to many of them. Most striking, the poignant Peace – Burial at Sea (1842) depicts the interment of fellow artist Sir David Wilkie, the boat with its sinister black sails attesting to the solemnity of the scene. This group of works, which glow with an internal light, confirm the long-held belief that Turner was the artist of light. But the subject matter here also deserves recognition, with an element of theosophy detectable in the vortex-like structures.
Towards the end of the exhibition, one senses an emptying out of subject matter and a sadness entering the work. Norham Castle, Sunrise (c 1845), a poignant watercolour, show animals as mere silhouettes against the lemon-hued sun. The sea became more and more of a preoccupation, the last works depicting many scenes from the coast of Margate, where Turner famously stayed in the boarding house of Mrs Sophia Booth. Turner was later to quietly install her as his companion in his riverside house in Chelsea. His views of Margate harbour, simple though they are, show his mastery of watercolour materials: water, pigment and paper.
This is a wonderful show, thoughtfully selected with enough work to make the point but not to overwhelm. There's even a moment of humour, albeit of the academic sort. In the first room hangs Noah's Sacrifice (1848) an incongruous canvas by Daniel Maclise, a younger artist whose work had hung next to Turner's in the Royal Academy Summer show. This panorama of Noah, elephants and all, apparently contains Turner's work. Turner indicated to Maclise during varnishing day that he thought the rainbow could do with a bit of tweaking, as could some of the shadows on the lambs in the foreground. I think Turner definitely did the rainbow on the left; it is up to the viewer to decide.
The EY Exhibition, Late Turner: Painting Set Free' curated by Sam Smiles, David Blayney Brown and Amy Concannon, Tate Britain, London SW1 (020 7887 8888), continues until 25 January 2015
Join our commenting forum
Join thought-provoking conversations, follow other Independent readers and see their replies