When Tracey Emin met Louise Bourgeois
Shortly before her death last year, Louise Bourgeois collaborated with Tracey Emin. The two artists shared a passion for works about sexuality and intimacy – and the results are certainly startling, says Arifa Akbar
Tuesday 15 February 2011 01:00 GMT
Comments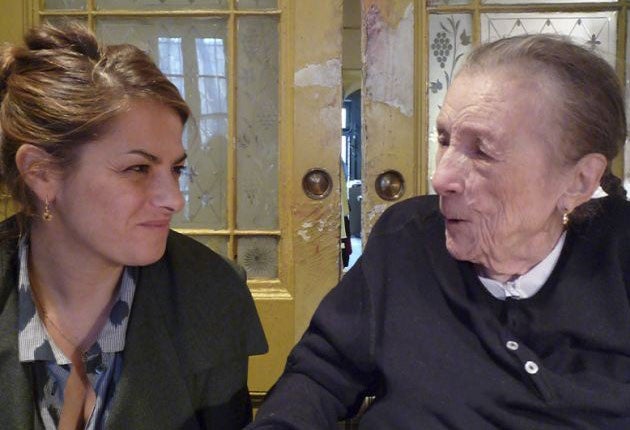 Three months before Louise Bourgeois died at the age of 98, the increasingly frail, albeit incorrigible artist is believed to have sat up in bed in keen, childlike excitement, after hearing the news that her 16 gouache canvases had finally returned to her, though not in the half-finished form in which they had left her two years previously.
The canvases had been a long time coming but they had returned, completed. Bourgeois had sent a set of figurative watercolours to the British artist Tracey Emin, after an initial meeting with her more than five years ago which developed first into a friendship, and finally into a rare working relationship – Bourgeois had always shown hesitancy in working with artists during the bulk of her long, illustrious career.
She was, that mild morning, thrilled by what she saw. Emin had agonised over her part in the project, daunted by the images as "precious objects in their own right", and such was her nervousness that she had resisted putting paint to canvas for over a year, taking the half-finished pieces with her on trips as far afield as Australia and France, until finally deciding on how to proceed. The results will be unveiled at Hauser & Wirth Gallery in London this week, in the exhibition Do Not Abandon Me, which has travelled from the Carolina Nitsch Project Room in New York.
For Emin, it was a relief to hear that Bourgeois – a famously outspoken tour de force, who, in 1982, became the first female artist to have a retrospective at the Museum of Modern Art – had been so thrilled by the end result.
The collaboration came after Emin wrote a vivid account of the emotional impact that a first visit to Bourgeois' home had made on her: "I was feeling vulnerable but at the same time excited. I was going to meet Louise Bourgeois. In my mind's eye, I had imagined many conversations. I often do that with artists I respect," she wrote, reflecting on the moments before her arrival at the dark, cavernous New York house, to find Bourgeois, initially spiky (shouting volubly in her native French) and utterly mesmerising to meet.
"The first time I saw her she was screaming, shouting, angry, shaking her fist," she remembered. "The only word I could decipher was a name: 'Sadie, Sadie, Sadie'. I just remember thinking: this woman's free. But the irony was that even though this woman was being emotionally free, she was making references to the emotional entrapment of her life...
"I stared at her hands, and I imagined them chiselling and hammering. I imaged her fighting with lumps of stone, attacking clay, washing and throwing countless objects into vats of plaster. I looked into her eyes and imagined her obsessed, drawing spiral after spiral, the collective mental patterns of our minds."
It was after Emin's evocative piece in Parkett art magazine in 2008 that Bourgeois expressed her interest in a series of joint works. It was clear from Emin's homage that Bourgeois was someone she had enduringly admired – "I looked at Louise Bourgeois's work for years trying to work out what I really thought about it. Why is it so good? Because of the honesty" – and critics have often commented on intersecting themes and obsessions in the two artists' work.
Neil Wenman, the director of Hauser & Wirth Gallery, says Emin and Bourgeois began having "conversations and meetings every six months after their original meeting", until Bourgeois produced her series of gouaches featuring male and female torsos, pregnant women's bellies and erect phalluses.
Emin then added to them with mirror writing across silhouetted forms, as well as foetuses and miniature female figures. The images range from passionate to mournful and vulnerable, with a mischievous play on scale in which tiny female figures are depicted embracing giant, flame-red penises (in Too Much Love and And So I Kissed You) or sitting atop them (in A Million Ways to Cum). A religious theme emerges in Come unto Me, which features two women as worshipping icons, praying beneath a giant phallus that is superimposed with a Crucifix. The completed images were printed with archival dyes on cloth, and will now be sold in an edition of 18 sets with six artist proofs.
Wenman thinks that the artists' collaboration may have been so seamless and successful because they both engage with themes around female subjectivity, motherhood and sexuality.
"Both their underlining preoccupations revolve around sexuality, emotional dependency, the family unit and ideas of intimacy. They are both dealing with confessional and autobiographical subject matter and they both have a history of making art using fabric, blankets, embroidery."
Yet there are differences, and these also resonate in this collaborative work: "They both deal with different aspects of a woman's life – Tracey, with her rape, abortions and realising she can't be a mother and how this affects her as a woman. Louise deals with birth and motherhood in a different way [she had three children]. Tracey's issues are a bit more explicit but the two artists have a very strong crossover.
"You can see the two artists' hands in this series. You look at the watercolour, and it is very Louise Bourgeois, and you look at the texts on them, and it's archetypal Tracey Emin, yet the final work is unified."
What is extraordinary in this collaboration also, is that it was so rare for Bourgeois to work in this way. "The fact that she worked with Tracey so late in her career," thinks Wenman, "was testimony to the friendship that they found with each other."
The collaboration was open-ended, with neither artist defining the terms or themes. In this regard, it was founded on mutual trust, says Wenman. "The idea was that Tracey would add her own interpretation to Louise's outlines and watercolours. They did not need to discuss each image. Rather, [the process] itself became the open conversation."
Louise Bourgeois and Tracey Emin: Do Not Abandon Me, Hauser & Wirth, London W1 ( www.hauserwirth.com) 18 February to 12 March
Join our commenting forum
Join thought-provoking conversations, follow other Independent readers and see their replies