Yayoi Kusama: How the Instagram generation fell in love with the world's top-selling living female artist
Kusama's work has been hashtagged more than 300,000 times, and has fans in Katy Perry, Adele and Nicole Richie, Clarisse Loughrey writes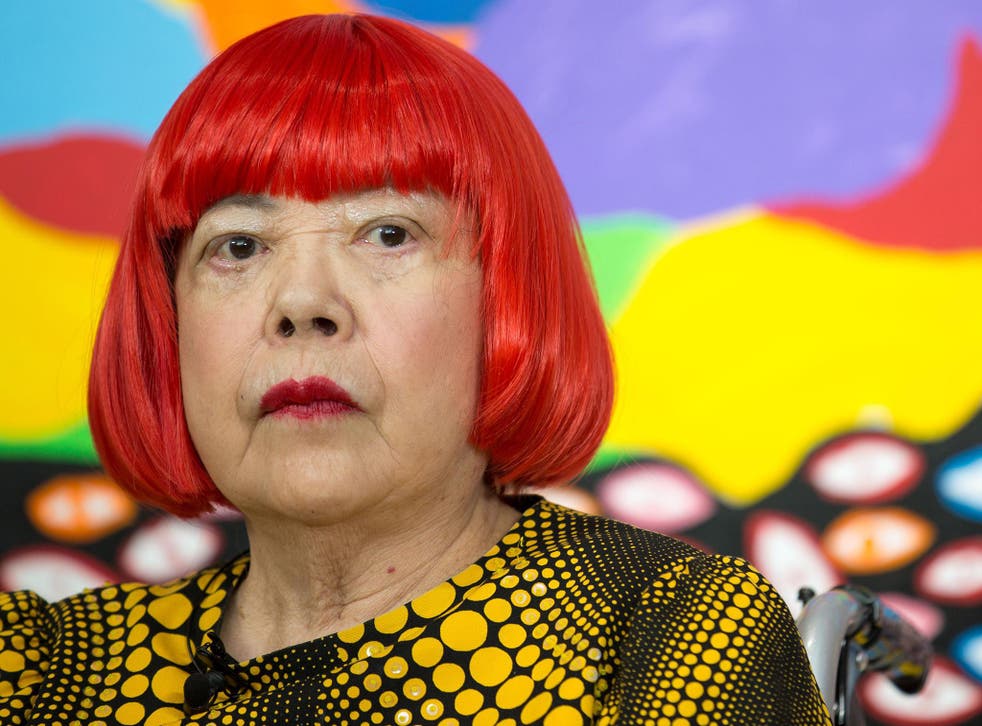 Yayoi Kusama, at 89 years old, is the world's top-selling living female artist. She first made her name in the art world in the 1960s, when she left her native Japan for New York City, but it's now that she's become the (unwitting) artist of choice for the Instagram generation.
Kusama's work has been hashtagged more than 300,000 times, with Katy Perry, Adele and Nicole Richie all seeking out one of her famous Infinity Mirrored Rooms for a selfie. One of these rooms, titled Infinity Mirrored Room – My Heart is Dancing into the Universe, now forms the centrepiece of an exhibition of new works at the Victoria Miro gallery in London. Though it runs until December, tickets have already sold out. She is also the subject of a new documentary Kusama – Infinity.
On entering the room, it becomes immediately clear why people flock to Kusama's famed Infinity Mirrored Rooms to take selfies, and why Adele chose one as a setting for a performance in 2016. It's a space lined entirely with mirrors, save for a short walkway, and dotted with paper lanterns of various sizes. They pulsate with various colours; a few gently rotate. They seem alive, almost, as if Kusama's aim was to replicate an alien encounter. You have approximately one minute to take a selfie, and absorb the sights. It's an odd, mesmerising, fleeting experience. But, ultimately, the time you spend in there matters little. The intended effect hits you the moment you walk in: to see yourself duplicated again and again, looking small and insignificant.
Mirrors upon mirrors are a narcissist's dream. Yet, there's an irony here. Instagram offers us a platform where we can narrate and aestheticise our own lives – rewrite ourselves, in a way – but Kusama's Infinity Mirror Rooms exist to enact what she calls "self-obliteration", where the rooms' sense of infinite duplication makes us feel engulfed by our surroundings. And, when we photograph ourselves in one of her rooms, then post the image online, we are publicly erasing ourselves. It doesn't matter if you're Katy Perry: in the Infinity Mirror Room, you are merely stardust. A speck in the universe.
Kusama's work has always been steered by this concept of "self-obliteration", sparked by her personal traumas. When she was 10 years old, she began to experience vivid hallucinations of light auras and dense fields of dots. And, on occasion, the flowers in the fields near her home would talk to her. "I was surrounded by so many flowers. When I looked around, I saw the flowers everywhere. It was this sense of being obliterated by the flowers," she said of her experience. Dots and flowers infiltrate every corner of her work.
At Victoria Miro, the exterior patio is dominated by painted bronze sculptures of flowers covered in dots, titled The Moving Moment When I Went to the Universe. Inside, two paintings titled Dots Obsession hang. They look picture-perfect from a distance, like an intricate net of yellow or black, but look closer and the frantic brushstrokes start to appear. Kusama is known also for her obsession with phallic shapes, used to cover chairs, ladders, mannequins and babies' prams. She's spoken of how this stems from the fact that, as a child, her mother would send her to spy on her father's affairs. It bred a lifelong contempt for sexuality. Since 1977, Kusama has lived voluntarily in a psychiatric institution.
Kusama's art, therefore, is therapy. Her work exists to help process her experiences; to recreate them in a controlled environment, and then invite the world to partake in them. When we perform an act of "self-obliteration", by entering into one of her Infinity Mirrored Rooms, or getting lost in the maze of "Dots Obsession", we can understand her. And that is an impulse also at the heart of the internet generation: from confessional YouTube videos to memes about anxiety and depression. Social media may have inherently isolated us from the real world, but we have also taken advantage of that distance, that level of anonymity, to speak more honestly than ever about ourselves. Kusama explores her own psychology in art, as we explore our psychology on the internet.
There's also a sense that, in facing her traumas head on, Kusama has been able to reclaim her own narrative. Born to an affluent family who owned the region's largest seed farm, Kusama was raised in line with traditional values. Her path to an advantageous marriage had been carefully laid out. Whenever her mother would catch her drawing, she would fly into a rage and tear the paper from her hands.
However, the pair settled on an agreement in which Kusama could attend the Kyoto School of Arts and Crafts, as long as she attended etiquette classes. She never turned up to the latter and quickly grew tired of her artistic training, which focused on the traditional Japanese painting style called nihonga. She felt limited by its strict master-disciple system, and instead grew increasingly interested in the American Abstract Impressionism movement. Inspired by a letter exchange with Georgia O'Keefe, Kusama moved to New York and threw herself at the avant-garde scene of the 1960s, despite the fact her meagre earnings forced her to use an old door for a bed and scour dumpsters for fish heads, so she could boil them down to a broth.
A cross-medium innovator – from sculpture to performance art, fashion to the written word – Kusama found several ardent supporters in fellow artists Donald Judd, Eva Hesse and Joseph Cornell. Yet, as a woman of colour, she was consistently shifted to the sidelines by the commercial art world. All while, as she claims, the white male artists she surrounded herself with established legacies out of her ideas. In the documentary, she alleges that it was only after seeing her soft fabric sculptures that Claes Oldenburg adopted the medium. And she claims that it was only after Andy Warhol saw her plaster the floor, walls, and ceiling of a gallery with repeating images of a rowboat that he created his first wallpaper piece – 1966's Cow Wallpaper.
Her work morphed increasingly into a demand for recognition – a way to insert herself into the art history narrative by her own means. In the late 1960s, she began to organise a series of naked happenings, where she would recruit a band of followers to frolic nude in various public places, including the Museum of Modern Art in New York. The police were often swift to break up the gatherings. In 1966, she hijacked the Venice Biennale and set up shop outside, selling balls for $2 each next to an ad which read, "your narcissism for sale". She even wrote an open letter to Richard Nixon offering to have sex with him if he would stop the Vietnam War. During this period, Kusama was more frequently written about than Warhol himself.
After Nixon's re-election in 1972 saw America shift towards more conservative values, the art world began to turn its back on the boundary-breakers. That, in turn, meant the system propped up, more than ever, white male artists like Warhol and Oldenburg. Kusama, defeated, left New York and returned to Japan. The former swiftly forgot her, and she was practically erased from art history, while the latter labelled her the "shame of Matsumoto City", obliterating her name from her high school alumni list. Not a single museum or gallery in New York showed Kusama's work for more than 20 years.
A 1989 retrospective at the Centre for International Contemporary Arts in New York finally changed that, and Kusama's reputation as an artist has only grown since. Last year, Tokyo opened the Yayoi Kusama museum. If her creativity had indeed been sapped over the course of the 1960s by white male artists around her, at least Kusama has been given the final word.
When asked what her manifesto consists of, Kusama always answers with the same notion: "I hope that the power of art can make the world more peaceful." And hopefully, between the selfies and the hashtags, it has.
The exhibition Yasoi Kusama is at Victoria Miro, London, until 21 December. The documentary Kusama – Infinity is out now
Join our new commenting forum
Join thought-provoking conversations, follow other Independent readers and see their replies