Great Works: City By The Sea (c.1340), Ambrogio Lorenzetti
Pinacoteca Nazionale, Siena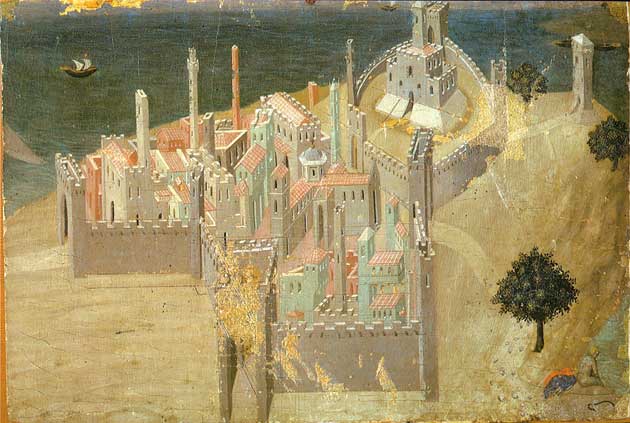 In the 1920s, the painter Fernand Léger saw a creative potential in cinema – in its ability to "isolate the object or the fragment of an object and to present it on the screen in close-ups of the largest possible scale. Enormous enlargements of an object or a fragment give it a personality it never had before, and in this way it can become a vehicle of entirely new lyric and plastic power. I maintain that before the invention of the moving picture, no one knew the possibilities latent in a foot, a hand, a hat."
But never mind the interesting artistic possibilities. Concentrate on the basic perception. What Léger had noticed was something both obvious and revolutionary. Films can make things huge. Simply through close-up photography and long-distance projection, they can produce images that magnify the size of things many, many times. No previous kind of image-making did things so big.
In the 20th century, the massively oversized image became normal. It happens not only in cinema but also in billboards. "In frames as large as rooms" – as Philip Larkin put it – they dominate the urban visual landscape, with toilet rolls the size of dustbins.
The traditional art of painting hardly competes at all. Remote ceiling paintings may render things bigger than their actual size. But this manages only to keep them within the range of our visibility. It doesn't present us with something that looks gigantic. With wall-hung pictures, their figures and objects are seldom much bigger than life-size, and often less than that.
There's no technical obstacle to painting over-scale. A still-life picture could have shown a fruit or a pot that was 10 feet across. It's never done. Paintings go to the other extreme. Without feeling anything strange in it, their images are typically smaller, sometimes much smaller, than the things they represent.
Not enlargement, but reduction, is their normal mode. Think of what happens to scale in landscapes. Trees become shrubs. Buildings become shoe boxes. But this effect is not merely a neutral convention. Diminution can have – to use Léger's phrase – its own "lyric and plastic power".
Ambrogio Lorenzetti's City by the Sea is one of the treasures of Sienese art. It's also a questionable picture. What kind of scene is it? Some people see it as a fragment cut from a larger image. Some see it as an independent landscape. Either way, it is not isolated. City by the Sea has a companion image, Castle on a Lake, of the same size and shape, and with a view that seems approximately continuous. They're perhaps both decorative panels from a wooden coffer.
Another question: which city is it? The city here has been identified as Talamone, Siena's nearest port. If so, it is hardly a working port. There are two little ships plying the sea above. And bottom right, a naked man sits on a bank and dangles his feet in an inland water, his clothes beside him. Apart from that, the land is unpeopled.
This is a deserted townscape we survey. It's presented, not as a living city, but as an ideal architectural specimen. We see its buildings in an overview, in an early type of perspective, oblique parallel projection. Things don't converge or compact as they get further away – parallels stay parallel – but they're set at a slant, both upwards and sideways, to display their three-dimensionality.
The city is a demonstration of lucid construction. It rises out of, and stands out against, a rough, rocky landscape, an outbreak of explicitly rectilinear geometry. In areas where the paint is lost, you can see how the ruler has been at work. The incised guide-lines, by which the picture's many straight-edges were marked out, appear plainly.
Nothing is confused. The houses, churches, towers and keeps, though densely clustered together, and closely pent in by the city walls, are each visually distinguishable. They're translated into simple planes and solids, slotted with arches and cut out with castellations.
All corners are sharply clipped with light and shade. The light comes broadly from the left, but it can happily come from any direction when the forms of a doorway or a windowsill need bringing out. There's a kind of colour-coding, too, for extra differentiation. Pink and light turquoise, cool greys and warm greys, map out the various elements of the town, its walls and roofs and pavements. Everything works to make this tiny city clear.
A tiny city! Of course, that's how we see it. And literally it is. The image itself is just eight inches high by one foot across – a bit bigger than it appears here, but not much. In proportion to any actual buildings, the painted buildings are in an extreme reduction.
But the miniaturism of the image only confirms what we feel about the city already. It is like a scale model. It is an exercise in two-dimensional model-making. All those ways in which the city's structures are simplified and clarified and sharpened make it like a piece of small-scale carpentry, a building-block kit, a city in a bottle.
And even within the overall downsizing, there are further shrinkages. The towers that poke above the roofs are made pencil-thin, and pencil-breakable. The town walls are almost sheet-thin. Their castellations could be taken between finger and thumb and snapped off.
This fragility adds to our sense of the city as something hand-sized and hand-made – but also as something exquisite, delicate, precious: a toy-town in a dream.
About the artist
Ambrogio Lorenzetti (active 1319-48) was the greatest painter of 14th-century Siena, though not much of his work has survived. His fame rests mainly on his masterpiece, the frescos of 'Good Government' and 'Bad Government' in Siena's town hall, panoramic views with complex townscapes and landscapes and a political moral in praise of his home town. He is assumed to have died in the Black Death. As for the 'City by the Sea', Lorenzetti's authorship is sometimes doubted. It's also ascribed to another Sienese painter, Il Sassetta, who was working almost a century later – in which case the little picture is done in a deliberate revival of an old-fashioned, authentically "simple" style.
Join our commenting forum
Join thought-provoking conversations, follow other Independent readers and see their replies