A portrait of Tony Blair – and zealotry
A painting of the former PM for the National Portrait Gallery tells us much about him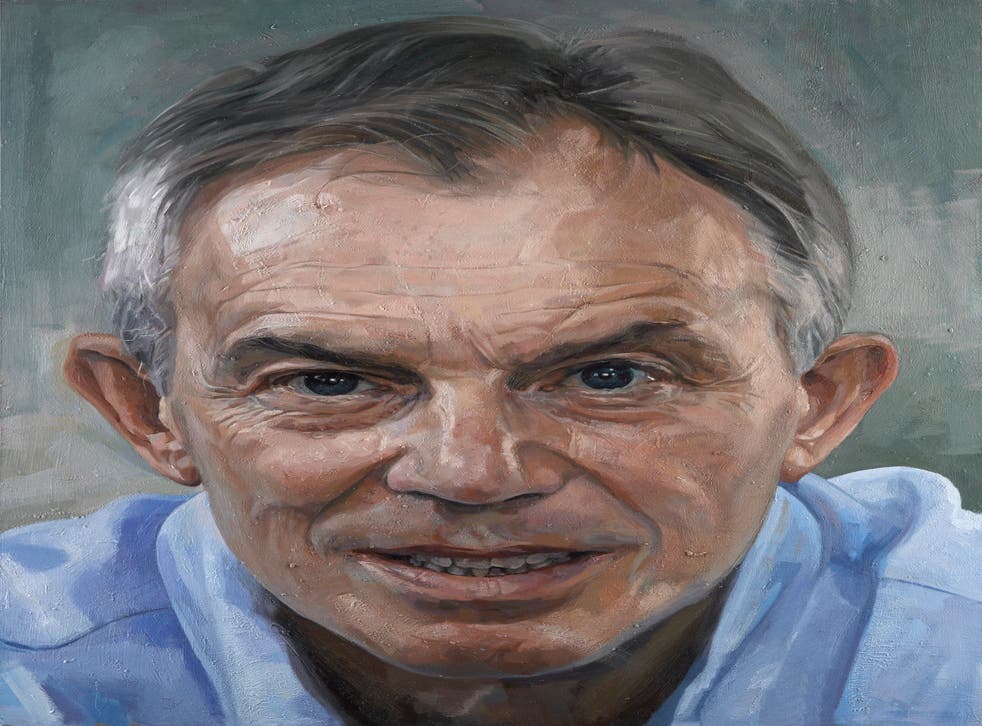 Portraits of British prime ministers are two a penny over at the National Portrait Gallery. Of course they are. This institution is all about the creation of pleasing sets of this and that, and this is one of the most important sets in the great game that we used to fondly call The Establishment.
These are the (all but one) men who have helped to make this country what it is, for better or for worse, beginning with Robert Walpole, our first Prime Minister, who is depicted, standing, by Sir Godfrey Kneller in about 1710, a Whig in a wig, and a splendid velvet coat, cheeks rouged, posturing, self-preening. Pompously gay as they come. Or perhaps not.
Most of the major portraits are to be found on the first and second floors of the old gallery – Grey, Disraeli, Gladstone, Churchill.... These are all formal acts of portraiture, officially sanctioned and paid for, here to set off dignity, decorum, clout. Many of them, face-forward or in profile, are close to life size, and they hang in such a way that we often have to lift our heads up slightly in acts of – perhaps rather unwilling – homage. All this is perfectly calculated, these portraits and their staging here, as if in the decorous solemnity of a country house that just happens to have snuck in behind the boisterous blare of Trafalgar Square, just as Van Dyke's great portraits of the Stuarts – soon-to-be-headless Charles, for example, rampant on a horse to lift him up and out of his own miserable stature – or Holbein's, of the Tudors – massy, spread-legged Henry – were calculated to show off the men of steel upon whom, in the end, we could depend.
And what of dear old Blair, our last-but-one? Has he been magicked by the brush into something that he never quite was? What we notice at first is how tightly cropped he is. No torso. No legs. No hands. No books. No skulls. No orbs. No sceptres. No wads of gum.
No, Blair, we immediately recognise as we stare into his eyes, needs no such appurtenances of the kind that we mortals need. Merely the might of a snarling, boisterous head, hunched forward, attent, sleek, rampant. This is a no-holds-barred portrait of zealotry – religious, political, what have you. There is a kind of eager-beaverish triumphalism here – we see that in the slight glisten on the teeth, ever ready to rend and dissect the imperfect arguments of the weak. There is also much heroic wear and tear in the creasings of the forehead. This is a head which has come through much.
And yet the eyes still glitter, almost feverishly, because there is so much more still to be done. The world still needs whatever it is that this head, a long-life bulb if ever there was one, is still so eager to offer.
Otherwise, this is a fairly common-or-garden gobbet of realistic portraiture, unlikely to cut much mustard at next year's BP Portrait Award.
Portraits of Prime Ministers and royalty

Show all 6
Register for free to continue reading
Registration is a free and easy way to support our truly independent journalism
By registering, you will also enjoy limited access to Premium articles, exclusive newsletters, commenting, and virtual events with our leading journalists
Already have an account? sign in
Register for free to continue reading
Registration is a free and easy way to support our truly independent journalism
By registering, you will also enjoy limited access to Premium articles, exclusive newsletters, commenting, and virtual events with our leading journalists
Already have an account? sign in
Join our new commenting forum
Join thought-provoking conversations, follow other Independent readers and see their replies