The Independent's journalism is supported by our readers. When you purchase through links on our site, we may earn commission.
Ai Weiwei made a room full of celebrities take selfies in refugee jackets
Though the artist is committed to documenting the struggles of the refugee crisis, some critics have branded the stunt "offensively tasteless"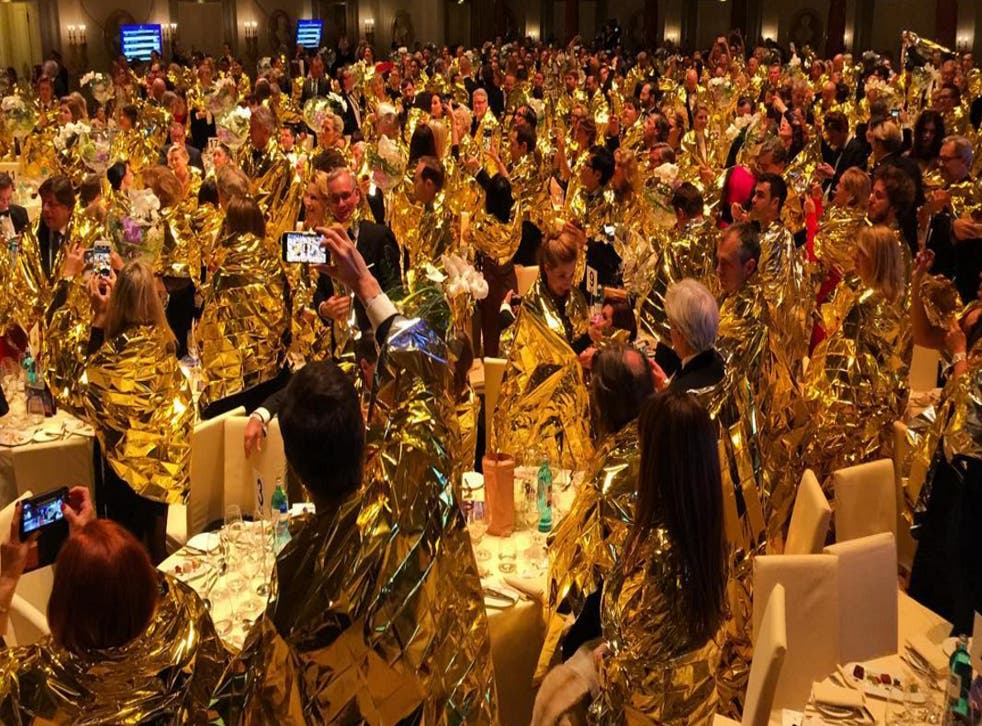 Ai Weiwei, famed artist and political activist, has made the refugee crisis the central point of his latest work. Joining volunteers on the Greek island of Lesbos, the port of entry for 100,000s of refugees, Ai has passionately captured the struggles he is witness to. He has also announced plans to establish a studio on Lesbos, where he hopes to create a memorial to the 700 refugees who have lost their lives in the journey from Turkey to Greece.
That said, some of his latest work has drawn increasingly heavy criticism from the art world. When Ai took to the annual Cinema for Peace gala, part of this year's Berlin Film Festival, to request guests to pose for photos while draped in metallic emergency blankets, the stunt was blasted as "offensively tasteless" by Artnet.
Charlize Theron and Pussy Riot's Nadya Tolokonnikova were amongst the high-profile individuals attending the event, as part of a worldwide initiative which honours cinema's role in the promotion of peace, freedom and tolerance; specifically by praising individual works which have shone a light on the human condition and on human values. Highlighted films this year included Holocaust drama Son of Saul and Adam KcKay's financial crisis comedy, The Big Short.

The stunt accompanied the artist's installation at Berlin's Konzerthaus, which saw 14,000 life jackets flown in from the Greek island of Lesbos and attached to the building's columns; alongside a black rubber boat marked with the words 'Safe Passage', the title of Ai's piece.

Berlin's culture senator Tim Renner was amongst critics of the stunt. "When Ai Weiwei illustrates the dimensions of terror outside [the gala] with 14,000 life jackets from Lesbos, it is perhaps not subtle but effective and justified," he posted to his Facebook page. "But when the guests of Cinema for Peace are prompted by the organiser to don emergency blankets for a group photo, even if understood as an act of solidarity, it has a clearly obscene element… "
Ai previously roused controversy with his reenacted portrait of deceased Syrian toddler Alan Kurdi; the devastating sight which became so central to the refugee crisis debate.
Register for free to continue reading
Registration is a free and easy way to support our truly independent journalism
By registering, you will also enjoy limited access to Premium articles, exclusive newsletters, commenting, and virtual events with our leading journalists
Already have an account? sign in
Register for free to continue reading
Registration is a free and easy way to support our truly independent journalism
By registering, you will also enjoy limited access to Premium articles, exclusive newsletters, commenting, and virtual events with our leading journalists
Already have an account? sign in
Join our new commenting forum
Join thought-provoking conversations, follow other Independent readers and see their replies