Alice Jones' Arts Diary: A happy ending for film fans as Secret Cinema makes it a night to remember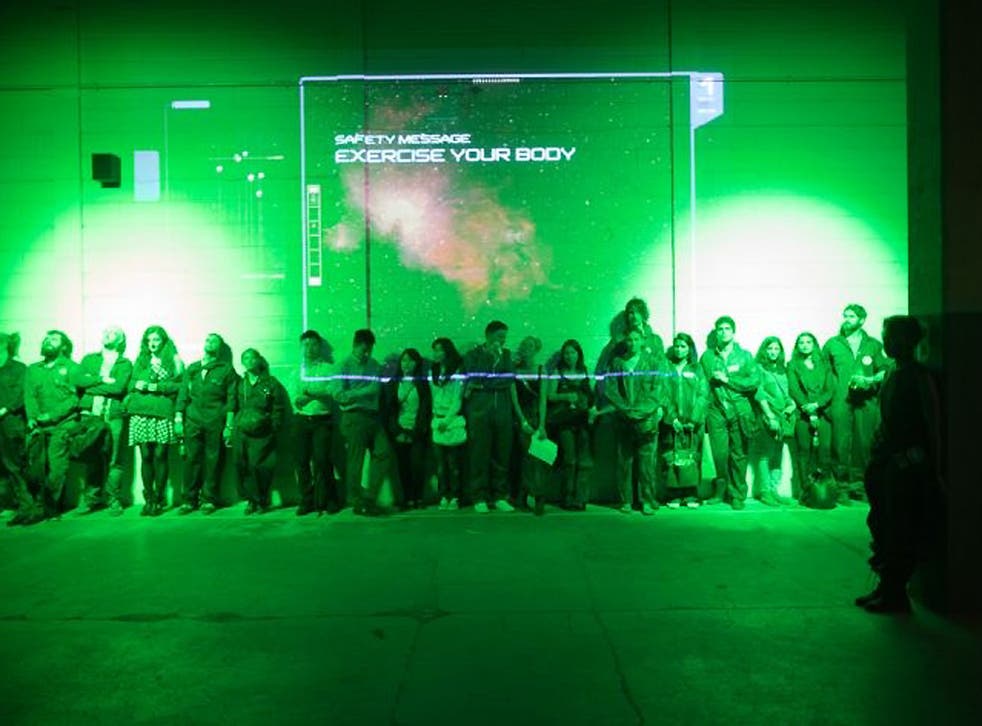 Ever loved a film so much you've not wanted to leave the cinema at the credits? Now you don't have to.
Secret Cinema, who stage immersive screenings in hidden locations, are opening a Secret Hotel. "People travel from out of town and it can be quite stressful to book accommodation because we only reveal the location on the day", explains founder, Fabien Riggall. "This way they can stay in the world of the film for 12 hours. There will be actors on site all night." Ten dormitory beds are available for £30 each. Still want more? Why not buy a painting from the event to take home? The artworks dressing the set of the latest event – unlabelled but some by big names – can be bought after the event via a Secret Gallery website.
Riggall is also planning a standalone Secret Restaurant, Gallery and Hotel and simultaneous screenings in London, Paris, Moscow, Berlin and New York. None of which come cheap, naturally. Tickets for the next event, which opens on Wednesday, cost £43.50, a hefty rise on £35 for the last Prometheus-themed event (above), which attracted 25,000 visitors. "We're getting more ambitious. I'm confident that the experience we put on is well worth it. It's part cinema, part theatre, part happening. In the West End, you can pay up to £18 just for a cinema ticket," says Riggall.
Miller gives movie contest a vote of confidence
Does Maria Miller have a sense of humour? Or a heart? Too soon to tell, perhaps, but the new Culture Minister has at least put forward a funny, heart-warming short film for a Parliamentary movie competition. For Film the House, MPs were invited to nominate new talents from their area. The winners will be announced on Tuesday.
Miller chose a sweet Office-style comedy short directed by Ben Mills, 24, a recent graduate in film from the University of Westminster who hails from her Basingstoke constituency. "I've never actually met her", he tells me. "But in an email she said she liked my film."
In Wrestling Yetis, a hapless boss tries to motivate his unadventurous, bored staff by hiring a "morale engineer" called Tibor. "Getting them to love Mondays is like wrestling a whole office full of yetis, with your bare hands," he says sadly. No hidden message for Miller's team, there, we trust.
Sherlock shock! Actor teams up with Friendly Fires on a new album
Benedict Cumberbatch (below) continues his global conquest, this time as an indie music star. The Sherlock actor lends his voice to Late Night Tales, a compilation album created by Friendly Fires, and released next month, which includes tracks by Cocteau Twins and SBTRKT. The band approached the actor and, a fan of their music, he agreed. "There's a mutual love there," I'm told. Cumberbatch performs the closer, a spoken-word piece, "Flat of Angles", by Simon Cleary. "When I met him I accidentally called him 'Ben' in the confusion," says Cleary. "He was very friendly… and really got into subtleties in the text I didn't realise were there." The story relates the aftermath of a house-party in alternating voices. And while he doesn't sing, there is a brief chance to hear "Ben" spitting Prodigy lyrics, rude-boy style, which is worth a listen.
Sundance will lack soul at the uninspiring 02
Sundance will return to London in April 2013 and 2014 and again the indie film festival will, counter-intuitively, be based at the city's soulless corporo-multiplex the 02. The event would be far more at home in one of the capital's boutique cinema chains but they can't offer the budget of AEG, of course.
Join our new commenting forum
Join thought-provoking conversations, follow other Independent readers and see their replies