Artists from Sam Taylor-Johnson to Yinka Shonibare turn guns into art for world peace
Kate Moss has also customised a decommissioned M16
Daisy Wyatt
Wednesday 15 October 2014 11:50 Comments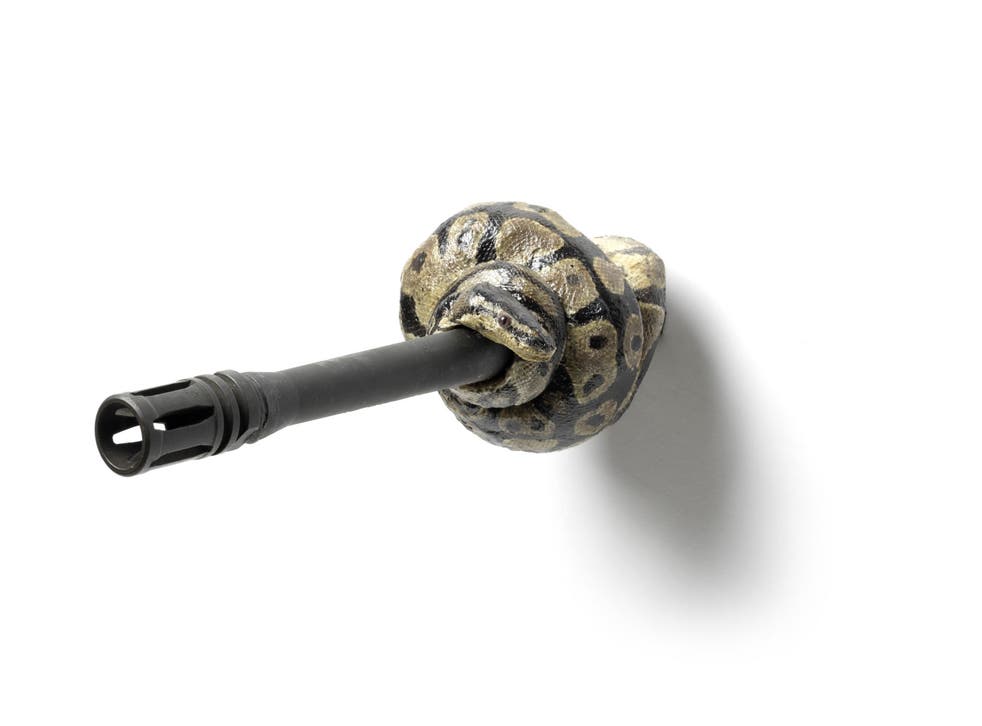 A group of artists have transformed a set of decommissioned American assault rifles into works of art to raise awareness for world peace.
Curated by Jake Chapman of the Chapman Brothers, the project includes submissions from artist turned director Sam Taylor-Johnson, British-Nigerian artist Yinka Shonibare and taxidermist Polly Morgan.
Model Kate Moss has also customised her own M16 rifle, signing her name in gold marker pen on the stock below the trigger.
An exhibition of the 'artworks' will be held at the Institute of Contemporary Art (ICA) in London at the start of Frieze Week.
Artists turn guns into art

Show all 10
The project has been produced by Peace One Day, a not-for-profit group that campaigns for global recognition of the International Day of Peace.
But not all artists taking part agree with the message of the exhibition and have chosen to interpret their rifles differently.
Sam Taylor-Johnson chose to frame a newspaper article about her brush with the police and called the work "no comment", while Polly Morgan cut most of the gun off and wrapped a snake around it.
"I find the M16 (and AK47) a questionable object to use by a charity promoting peace," she said.
"My concern is that, by calling them art and auctioning them for large sums, we risk glamorising and fetishising weaponry further.
"I thus didn't want to treat to gun with any reverence so chopped most of it off and felt that a snake, the original threat, treating it with lazy insouciance would do very well."
The exhibition is open to the public until Sunday 19 October at ICA, The Mall, London.
Register for free to continue reading
Registration is a free and easy way to support our truly independent journalism
By registering, you will also enjoy limited access to Premium articles, exclusive newsletters, commenting, and virtual events with our leading journalists
Already have an account? sign in
Join our new commenting forum
Join thought-provoking conversations, follow other Independent readers and see their replies