Covent Garden market will soon be filled with 100,000 glowing white balloons
Charles Pétillon is bringing his unique sculptures to London for a pop-up installation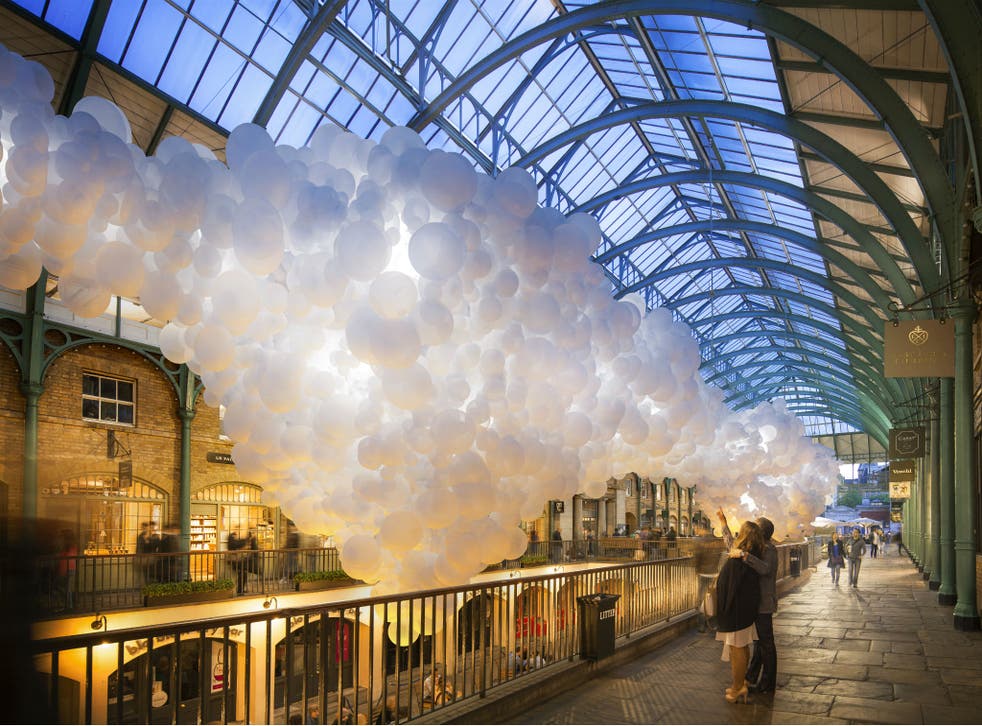 Covent Garden market is getting quite the makeover later this month, when a French artist will fill the ceiling with a "floating cloud" of 100,000 glowing balloons.
Charles Pétillon has been lined up to create his first live installation outside of France in the 19th century building's South Hall, and it's going to be huge. It will take 25 people five nights to inflate each of the 320kg latex balloons, with the final sculpture stretching more than 54 metres in length and 12 metres in width.
Pétillon's installation is inspired by Covent Garden's heritage as London's first public square and the West End as the city's beating heart.
"The balloon invasions I create are metaphors. Their goal is to change the way in which we see things we live alongside each day without really noticing them," he said.
"With 'Heartbeat', each balloon has its own dimensions and yet is part of a giant but fragile composition that creates a floating cloud above the energy of the market below. This fragility is represented by contrasting materials and also the whiteness of the balloons that move and pulse, appearing as alive and vibrant as the area itself."
Photographs of Pétillon's other creations will be showcased in a pop-up gallery on the Piazza, with the project running from 27 August until 27 September.
Pétillon has only ever publicly exhibited his balloon sculptures in photographs, so the Covent Garden commission is a chance to prove wrong those who accuse him of Photoshopping.
His most famous series is arguably the eerie Invasions, which sees him challenge everyday perceptions by placing white balloons in playgrounds, swimming pools, decrepit houses and even cars.
This is not the first time that Covent Garden has been used as an open-air art gallery, with British artist Alex Chinneck making a section of the market building look like it had broken free and was drifting away in a striking optical illusion last November.
Alex Chinneck's Covent Garden art installation - construction

Show all 7
Jeff Koons, Damien Hirst, Banksy and Sam Taylor-Johnson are among others to have exhibited work as part of the area's cultural programme.
Register for free to continue reading
Registration is a free and easy way to support our truly independent journalism
By registering, you will also enjoy limited access to Premium articles, exclusive newsletters, commenting, and virtual events with our leading journalists
Already have an account? sign in
Register for free to continue reading
Registration is a free and easy way to support our truly independent journalism
By registering, you will also enjoy limited access to Premium articles, exclusive newsletters, commenting, and virtual events with our leading journalists
Already have an account? sign in
Join our new commenting forum
Join thought-provoking conversations, follow other Independent readers and see their replies