Dismaland: Palestinian artist thrown out after protesting against Israeli works
Shadi Alzaqzouq, 34, lay down "like a corpse" in front of his two artworks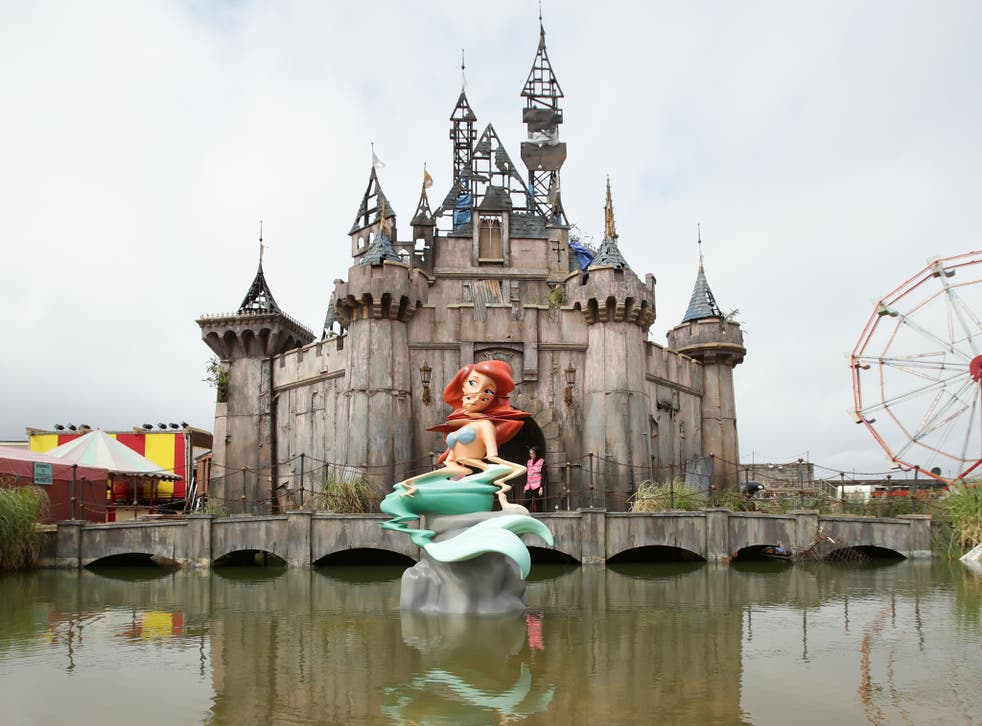 A Palestinian artist has been thrown out of Dismaland after covering his own paintings in bedsheets as a protest against the Israeli artists whose work was also on display.
Shadi Alzaqzouq, 34, said he lay down "like a corpse" in front of his two artworks, which were displayed in one of the park's three galleries, after daubing bedsheets with the words "R.I.P Gaza: Boycott Israel" and hanging them over his work.
"I found out when I arrived at the show that three Israeli artists were taking part, one of whom served in the IDF [Israel Defence Forces]," the artist told the Al-Araby website.
"I decided I had to protest in some way so I went and got a bed sheet from my hotel room and wrote 'R.I.P Gaza: Boycott Israel' on it in coal and hung it over my artwork and laid down like a corpse in front of my two paintings on display."
Security guards eventually removed Mr Alzaqzouq, who was reportedly told that his protest on Sunday was too "ugly" for the park. However, his two paintings are still on display.
Inside Banksy's Dismaland

Show all 13
Register for free to continue reading
Registration is a free and easy way to support our truly independent journalism
By registering, you will also enjoy limited access to Premium articles, exclusive newsletters, commenting, and virtual events with our leading journalists
Already have an account? sign in
Register for free to continue reading
Registration is a free and easy way to support our truly independent journalism
By registering, you will also enjoy limited access to Premium articles, exclusive newsletters, commenting, and virtual events with our leading journalists
Already have an account? sign in
Join our new commenting forum
Join thought-provoking conversations, follow other Independent readers and see their replies