Ed Ruscha to serve up cactus omelette in the name of art
The important American artist is bringing his unusual dining opportunity to London's Barbican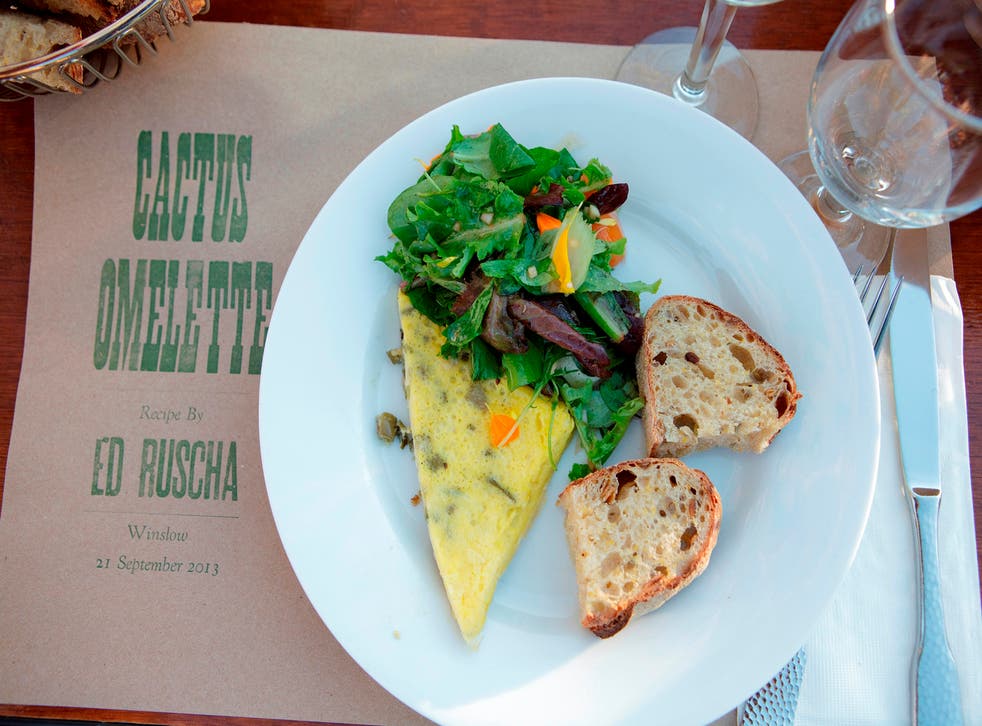 Art has been referred to as "food for the soul" but later this year one of America's most influential living artists is to go one better and bring art for the stomach to London.
Ed Ruscha, one of the leading lights of pop art, is to contribute to a 30-day festival held at the Barbican with his own brand of food art: omelette with cactus, which will be served to hungry visitors.
Leila Hasham, assistant curator at the Barbican, hailed the oml-art which will see 150 bite-sized portions handed out for free each Saturday during the Station to Station project, which starts on June 27. "It's essentially an artwork, in some respects," she said. "It's edible cactus art."
Ruscha, who one critic dubbed "one of the most important artists of our time," was the focus of a major retrospective at the Hayward Gallery in 2010, the same year President Obama presented David Cameron with a lithograph by the artist on his first visit to Washington.
US multi-media artist Doug Aitken approached a range of artists to contribute to the project initially in the US, encouraging them to do "something a bit different". The Ruscha responded with the omelette recipe.
It is unclear where the cactus will be sourced from. In his recipe, Ruscha specified Nopalitos, which are diced and sold in jars in the US. While the 77-year-old artist himself will not travel to the UK, Aitken will and could serve some omelettes himself.
The Barbican revealed the work as part of its 2015/16 season launch yesterday. Other artists involved in the Station to Station project include Olafur Eliasson and Martin Creed, while separately Martin Parr will curate a photography exhibition.
It revealed that the Royal Shakespeare Company had extended its contract to use the Barbican as its London base by a further five years, ending the search for a home in the capital.
The two companies fell out almost 15 years ago, leaving the RSC without a London home. Yet they mended bridges enough to tie up a three year deal in 2013, leading to productions such as David Tennant's Richard II staged on the East London stage.
Read more:
Register for free to continue reading
Registration is a free and easy way to support our truly independent journalism
By registering, you will also enjoy limited access to Premium articles, exclusive newsletters, commenting, and virtual events with our leading journalists
Already have an account? sign in
Register for free to continue reading
Registration is a free and easy way to support our truly independent journalism
By registering, you will also enjoy limited access to Premium articles, exclusive newsletters, commenting, and virtual events with our leading journalists
Already have an account? sign in
Join our new commenting forum
Join thought-provoking conversations, follow other Independent readers and see their replies