Exhibit B 'human zoo' show cancelled by the Barbican following campaigner protest
The show, directed by white South African Brett Bailey, has been cancelled following concerns about an 'extreme' protest outside the Barbican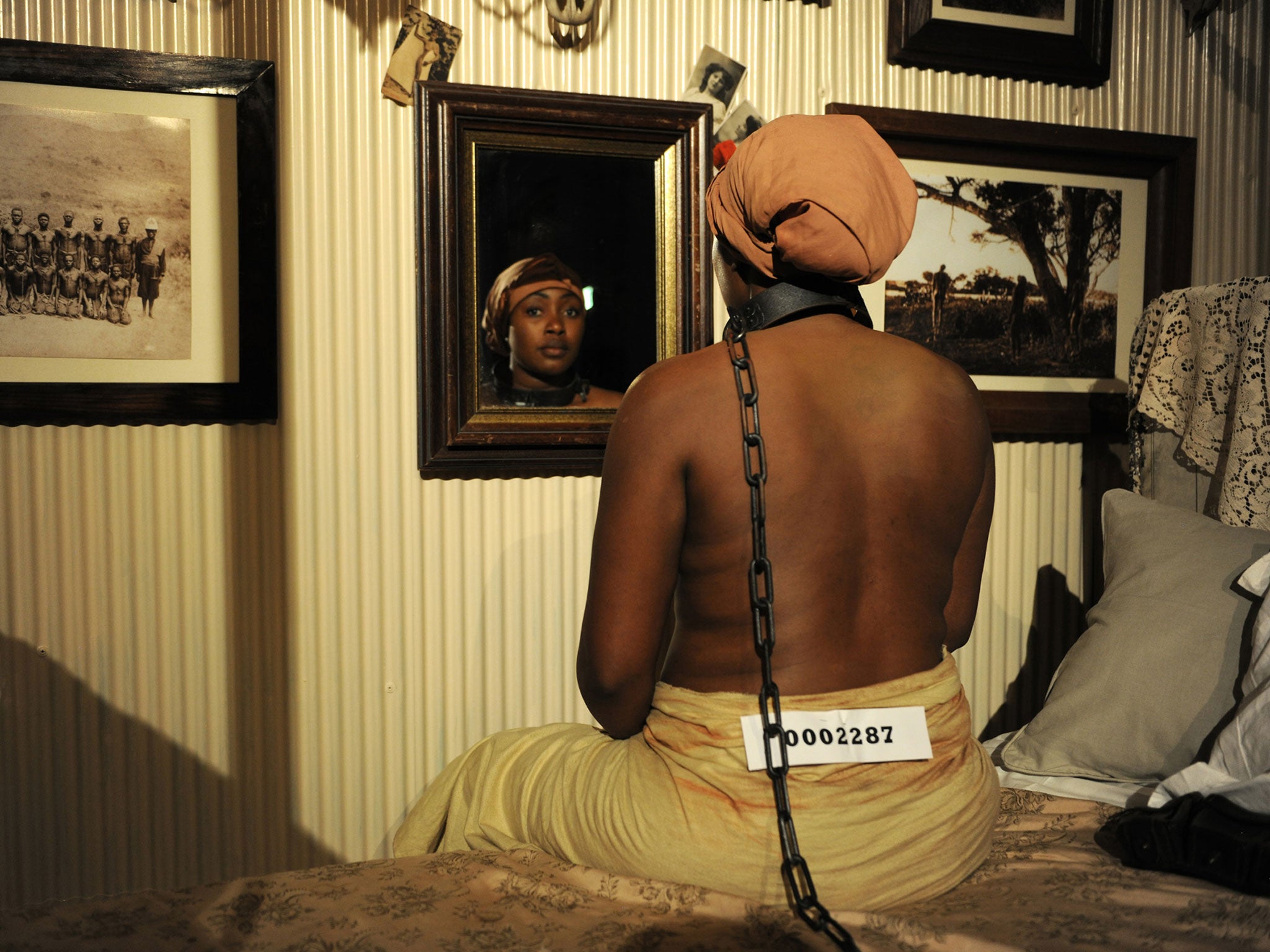 The Barbican has cancelled its controversial art show Exhibit B following a disturbance during a protest outside the arts centre last night.
Directed by white South African director Brett Bailey, the installation, which features black actors in chains recreating "human zoos", has been called racist by protestors who have marched in opposition to the show.
The Barbican issued a statement to say the exhibition's five-day run had been called off following an incident during a protest last night.
The Metropolitan Police was called to the scene after reports of a fight during the demonstration but no arrests were made.
The Barbican said it was "the extreme nature of the protest" outside the venue on Tuesday that led to the cancellation of the exhibition.
It said: "We find it profoundly troubling that such methods have been used to silence artists and performers and that audiences have been denied the opportunity to see this important work."
'Exhibit B': The controversial human zoo production - in pictures
Show all 5
The venue has been under pressure to withdraw the show after an online petition attracted more than 20,000 signatures urging the Barbican to cancel the exhibition's run.
The petition called the show "an outrageous act of complicit racism".
"We are deeply offended yet not surprised that the colonialism this piece purports to expose does nothing more than reinforce how effective it was and remains as a caging instrument of white supremacists," the petition said.
In response, the Barbican said it is "categorically not neutral on the subject of racism" and that the show was aimed as a critique of human zoos.
"We state categorically that the Barbican is not neutral on the subject of racism; we are totally opposed to it and could not present a work that supported it," it said in a statement.
"Instead, Exhibit B raises, in a serious and responsible manner, issues about racism. It aims to conform to objectification of human beings and the abhorrent historical attitudes to race during the colonial era, and to question how far society has moved on."
Join our commenting forum
Join thought-provoking conversations, follow other Independent readers and see their replies