'Fearless Girl' statue facing down Charging Bull of Wall Street in New York to stay until 2018
Statue became a fast favourite with tourists
Roisin O'Connor
Monday 27 March 2017 08:13 Comments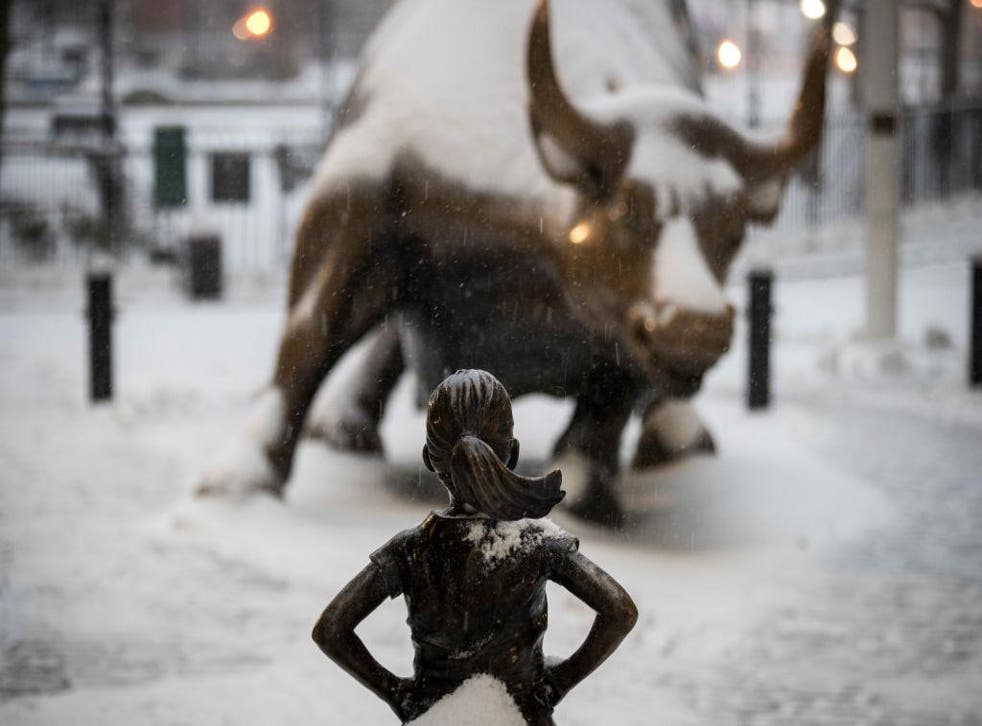 A bronze figure of a girl facing down the famous bull statue on Broadway will remain there until 2018, it has been announced.
'Fearless Girl' was installed opposite Wall Street's iconic 'Charging Bull' earlier in March by State Street Global Advisors, in honour of International Women's Day and as a plea for US financial firms to employ more women at senior levels.
Designed by Kristen Vibal, the statue was an instant hit and has attracted thousands of tourists.
While it was only intended to be kept in the spot for 30 days, several petitions were launched in the hope that the statue would remain in place for longer.
Rep. Carolyn Maloney, who was among leaders calling for the artwork to remain, said: "This statue has touched hearts across the world with its symbolism of the resiliency of women."
City Hall has since confirmed that Mayor de Blasio has agreed to keep 'Fearless Girl' in her current location until February 2018, under the Department of Transportation's art programme.
The mayor said in a written statement: "In her short time here, the Fearless Girl has fuelled powerful conversations about women in leadership and inspired so many.
"Now, she'll be asserting herself and affirming her strength even after her temporary permit expires - a fitting path for a girl who refuses to quit."
It had attracted some criticism, however, by the 'Charging Bull' artist Arturo Di Modica, who has argued that it is nothing by a publicity stunt by State Street - reportedly threatening to sue the company for copyright infringement if it is not moved after its scheduled date of 2 April.
Register for free to continue reading
Registration is a free and easy way to support our truly independent journalism
By registering, you will also enjoy limited access to Premium articles, exclusive newsletters, commenting, and virtual events with our leading journalists
Already have an account? sign in
Join our new commenting forum
Join thought-provoking conversations, follow other Independent readers and see their replies