German artists threaten to 'flog off' their work in protest at national treasure law
Berlin gallery owner warns new legislation could result in an 'exodus of modern art from Germany'
Tony Paterson
Thursday 16 July 2015 21:07 Comments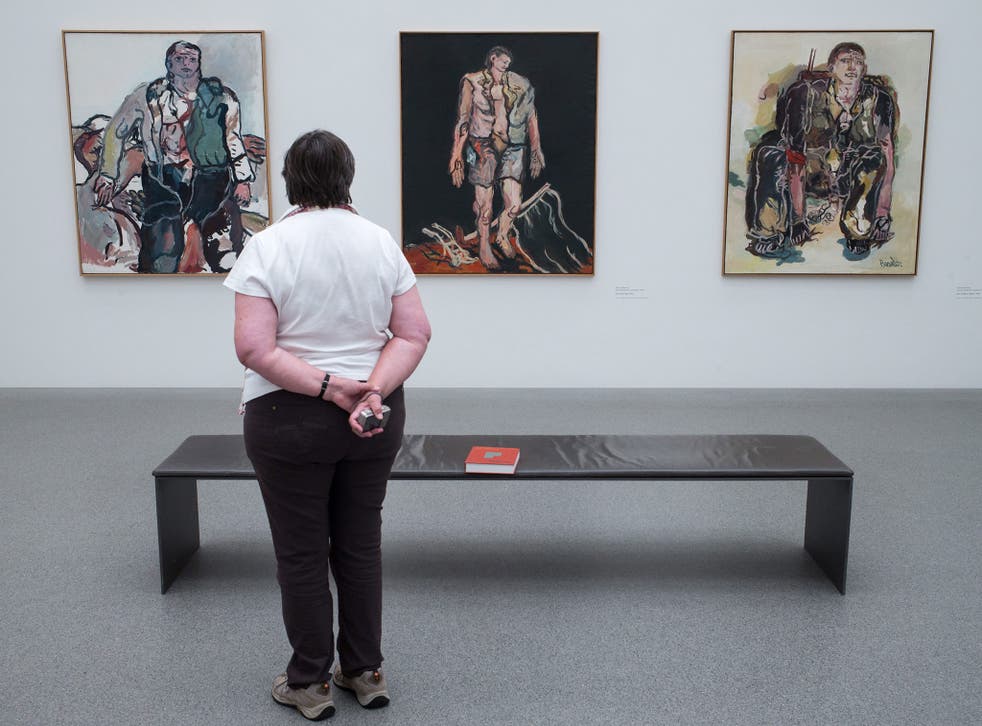 Germany's art world is in uproar over plans by Chancellor Angela Merkel's government to introduce a cultural protection law banning the sale of paintings and artworks deemed to be of "national importance" to private bidders, museums and galleries abroad.
The legislation has been drawn up by the German Culture Minister, Monika Grütters, who says the measure is necessary to protect the country's artistic treasures. She plans to present the proposal to Ms Merkel's cabinet for approval next month.
However, the plan has provoked a furious response from the German art world. Several contemporary painters, including the artist Georg Baselitz, have ordered art museums that exhibit their works to return them immediately so they have the option of selling them off before the law is enforced.
Gerhard Richter, one of Germany's best-known postwar painters, said: "Nobody has the right to tell me what I should do with my pictures." In an interview published on Thursday he said he sympathised with Mr Baselitz: "I would do the same. Get the pictures out of the museums, put them on the market as fast as possible and flog them off," he added.
The painters' protest has been joined by Germany's private art gallery owners, who see their interests directly threatened by the new law. In an open letter signed by 259 members of the country's association of galleries and art dealers and sent to Ms Grütters, they warned that the ruling would "regulate art to death" and "end international art sales in Germany".
The proposal was inspired by a recent abortive attempt to sell off the diaries of the early 19th-century German naturalist and explorer Alexander von Humboldt to a foreign bidder. The sale was narrowly prevented after it was claimed that the diaries were a national German treasure.
Under Ms Grütters' plans, German works of art over 50 years old and worth more than €150,000 (£105,000) could be designated national treasures; they would have to be approved for sale abroad by regional culture boards in each German state.
Supporters argue that the measures will protect nationally important artworks from being snapped up by an increasingly voracious international art market. "At the moment public museums cannot do much to compete on the art markets," Rein Wolfs, director of Federal Art Museum in Bonn, told the German art magazine Monopol.
But international art dealers remain strongly critical of the planned new law. Thaddeus Ropac, who represents several German contemporary artists, including Mr Baseltiz and Anselm Kiefer, said he had advised Mr Baselitz this week to withdraw his works from German museums.
"This is a very stupid move that will hurt the German art market and German museum system," he said.
Daniel Marzona, a Berlin gallery owner, warned the new law could result in an "exodus of modern art from Germany". Berlin's culture ministry said it would hold further discussions with all sides. Ms Grütters has indicated that the law may contain a clause enabling individual artists to "opt out" from sales restrictions governing their works.
Germany and France now rank behind New York and London as the biggest art markets for auction houses Christie's and Sotheby's. German galleries are also the largest participants behind US and British galleries at leading international art fairs in London and New York.
The fortunes of postwar German artists have tended to rise slowly through museum shows, private sales and auctions in New York and London. Displays in German museums have built artists' reputations among ordinary visitors and lifted sales of their work at auction, but attracting the culture ministry's attention could create a "bureaucratic nightmare" for possible sales, said Mr Ropac.
Register for free to continue reading
Registration is a free and easy way to support our truly independent journalism
By registering, you will also enjoy limited access to Premium articles, exclusive newsletters, commenting, and virtual events with our leading journalists
Already have an account? sign in
Join our new commenting forum
Join thought-provoking conversations, follow other Independent readers and see their replies