The Independent's journalism is supported by our readers. When you purchase through links on our site, we may earn commission.
How the National Geographic 2016 travel photo contest winners were taken
Nearly all the winning photographs required unsociable hours and a lot of patience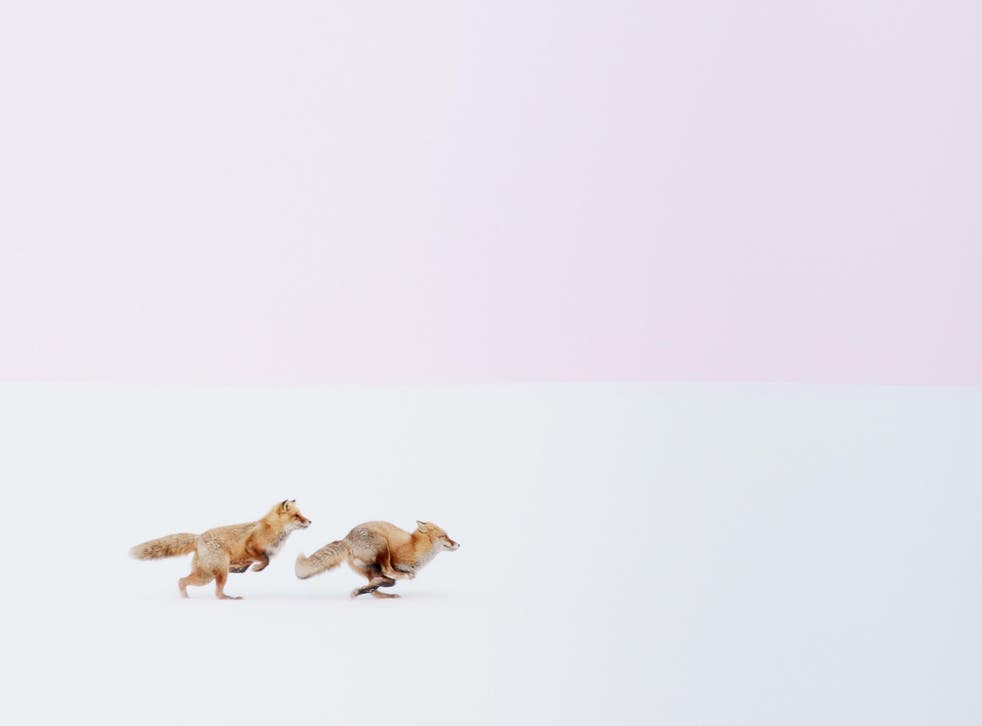 National Geographic revealed the winners and runners-up of its 2016 Travel Photographer of the Year Contest this week across three categories: Nature, People and Cities.
They can be viewed in the gallery below, showing a variety of vibrant wonders from across the globe, but how were they taken? The photographers provided NatGeo with some explanation, showing the patience, unsociable hours and, in some case, bearing of extreme temperatures that goes into getting the perfect shot.
Grand Prize winner - 'Winter Horseman' by Anthony Lau
"The winter in Inner Mongolia is very unforgiving. At a freezing temperature of minus twenty and lower, with a constant breeze of snow from all direction, it was pretty hard to convince myself to get out of the car and take photos. When I saw Inner Mongolia horsemen showing off their skills and commanding the steed from a distance. I quickly grabbed my telephoto lens and captured the moment when one of the horseman charged out from morning mist."
National Geographic 2016 Traveler Photographer of the Year contest - winners and runners up

Show all 12
Second place winner, People - 'Rooftop Dreams, Varanasi' by Yasmin Mund
"It was 5:30 a.m. and I had just arrived in Varanasi, India, off a sleeper train. I got to my guesthouse and instinctively climbed the seven flights of stairs to see the sunrise over the famous Ganges River. As I looked over the side of the rooftop terrace, my jaw dropped in disbelief. Below were mothers, fathers, children, cats, dogs, and monkeys all sleeping on their roofs. It was midsummer in Varanasi and sleeping without air-conditioning was pretty difficult. Can you spot the curry?"
First place winner, Nature - 'Wherever you go, I will follow you!!' by Hiroki Inoue
"It was when I drove back home feeling disappointed with the fact that I had finished the day in vain without any anticipated subject that I heard the joyful voice from the car window like "quack, quack!" There they were: red foxes. Around the end of the winter, they meet the season of love; they care for and love each other enough to make us jealous."
Second place winner, Nature - 'Double trapping' by Massimiliano Bencivenni
"I was in the Brazilian Pantanal along the Rio Negrinho. I realized that the river, at certain points of the loops, created places where there were many yacare caimans. I saw a yacare sink suddenly, and I immediately looked for the best location to photograph when it resurfaced. The whole thing lasted only a fraction of a moment."
Third place winner, Nature - 'Lagunas Baltinache (Atacama Desert)' by Victor Lima
"I made this photo during my recent photographic expedition in Atacama Desert, in April 2016. I embarked alone on this adventure to find images not yet published of the most arid desert in the world and its contrasts. Despite the Atacama Desert being one of the best places on the planet to do night photography. Therefore, I sought one of the places recently discovered in the Atacama Desert and one that shows all the contrast of this desert to make night shots: the Baltinache Ponds."
First place winner, Cities - 'Ben Youssef' by Takashi Nakagawa
"Marrakesh is an exciting city for any traveler, but I was tired of walking on the crowded street and being asked for money from local people, so I was looking for a place to settle down. Even though there were a lot of people in Madrasa, it was still a more quiet and relaxing place than outside. Suddenly a beautiful reflection appeared on the shallow pool when I was taking a rest. It was a cloudy day so I could only see it when the wind stopped blowing and sunlight hit this Islamic architecture."
Second place winner, Cities - 'Silenced' by Wing Ka H.
"This photo was taken on my last trip to Guangzhou, China. This place is the school dormitories of South China Normal University. When I was hanging around, most of them were taking a break. After lunchtime, they needed to go back to study."
Honourable mention, Cities - 'Divide' by Kathleen Dolmatch
"From a doorless helicopter looking south on Central Park West, dividing the architecture and Central Park, on November 5, 2014, a day before my 27th birthday. The flight was my birthday gift."
Join our new commenting forum
Join thought-provoking conversations, follow other Independent readers and see their replies