Huge mural of embracing female lovers put on Irish castle to support gay marriage referendum
Artist Joe Caslin depicted a male couple in another enormous work in Dublin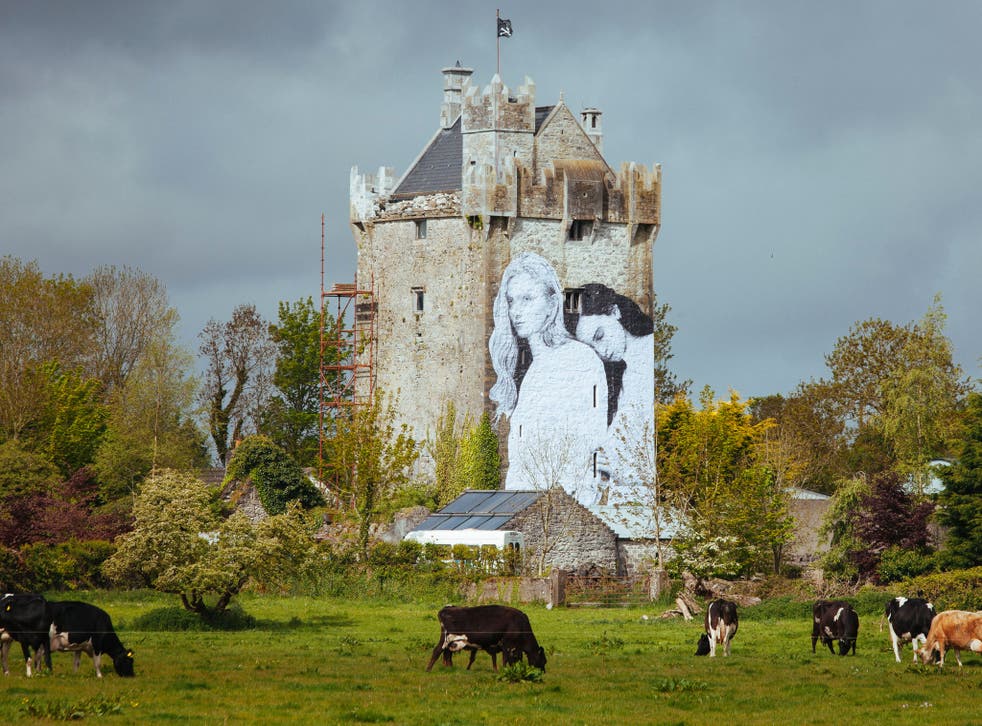 A remote Irish castle has been covered with a huge mural showing two women embracing in support of Friday's same-sex marriage referendum.
Artist Joe Caslin completed the 45ft tall installation over the weekend after stirring debate in Dublin with a similar work showing a gay couple hugging.
He said that he always intended to do two pieces for the project – a male and female version in drastically different settings.
The Dublin piece is on busy South Great George's Street in the centre of the Irish capital, while the second mural stands on the Medieval Caherkinmonwee Castle, in the countryside of County Galway.
"It's easy to talk to an urban audience about issues like this because they expect it but putting a piece in such a rural setting will reach different people," Caslin told The Independent.
"I also thought putting it on a historical building gives it a sense of poignancy."
Caslin creates his murals on paper, blowing up his painstaking pencil drawings using a specialist printer.
His latest work was installed on the private castle's walls with the owner's permission on Saturday, being stuck on with a potato-based adhesive to ensure the 15th century stone was not damaged.
Like Caslin's other pieces, it will gradually be washed away with the rain and could last for weeks or months, depending on the weather.
"It's temporary," Caslin said. "It will create a discourse for a certain period of time and then melt away."
The artist said it grew out of his continuing project called Our Nation's Sons, which challenges the perception of young Irish men, and was his way of contributing to the pro-same-sex marriage campaign.
Caslin, who works full-time as a school art teacher, added: "This is a pivotal time for some of my friends and family and I just wanted to lend my support…and create a conversation."
Homosexuality was illegal in Ireland until 1993 and campaigners say gay people still face wide-ranging discrimination despite improved legal rights.
Civil partnerships were brought in in 2010 and the referendum could make Ireland the first country in the world to introduce same-sex marriage through a popular vote.
Recent polls have forecast an overwhelming "yes" vote but campaigners on both sides are continuing efforts to sway voters in the dominantly Catholic country.
Rural areas like Craughwell, where the castle is situated, are expected to take a more conservative line than cities in the referendum.
Caslin said the response to his equal marriage murals had mostly been "warm-hearted", with many people getting in touch simply to thank him.
He added: "People are starting to feel that they don't need to hide, just with simple things like walking down the street holding someone's hand, or having the confidence to sit with their partner in a restaurant.
"We're the first country in the world to give the vote to people and there are some amazing outpourings of acceptance."
Join our new commenting forum
Join thought-provoking conversations, follow other Independent readers and see their replies