Marina Abramović says she will 'definitely not' be dying for her art
Abramovic, 76, has previously created several conceptual art pieces that tested the limits of her body and mind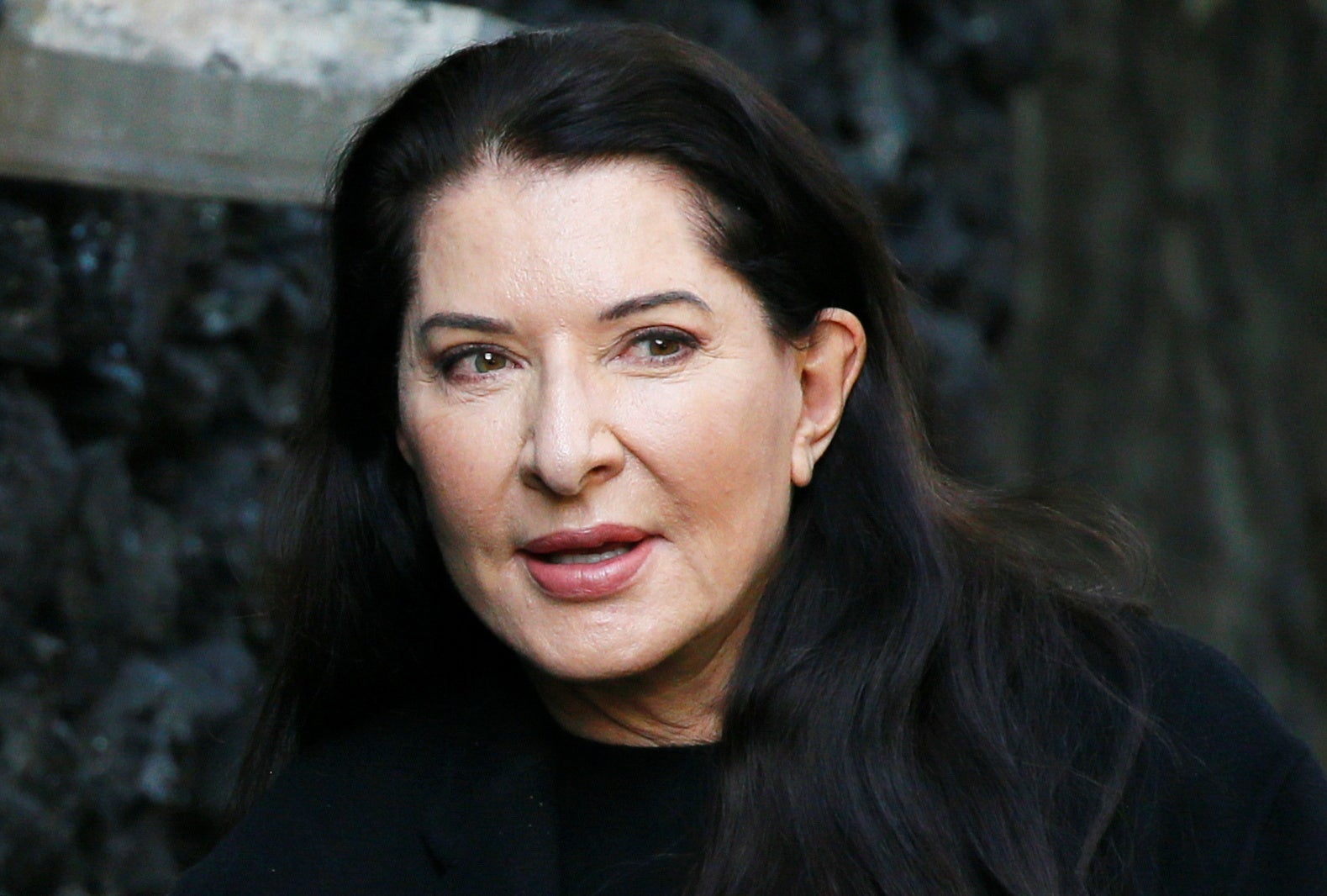 Performance art pioneer Marina Abramović has reflected on testing the limits of her endurance to create stirring, conceptual pieces in a new interview.
An icon of the art world, Abramović has spent the last 50 years exploring the realm of a concept she calls "true reality", often exposing herself to bodily and psychological harm.
In her piece Rythmn 0, for example, the Serbian artist stood alongside a collection of 72 objects, including a loaded gun, and invited audience members at a gallery in Naples to do whatever they wanted to her for six hours.
"In the third hour all her clothes were cut from her with razor blades," art critic Thomas McEvilley wrote.
"In the fourth hour the same blades began to explore her skin. Her throat was slashed so someone could suck her blood," he added, reporting that Abramovic was "so committed to the piece she would not have resisted rape or murder".
In a new interview with Harper's Bazaar, Abramović, 76, said that while she was "literally ready to die for my art" at one point in her career, she will "definitely not" be doing that any more.
"It's the worst thing to be old and sick," she said, elsewhere, "but to be old and healthy is incredible".
She added that she's enjoying the stage of life she's at now, and doesn't want to rewind to her thirties and forties "when I was suffering so much".
"I like being who I am now, because I have wisdom that I didn't have before, that you can only get with age. At this time of life, you have to be very careful not to make any bulls***, just to do things that really matter," Abramović told the magazine.
Abramović has previously said she "tests the limits of myself in order to transform myself" as well as transforming the audience's energy.
During an interview in 2010, she explained: "I test the limits of myself in order to transform myself, but I also take the energy from the audience and transform it.
"It goes back to them in a different way. This is why people in the audience often cry or become angry or whatever. A powerful performance will transform everyone in the room.
The same year, comedian, artist, and psychotherapist Lisa Levy announced she would be sitting naked on a toilet for two days as a direct response to one of Abramović's most famous pieces The Artist Is Present.
For the entirety of the show, Abramović remained seated at a wooden table, as audience members queued up to take turns sitting in an empty chair opposite her, with many of them moved to tears.
During Levy's piece, titled The Artist Is Humbly Present in protest of "bulls*** trendy art dialogue", visitors were invited to sit on a toilet seat placed opposite her.
Elsewhere, Abramović spoke about how a routine knee operation earlier this year turned "shocking and dramatic" after she was left with severe complications.
"It was really shocking and dramatic – like the universe was saying to me, OK, you want to see what real dying looks like? Here it is," she said, referring to her past conceptual and performance art pieces.
She added that she "feels like a superhero" and "like every day is a miracle".
Join our commenting forum
Join thought-provoking conversations, follow other Independent readers and see their replies