National Gallery strike: Members vote to suspend industrial action after agreement with management
The continuous strike from August 11 had seen visitors drop 35 per cent over a year earlier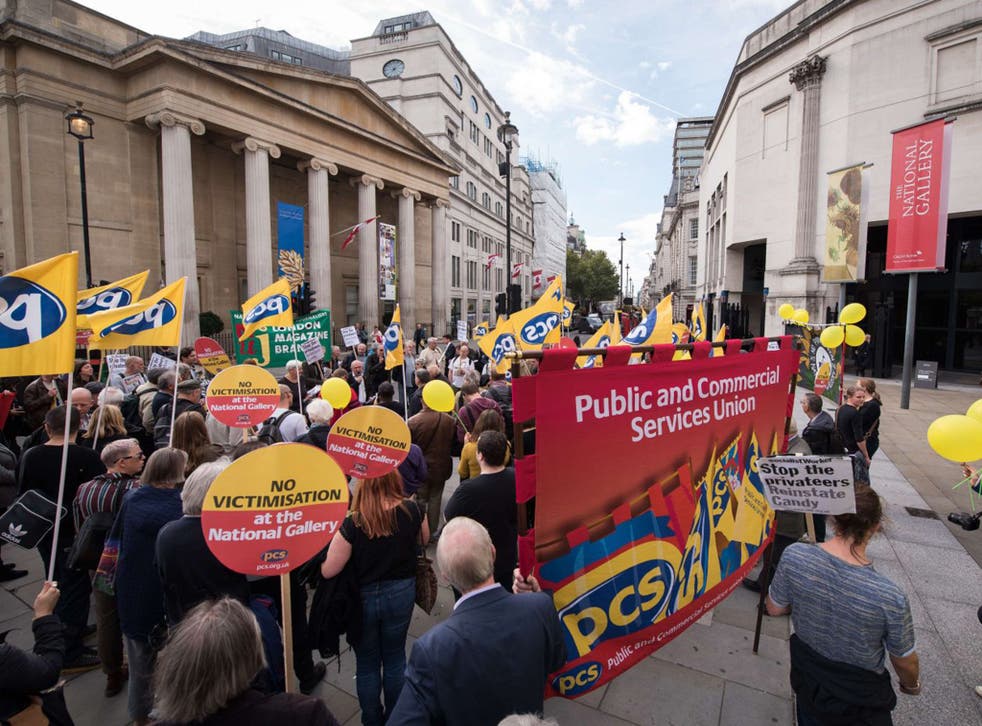 After more than 100 days of strike action, the National Gallery's dispute with its staff over privatising some of its services has come to an end.
The Public and Commercial Services Union announced that its members had voted unanimously to suspend the strike return to work after an agreement with management.
A contract with Securitas to take over the visitor services at the gallery was signed in early August and is due to go ahead in November.
The continuous strike from August 11 had seen visitors drop 35 per cent over a year earlier, it emerged this week.
The Union said it "regretted" that the contract was going ahead but was pleased that the gallery and the private contractor had agreed to protect terms and conditions
It will also see the re-instatement of Candy Udwin, a senior union representative at the gallery who was dismissed in May.
PCS general secretary Mark Serwotka said: "We are pleased to have reached this agreement," before adding: "We still do not believe privatisation was necessary but we will work with the new company and the gallery to ensure a smooth transition and, importantly, to ensure standards are maintained at this world-renowned institution."
The dispute is not fully over as there will be a second ballot of the members and the agreement then needs to be signed off by culture minister Ed Vaizey.
Yet no obstacles are foreseen to a full agreement and the strike has been suspended with workers return to work at 9am on 5 September.
The National Gallery released a statement which said: "The suspension of the current strike action is following positive discussions with the PCS union, and pending further talks."
Join our new commenting forum
Join thought-provoking conversations, follow other Independent readers and see their replies