Phyllida Barlow death: Celebrated British sculptor dies aged 78
Barlow is survived by 'a British art dynasty'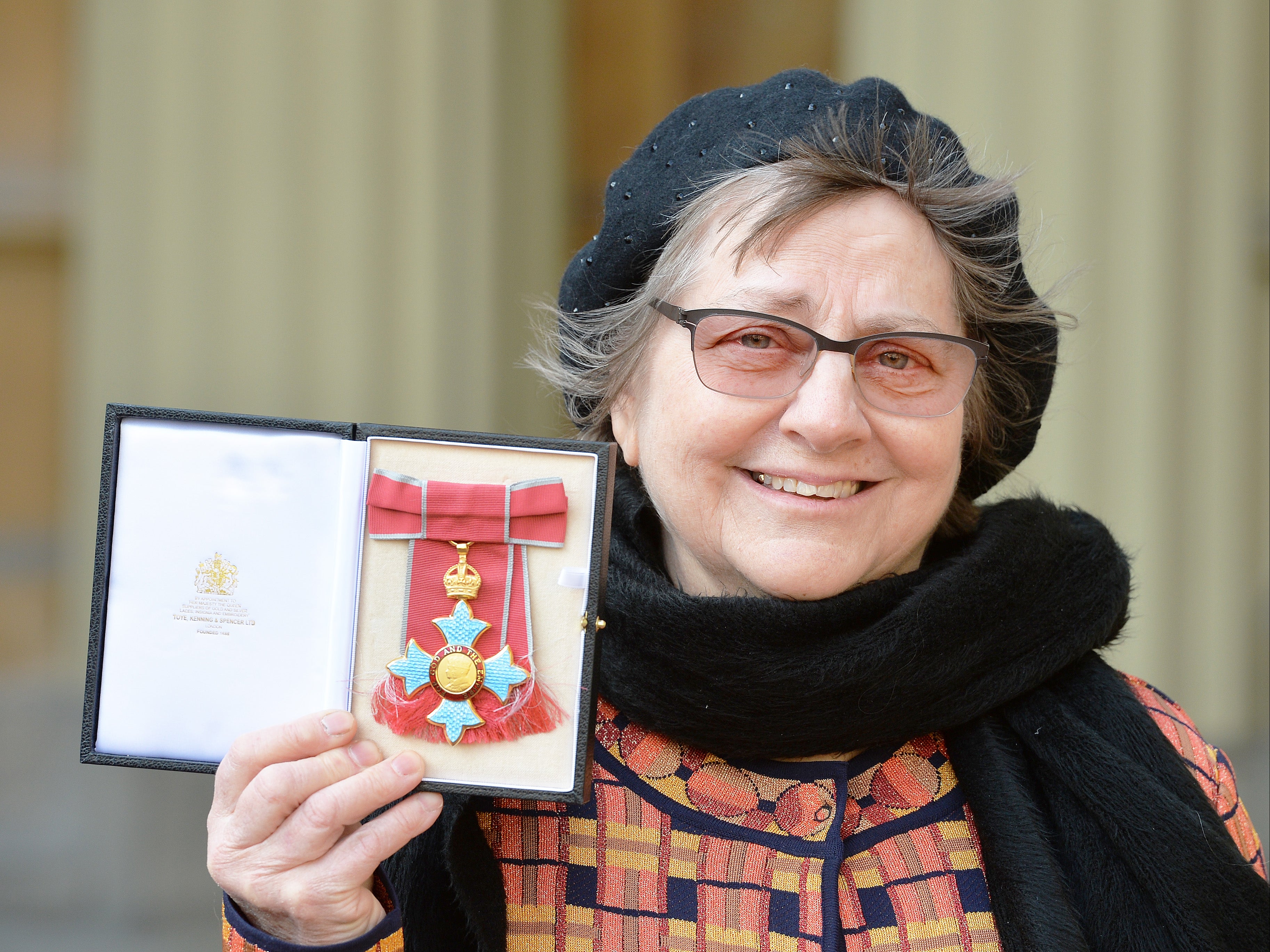 Dame Phyllida Barlow, described by The Independent as "a doyenne of British art", has died aged 78.
The artist was best known for her colossal sculptural projects created using inexpensive materials like plywood, cardboard, plaster and cement. She represented Great Britain at the Venice Biennale in 2017.
"I've been called 'the mistress of the splodge' [in recognition of her preference for sculpting rounded works], which I rather like," she told The Independent in 2014.
"But even when critics are rude they have revealed things about my work that's accurate. [The Sunday Times art critic] Waldemar Januszczak once described a piece [for a show at the Serpentine Gallery, in 2010] as like snot thrown on the wall. But I think the disgustingness of a spillage or a splodge has its own beauty, and fascinates me."
Her death was confirmed by Iwan and Manuela Wirth, and Marc Payot, co-presidents of Hauser & Wirth on Monday (13 March).
She is survived by her husband, artist Fabian Peake, their children, artists Florence and Eddie; Clover, Tabitha, Lewis, grandchildren, and her siblings Camilla Whitworth-Jones and Jeremy Barlow. Her family was described by The Independent as "a British art dynasty".
Iwan wrote in a statement: "Phyllida Barlow was a cherished friend as well as a visionary artist. Her ideas, knowledge, experience and wry humour were always shared with the most extraordinary warmth. Her generosity of spirit extended through her art, her writings, and her many years of teaching and mentorship.
"A truly thoughtful and companionable human being, Phyllida was a guiding light and inspiration to so many. Her loss will be felt deeply by all who knew and collaborated with her in the art community and beyond. Our thoughts are with Fabian and the wonderful family they created together."
Frances Morris, director of the Tate Modern, said: "Barlow's practice implicitly acknowledges that in a world saturated with objects, the role of sculpture and the job of the sculptor might be less about making things than generating a particular type of experience of the work, and of the world in which it temporarily resides."
Barlow was born in Newcastle on 4 April 1944 to writer Brigit Ursula Hope Black and psychiatrist Erasmus Darwin Barlow, a great-grandson of Charles Darwin.
She studied at Chelsea College of Art, where she met fellow artist Peake, son of writer and illustrator Mervyn Peake, whom she married in 1966.
Astonishingly, Barlow taught at Slade School of Art for more than 40 years before rising to prominence for her own work as a sculptor.
Her break came after retiring as a professor in 2009 when curator Hans Ulrich Obrist invited Barlow to exhibit at the Serpentine Gallery with Nairy Baghramian, bringing her work to a wider, international art audience. There she was noticed by the Wirths and invited to join the Hauser & Wirth gallery.
In 2011, Barlow was accepted as a member of the Royal Academy of Arts in London and in 2012 she was awarded the Art Prize Aachen.
"To put it bluntly, I think the timing has been, for me, perfect," Barlow said in 2017 of her late bloom. "I'm ready for it and the work's ready for it. It's ready to fulfil all sorts of ambitions I want for the work. Not for myself – I'm not particularly interested in myself – but I'm interested in what the work can do … I can now be confident that things do go wrong but can also be retrieved."
She was awarded a CBE in 2016 and a DBE in 2021, both for services to the arts.
For messages of condolences to be passed onto Phyllida Barlow's family, please email condolences@hauserwirth.com.
Join our commenting forum
Join thought-provoking conversations, follow other Independent readers and see their replies