Pissing Pug statue added to Fearless Girl in protest of 'corporate nonsense'
'It is disrespect to the artist that made the bull'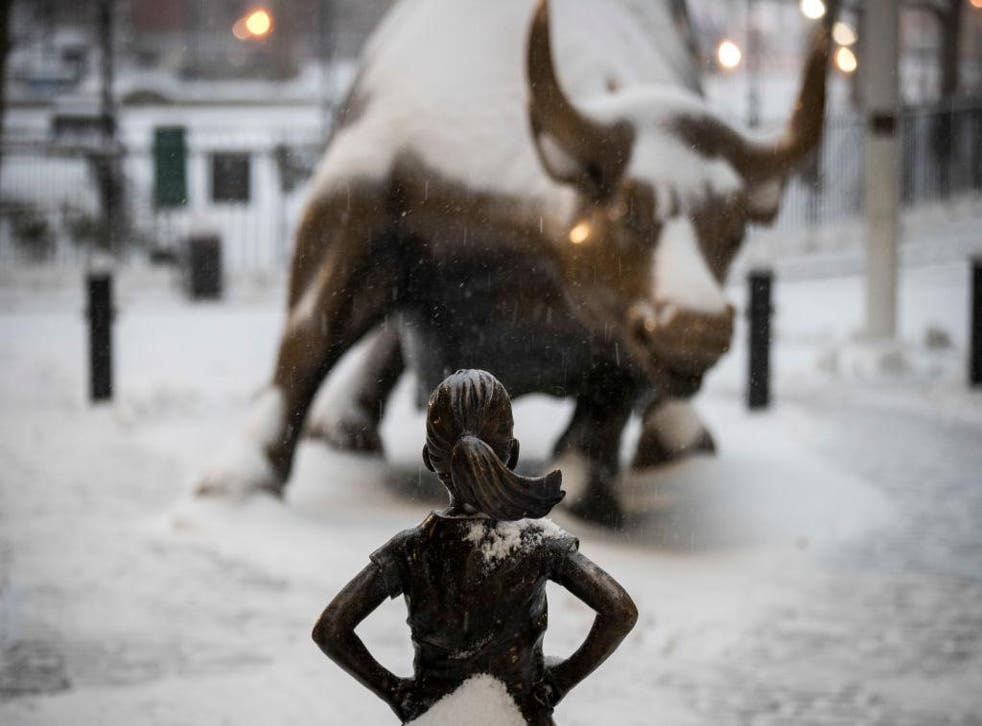 On the eve of International Women's Day earlier this year, Fearless Girl was installed on Wall Street, the statue defiantly standing before the iconic Charging Bull.
However, while artist Kristen Visbal intended the sculpture to be a comment on gender equality, others have taken issue with Fearless Girl, including the Bull's creator Arturo Di Modica.
One artist has taken matters into his own hands, creating Pissing Pug — also known as Sketchy Dog — a small pooch seen urinating on Fearless Girl's left shoe.
Speaking to the New York Post about his newly installed work, Alex Gardega said: "This is corporate nonsense. It has nothing to do with feminism, and it is disrespect to the artist that made the bull. That bull had integrity."
Fearless Girl was commissioned by State Street Global Advisors, installing the statue to celebrate one year since the bank introduced its Gender Diversity Index.
"I decided to build this dog and make it crappy to downgrade the statue, exactly how the girl is a downgrade on the bull," Gardega continued.
The bank has since issued a statement, reiterating their original intentions: "Fearless Girl was created to stand as a reminder that having more women in leadership positions positively contributes to overall performance and strengthens our economy."
Donald Trump's first 100 days: in cartoons

Show all 33
Many have criticised Pissing Pug, including Debra Messing, who called the statue "disgusting," adding: "Peeing on the little girl?! Misogynistic, pathetic bastard. Doesn't deserve the title Artist."
The official Women's March account added: "Man perturbed by powerful women protests #FearlessGirl statue with peeing dog. We need to talk about male fragility."
Fearless Girl was originally put in front of Charging Bull — itself installed in 1985 — with the intention of staying for only a short while. However, New York City mayor Bill de Blasio decreed it could stay a little longer.
Register for free to continue reading
Registration is a free and easy way to support our truly independent journalism
By registering, you will also enjoy limited access to Premium articles, exclusive newsletters, commenting, and virtual events with our leading journalists
Already have an account? sign in
Register for free to continue reading
Registration is a free and easy way to support our truly independent journalism
By registering, you will also enjoy limited access to Premium articles, exclusive newsletters, commenting, and virtual events with our leading journalists
Already have an account? sign in
Join our new commenting forum
Join thought-provoking conversations, follow other Independent readers and see their replies