Pre-Raphaelite mural of 'international importance' discovered in William Morris' house
Dante Gabriel Rossetti and Ford Madox Brown thought to be among those who collaborated in painting
Pre-Raphaelite mural of 'international importance' discovered in William Morris' house

Show all 5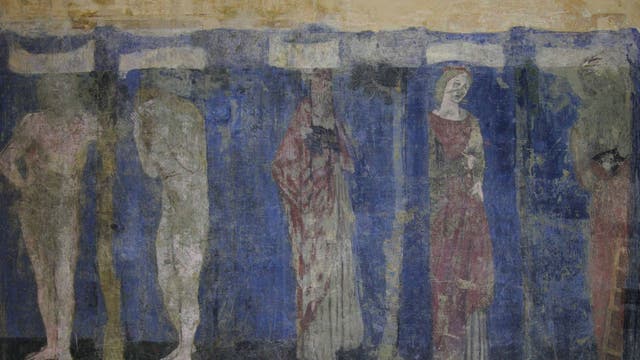 A mural of "international importance", painted by some of Britain's most revered artists, has been discovered behind a wardrobe in William Morris' old house.
The piece, 6ft by 8ft, discovered at the Red House, in south-east London, is thought to have been created by the Victorian artist and political thinker with the help of contemporary art luminaries Edward Burne-Jones, Dante Gabriel Rossetti, Elizabeth Siddal and Ford Madox Brown.
James Breslin, property manager at the Red House, said: "In the morning we had one and a half murky figures, in the evening we had an entire wall covered in a pre-Raphaelite painting of international importance.
"We had no idea what the figures, or the newly revealed inscriptions, represented, but at the Red House it pretty much has to be Chaucer, Arthurian myth or the Bible."
The mural depicts Adam and Eve, Noah, Rachel, and Jacob with his ladder.
Jan March, president of the William Morris society, said: "It does look like different artists were responsible for different figures, at least that's a conjecture at this stage.
"Those that suggest themselves are of course Morris him self, Burne-Jones possibly, Maddox Brown - there's a figure that looks very much in Maddox Brown's style, and Elizabeth Siddal, who we know painted a figure on the wall. So we've got a group of different artists and it would be interesting to see what further thoughts, further research, will be able to tell us."
The mural was painted when a young and newly-married Morris was living at the house, which he commissioned from the architect Philip Webb, between 1860 and 1865.
Since then, private owners built and painted over many of the details left by the house's famed occupants.
In 2003, the National Trust bought the property.
Join our new commenting forum
Join thought-provoking conversations, follow other Independent readers and see their replies