Rothko painting victim of 'Yellowism' protest could take 18 months to restore
The American painter's 1958 abstract masterpiece is valued at tens of millions of pounds was scribbled on in a 'guerrilla' art attack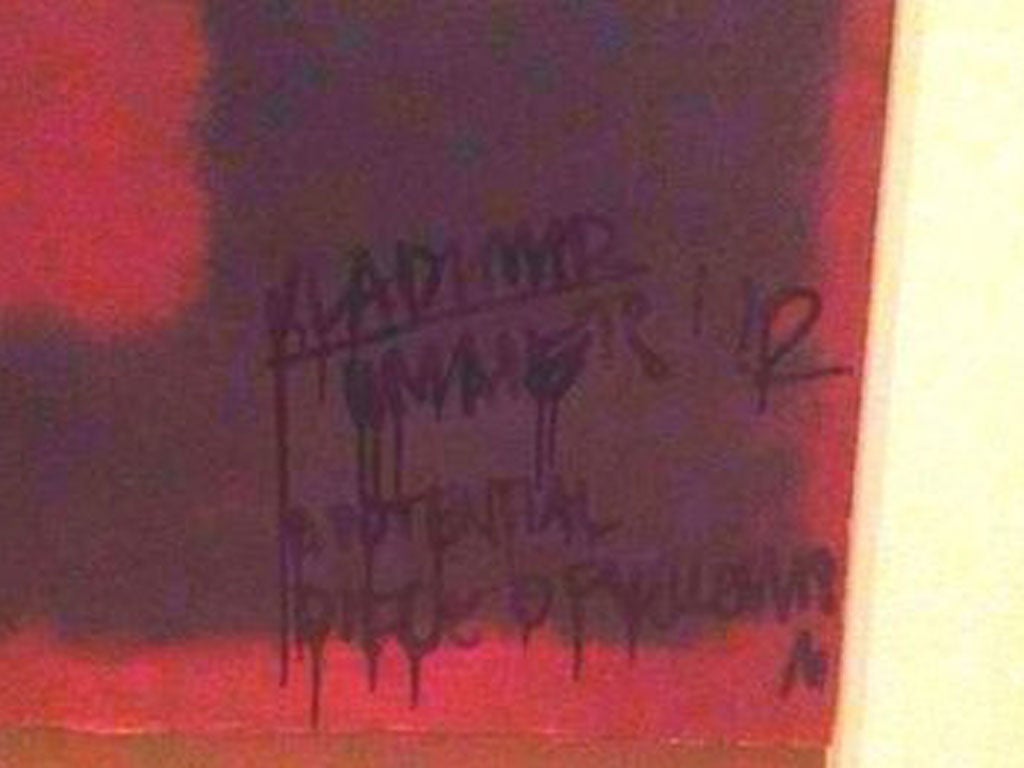 To the untrained eye it might appear that a dab of white spirit and a quick once over with a roller-soaked in emulsion might solve the problem. But it has emerged that experts at the Tate Modern could take up to 18 months to repair the damage done to a work by Mark Rothko in a "guerrilla art" attack at the gallery last month.
Polish national Vladimir Umanets claimed he was striking a blow for the obscure "movement" he founded called Yellowism when he used a graffiti pen to tag the corner of the American painter's 1958 abstract masterpiece Black on Maroon which is valued at tens of millions of pounds. Umanets, 26, who later pleaded to guilty to criminal damage, signed his name and wrote "A Potential Piece of Yellowism" before fleeing in front of startled art lovers at the world's most popular gallery.
However, an in house-team of conservators is now facing the painstaking task of peeling off each of Rothko's meticulously applied layers to remove the stain before reapplying the paint. Black ink from the pen, normally used by graffiti artists to mark buildings and which can withstand rain and other elements, has bled through and into the canvas, it is feared.
One of the problems in restoring the painting to its former glory is that the American artist added a number of unusual materials to the oil paint he sued including eggs, resin and glue which is said to helped give the work its translucent three-dimensionality.
A spokesman for Tate Modern said: "Tate's conservation team are experts in their field with extensive knowledge of Rothko's Seagram Murals. Tate will be setting up a committee including an independent expert to advise on the conservation process of this work. Initial examination indicates that the painting will need an extended period of conservation treatment to address the damage."
The gallery stressed that it had never put a timescale on how long it would take to make the repair. Initial estimates suggesting a quicker fix were made by external conservators.
Rothko is one of the world's most sought after artists. Last week his work Number 1 (Royal Red and Blue) sold at auction in New York for £47.2m although this was short of the £53.8m record for the artist earlier this year. The Russian-American artist committed suicide in 1970 aged 66. Black on Maroon is one of 30 canvases completed for the Seagram mural series meant to hang in the Four Seasons restaurant in New York.
Rothko said of the commission, which he never honoured, that he wanted to "paint something that will ruin the appetite of every son-of-a-bitch who ever eats in that room. If the restaurant would refuse to put up my murals, that would be the ultimate compliment. But they won't. People can stand anything these days."
Tate Modern is home to nine of the original murals whilst the others are held in Japan, the United States and by the family.
Denied he was a vandal. Quoting from his Yellowism manifesto, he said: "Yellowism is not art, and Yellowish isn't anti-art. It's an element of contemporary visual culture. It's not an artistic movement. It's not art, it's not reality, it's just Yellowism. It can't be presented in a gallery of art, it can be presented only in a Yellowistic chambers."
"The main difference between Yellowism and art is that in art you have got freedom of interpretation, in Yellowism you don't have freedom of interpretation, everything is about Yellowism, that's it."
Join our commenting forum
Join thought-provoking conversations, follow other Independent readers and see their replies