Stella Vine returns with portraits of Michelle Dockery, Cara Delevigne and the Pussy Riot
Alice Jones' Arts Diary: The artist returns for her first exhibition in eight years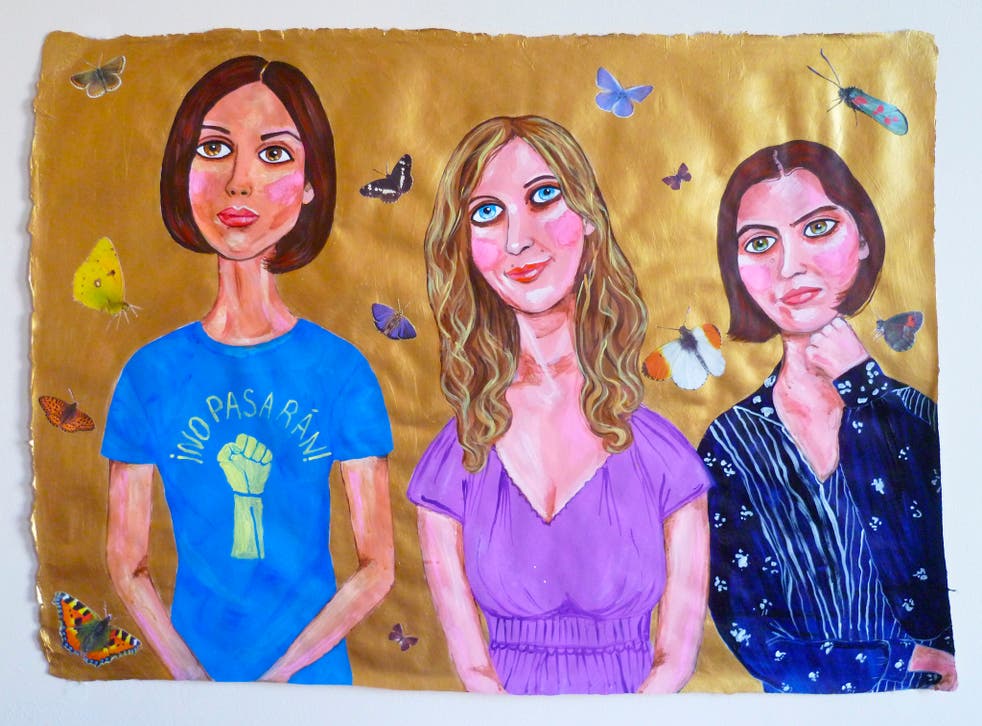 Stella Vine, who became famous for her naive portraits of glamorous women including Kate Moss and Princess Diana is staging her first major exhibition in London in eight years this weekend.
"Melting into you" is at Cecil Sharp House in Primrose Hill from 2pm to 4pm on Saturday 14 December, and consists of 20 or so small portraits on paper of Sylvia Plath, Pussy Riot, Cara Delevingne and Sienna Miller, among others.
Vine's last show was at Hamiltons Gallery in London in 2005. "They just wanted me to do something commercial, fill a gap, make some dosh", she tells me. "There was nothing inspiring about that. It wasn't a good move. It took the wind out of my sails. And it took a crazy amount of time for me to get paid."
The exhibition knocked her confidence – "It caved in. My work got smaller and smaller – I ended up down to 10cm tiny scrappy drawings of naked ladies" – but in the last year she has been working between Northumberland and a bedsit in Camden, where she painted portraits of Muhammad Ali, and Amy Childs of TOWIE fame from her bed. "I could intellectualise about the work but it's too revealing for me. I like to keep it private", she says.
Stella Vine's new portraits

Show all 10
Vine's career took off a decade ago when Charles Saatchi bought one of her Princess Diana portraits for £600. She has not heard from him since. "Maybe he went off the work. I only met him for four minutes in 2004 but I'm incredibly grateful. He changed my life."
The pay-off, she says, is that she has always been seen as "a bit of a joke" thanks to her childlike, celebrity-friendly work. "It's painful. People just wanted me to be a cash cow, paint their celebrity friends. They weren't getting the complexity of the work. They just want your prices to rise and rise."
Instead of waiting for a gallery she liked to approach her, she decided to hire Cecil Sharp House for £250 for the afternoon where her paintings will be on sale for £2,800 each. "It's sheer determination and lack of opportunities. I'm not remotely self-sufficient but I'd rather do this than some mediocre commercial space that treats you like a limp rag." In future, she may open her own gallery in her Camden home. "I'll probably call it something quite destructive, like 'Rack and Ruin.'"
Protest song
Next week Rhys Ifans will take to the stage at The Shed to play a homeless man who goes from sleeping rough on the steps of St Paul's Cathedral to playing a key part in the Occupy protests of 2011. "It's a story of redemption", says Tim Price, whose previous plays include The Radicalisation of Bradley Manning and Scottish devolution comedy I'm With the Band. "That camp was a special place, full of vulnerable people. I wouldn't consider myself a political playwright but I just keep discovering more and more about globalised protest. I would love to write a play about a flatshare. That would be a lot easier."
The Welsh playwright wrote the monologue Protest Song with Ifans in mind. "I wanted to write for a really good actor who changes the temperature in the room", he says. "It was originally a stream-of-consciousness monologue but Rhys astutely said he didn't want to do a play at the National Theatre about homelessness where people felt safe – listened a neat story and then went back to their comfortable homes. So there's now quite a bit of audience interaction involved. With an actor like Rhys anything can happen. I call him a lapsed anarchist, which he quite likes."
George Clooney
George Clooney has been captured by five female artists for the new arts issue of W Magazine. Karen Kilimnik did a line drawing of the Hollywood actor, Yayoi Kusama dressed him in a polka-dot suit and Tracey Emin made him a personalised neon. She asked the actor to respond to 15 questions; "The Passion of Your Smile" is based on his answers, which made her "burst out laughing". Asked, how often do you get homesick? Clooney responds, "I get desperately, depressingly homesick if I can't find a way to be near the people who spread joy wherever they go. Spend a night with my parents battling over who was the rottenest child (my sister or me)… Or my friends pointing out how badly I destroyed a certain bat franchise…" Funny - and honest, too.
Paul Greengrass
There was a distinct Match of the Day theme to the winners' speeches at the British Independent Film Awards on Sunday. When James McAvoy won Best Actor for Filth, ahead of Jim Broadbent, Tom Hardy and Steve Coogan, he declared "It's like Scotland's won the World Cup". Paul Greengrass, an avid Crystal Palace supporter, ribbed the event's host James Nesbitt, a Manchester United fan, as he accepted the Variety Award. "If United win the treble. I'll come and bare my arse up here next year." That's something to look forward to.
Join our new commenting forum
Join thought-provoking conversations, follow other Independent readers and see their replies