What's in a name? Owner left £8m out of pocket as painting thought to be by internationally acclaimed artist Peter Doig is actually a genuine Peter Doige, say lawyers
Nick Clark
Friday 13 September 2013 08:03 Comments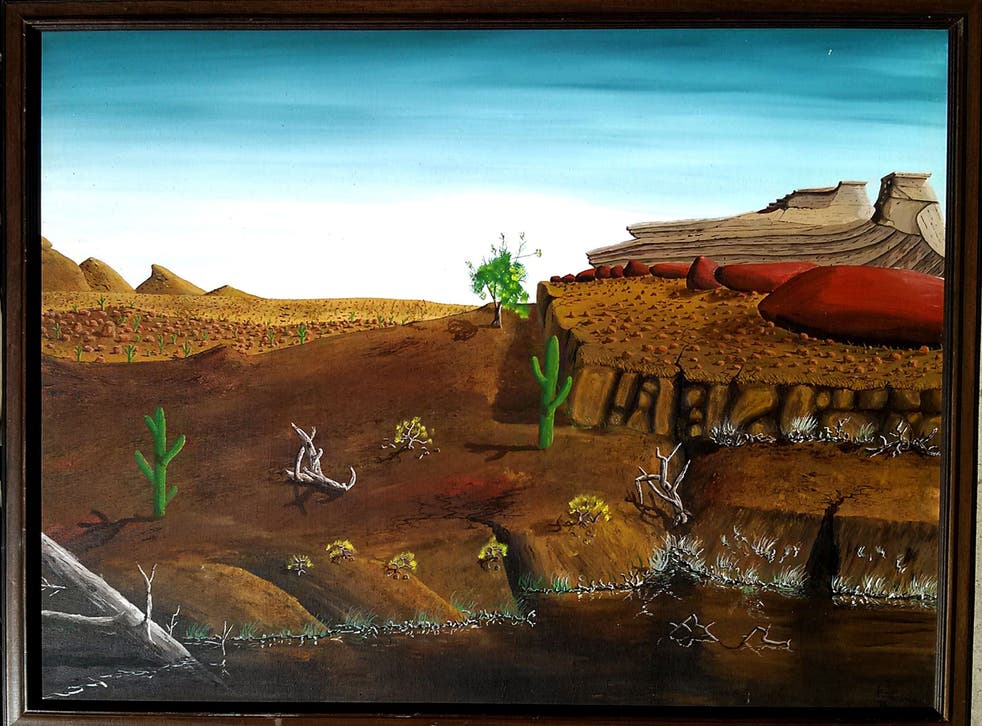 A painting at the centre of a multimillion-dollar lawsuit has been identified as a genuine Peter Doige, according to lawyers. Sadly for its owner, Robert Fletcher, that means the work is worth about £7,999,900 less than a genuine Peter Doig, the internationally acclaimed artist the retired parole officer claims was its true creator.
The extraordinary lawsuit was brought in April by the Canadian, who claims he bought a genuine Doig when the artist was serving time at the age of 17.
Lawyers acting on behalf of Doig, 53, filed papers last week saying the £8m lawsuit had arisen following a case of mistaken identity and they had "found the person who actually painted the work at issue".
The lawyers say they have found the real Peter Doige behind the work, who had been an inmate at the facility in the 1970s and is now dead. Not only that, they believe they have cast-iron proof that will scupper the action after tracking down the dead man's sister, Marilyn Doige Bovard, who said in a sworn affidavit that the painting was her brother's work.
She said: "The desert scene appears to be from around the area in Arizona to which our mother moved after she divorced our father."
Edinburgh-born Peter Doig, who is now based in Trinidad, did spend time in Canada during his teenage years and has admitted to using LSD, but categorically denies ever spending time in a youth-correctional facility.
The original legal papers claimed that in 1975 Peter Doig, going by the name of Peter Doige, was remanded to the Thunder Bay Correctional Centre in Ontario for five months for possession of LSD. Mr Fletcher was appointed Mr Doige's parole officer and encouraged his interest in art, which eventually saw him paint a 34in x 41in canvas while he was incarcerated.
Mr Fletcher bought the painting, signed Pete Doige, for $100 after he helped the teenager to get a job working on boats on the Great Lakes.
The legal action was lodged after Mr Fletcher tried to sell the work as an original Peter Doig through a Chicago gallery. The artist refused to claim it as his own, dramatically slashing its value. In 2007, a Doig painting was auctioned for £5.7m, which was then a record for a living European artist.
Doig's dealer, Gordon VeneKlasen, wrote to the retired officer, saying: "Not only does Mr Doig not know the owner of this work, he has never been to the place it is supposedly painted. The painting is NOT by Peter Doig."
Doig's lawyer said the claims had been "entirely fabricated", but Mr Fletcher's lawyer, William Zieske, has refused to give up his quest. He told The Art Newspaper that he plans to study the new documents, adding: "We could still have a lot of surprises in this case."
Register for free to continue reading
Registration is a free and easy way to support our truly independent journalism
By registering, you will also enjoy limited access to Premium articles, exclusive newsletters, commenting, and virtual events with our leading journalists
Already have an account? sign in
Register for free to continue reading
Registration is a free and easy way to support our truly independent journalism
By registering, you will also enjoy limited access to Premium articles, exclusive newsletters, commenting, and virtual events with our leading journalists
Already have an account? sign in
Join our new commenting forum
Join thought-provoking conversations, follow other Independent readers and see their replies