Bloomberg New Contemporaries, ICA, London
There may be a future Turner prize recipient in this indifferent show for up-and-coming artists – but it would be the devil's own job to pick them
Charles Darwent
Sunday 04 December 2011 01:00 Comments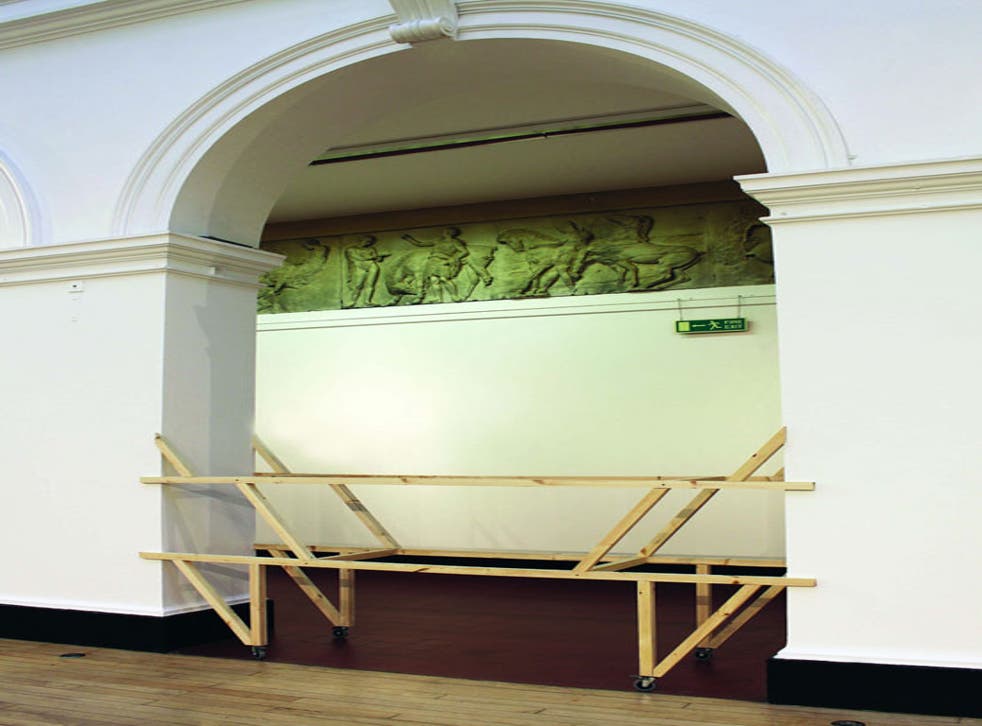 Since 1949, students at British art schools have allowed themselves to be cajoled into taking part in an exhibition, held annually when funds allowed, designed to spotlight the hottest talents of the year.
The show was originally known as Young Contemporaries, although, in the post-hippy 1970s, this sounded ageist and the name was changed to New Contemporaries. (The new title excluded Old Contemporaries, but let that lie.) For a quarter of a century, from 1964 to 1989, it was held at the Institute of Contemporary Arts, and returned there two years ago as Bloomberg New Contemporaries. To the existing vagaries of the show's name are now added those of a multibillion-dollar US firm which makes its money from capital markets, and of its Republican owner.
By tradition, entrants in Young/ New/Bloomberg Contemporaries are judged by their peers, which is to say, artists who have taken part in previous Young/New/ Bloomberg Contemporaries: the latest panel includes Pablo Bronstein and Michael Raedecker. In theory, this makes for an edgier choice, although it does mean that the show tends to favour the kind of contemporary art admired by other contemporary artists, rather than, say, by collectors or gallerists or critics. To that extent, it is a perpetual motion machine, forever reinforcing the taste of art schools instead of that of the markets on which Bloomberg thrives.
And so to New Contemporaries 2011, subtitled, for reasons I can not explain, In the Presence. If the series has had a real point to the public, it is as the artistic answer to the paddock at a racecourse, a place to check out potential winners and, if you can afford it, to take a punt on them. In terms of tipstering, probably no year will ever live up to 1961, whose Young Contemporaries included Derek Boshier, David Hockney, Allen Jones and R B Kitaj. But more recent shows have included Richard Billingham, the brothers Chapman, Damien Hirst and Mark Wallinger, so its form remains sound.
Which is worrying, really, because it is quite possible that In the Presence contains a future Turner prizewinner, and I cannot for the life of me think who it might be. Maybe this is a good thing: the days when you could predict success from New Contemporaries by measuring the relative schlock value of its participants have gone. On the contrary, the hottest art of 2011 is also the coolest, maybe even the most overtly dull. There is an awful lot of no-comment in this year's show, spiced up with moments of introspection, repetition, deadpan and blind alleys.
Of the last, the most obvious example is Minae Kim's installation sculpture in the first room. This looks like some kind of makeshift bridge – MDF, cheap carpeting, pipe bannisters, a pair of industrial lights – and it leads you from nowhere very much to nowhere at all: you end up facing one of the ICA's blanked-out basement windows, with no explanation of what you are doing there or of what you are meant to do next.
The same thing happens in two dimensions when you look at Room, by the happily named Selma Parlour. The subject of Parlour's sort-of-abstract painting is perspectival recession, but when your eye follows the recessional lines it hits a blank wall. All that art for nothing.
Upstairs, Lisa Wilkens's Prevented Portrait: Myself is nihilistic in the same way, but different. As its title suggests, Wilkens's lithograph faces up to the impossibility of portraiture by showing the back of the subject's head rather than the front. Or maybe not, since the artist's first name suggests that she is a woman and the head in question seems to be a man's. How many dead ends is that? And then there is Night Worker by Se-jin Kim – there are three Kims in this show, underlining the buying power of the South Korean currency, the won – in which a camera follows an expressionless salaryman up the many flights of stairs of an office block to the roof and no obvious end.
And so it goes on: Nick Nowicki's canvas, whose painted Cy Twombly-ish edge encloses nothing at all; Alison Stolwood's un-animated animation of a wasps' nest with no sting in its tail; Savinder Bual's Train to nowhere. I came out of this year's Bloomberg New Contemporaries slightly depressed, remembering all those times when I'd stood in earlier shows wishing that young artists would grow up. Now that they have, I kind of wish they hadn't.
To 19 Feb (020-7930 3647)
Next Week:
Charles Darwent sees Lygia Pape at the Serpentine Gallery
Art Choice
Go through the looking glass in Liverpool: the Tate looks at the artistic legacy of Lewis Carroll's creation in its Alice in Wonderland exhibition (till 29 Jan). Vermeer's Women, at the Fitzwilliam Museum, Cambridge (till 15 Jan), shows Dutch folk on domestic activities in work by Vermeer and 28 fellow Golden Age painters.
Register for free to continue reading
Registration is a free and easy way to support our truly independent journalism
By registering, you will also enjoy limited access to Premium articles, exclusive newsletters, commenting, and virtual events with our leading journalists
Already have an account? sign in
Join our new commenting forum
Join thought-provoking conversations, follow other Independent readers and see their replies