Chris Ofili: Weaving Magic, National Gallery, London, review: It's curiously lack-lustre, if not inept
It took a team of Edinburgh weavers two and a half years to make the tapestry from Ofili's watercolour 'The Caged Bird's Song' which is now on show at the National Gallery, along with all his preparatory drawings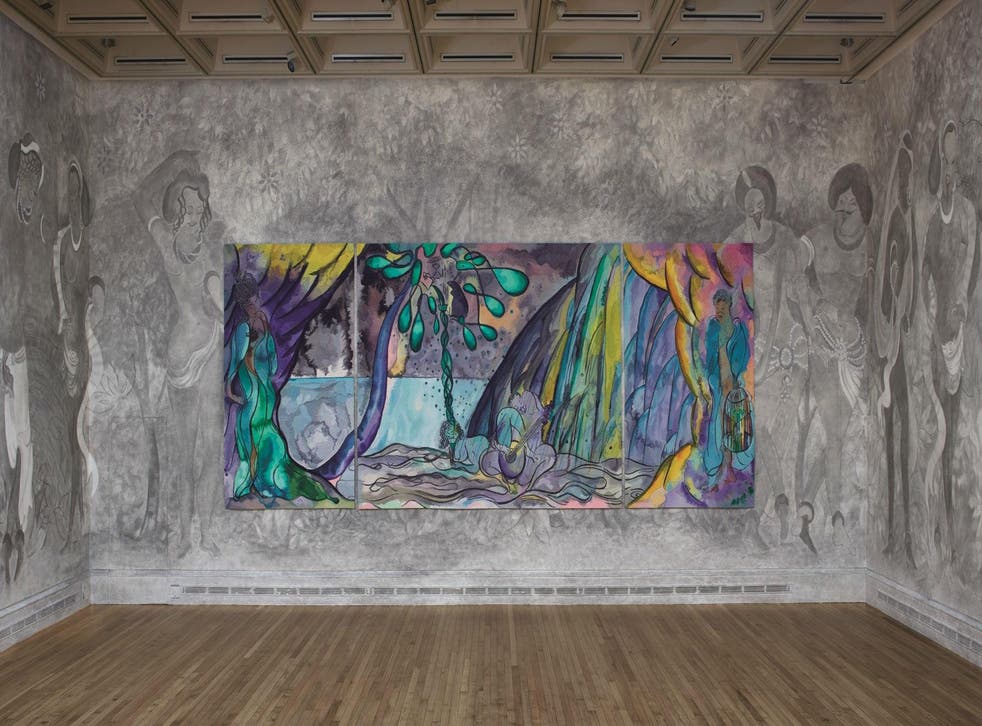 In 2013 Chris Ofili was commissioned to design a large tapestry for permanent display in the dining hall of the Clothworkers' Company in the City of London. The guidelines could hardly have been less prescriptive. Do us a vivaciously colourful Ofili was what it amounted to. Ofili made various preparatory drawings in ink and watercolour. He sketched out the setting, the characters, the content. He eventually arrived at a title for the piece: The Caged Bird's Song. It took a team of Edinburgh weavers two and a half years to make the tapestry from Ofili's final watercolour of the scene.
The National Gallery has made an exhibition of the entire project, showing off four suites of preparatory drawings and paintings, a film about the making process, and the tapestry itself, set against a mural of grey, temple-like figures, sensuously swaying.
When is an Ofili not quite – or perhaps not really - an Ofili? When it is a tapestry painstakingly woven by a team of weavers based in Edinburgh. Tapestries are no longer worked up from cartoons of the same size – as Raphael would once have made them. In this case, the weavers based their version on a huge acetate blow-up of Ofili's final watercolour painting for the tapestry, which hung behind the loom as they worked.
The tapestry is a triptych whose central panel reveals a scene of threatened innocence, set goodness when and goodness knows where. It shows a lover being serenaded by a beau with a stringed instrument, in front of a pallid sea, overshadowed by a gushing waterfall. From above, a mythical being, head skewed side on, is pouring liquid into the mouth of the female form.
In the panels to left and right, a male and female appear to be opening a curtain on to this Arcadian scene. The male, moustachioed, holds a cage in which we see a song bird. Is this Trinidad, where Ofili has lived for more than a decade? Or is it some indeterminate, classical otherwhere? A bit of both. The catalogue mentions all sorts of antecedents for stories of this kind and treatment.
We all know that tapestries were made from works by Goya, Rubens, Velasquez, Picasso. The curator confidently ranges Ofili beside them. We are prompted to see politics and contemporary reference in the tapestry: one suite of paintings shows how Ofili's mythical elixir-pourer in the clouds started life in images of Mario Balotelli, a famous Italian footballer with a reputation for disreputable behaviour.
By the time he gets into the tapestry, the person of Balotelli is completely unrecognisable. The title of the tapestry calls to mind the first volume of Maya Angelou's autobiography. Finches in cages are a common sight in Trinidad.
The most disappointing feature of this exhibition is that the tapestry itself lacks much visual impact. It's curiously lacklustre, if not inept. This is not the fault of the weavers. They have managed to be very faithful to the colours of their original – and imagine how difficult it must have been to capture and reproduce the way in which colours in a watercolour painting bleed into each other.
In fact, if anything they have given greater vibrancy to some of those colours. What really fails here is Ofili's own painted vision of the scene, and his execution of that vision. It's wishy-washy, thoroughly unexciting, vaguely derivative, slightly inept. Is Ovid in here somewhere? I guess so. How could he not be, with all this shape shifting? Is Virgil too? Maybe. It never comes vibrantly alive.
Join our new commenting forum
Join thought-provoking conversations, follow other Independent readers and see their replies