Lucian Freud Portraits, National Portrait Gallery, London
Lucian Freud's unflinching paintings reveal everything about their sitters' flesh and little of their personalities – indeed, are they portraiture at all?
Charles Darwent
Sunday 12 February 2012 01:00 Comments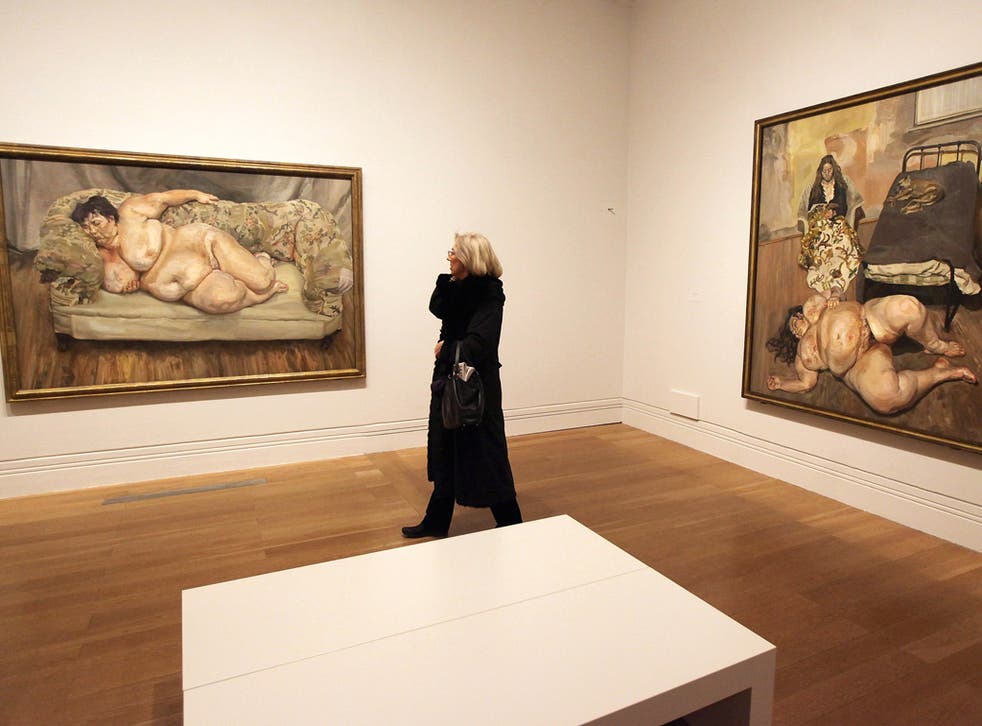 Towards the end of the National Portrait Gallery's Lucian Freud show is a disquieting picture, not by the artist but of him.
It shows Freud, just short of his 80th birthday, painting the Queen on the occasion of her 75th. Her Majesty, tiara'd, sits on a gilded chair, set up on a box in a shabby room: the image is so alive with lèse-majesté that you assume it is one of those lookalike photographs, maybe by Alison Jackson. It isn't. The outcome of the scene it depicts was Freud's Queen Elizabeth II, certainly his most notorious portrait, very possibly his worst, and not in the NPG's show.
The problem lies in the work's title. Long before you have reached the photograph, you will have passed dozens of paintings with names such as Portrait of a Man and Portrait of a Woman. Among their subjects are the Duke and Duchess of Devonshire, Lord (Jacob) Rothschild, Baron Thyssen, Andrew Parker-Bowles, Freud's numerous wives, mistresses, children and others of the great, good and very rich. Brought before the painter's forensic brush, the grandeur of these is stripped away. Freud's subjects are no better or worse, and have no more identity, than the enormously fat Benefits Supervisor, or the white dog in Girl with a White Dog. They are not so much nameless as de-named. That is a difficult trick to pull off when the person you are painting is Queen Elizabeth II.
It is an interesting failure. Perhaps a good place to start with this show is at Naked Man with a Rat (1977-78), halfway through numerically and chronologically. As often with Freud, there is a historical tinge to the work. The man of the title is laid out as he might have been in a tomb, his left hand raised as in benediction; although Freud sneered at symbolist readings of his work, the rat in his subject's right hand has the feel of one in a Dutch memento mori painting. The man is literally laid bare, his legs unnaturally (and uncomfortably) splayed so that the picture's vanishing point is his genitalia.
The real point, though, is that, for all the strangeness of his story, we have no interest in the rat-holding man; indeed, that we are forbidden to be interested in him. For all the information we are given – too much, in the case of his genitals – we know nothing about the man with the rat, and can only know nothing.
Is this portraiture? I have my doubts. Perhaps it is more useful to think of Freud as a painter of still lifes (or, more appositely, natures mortes) who happens to work with human flesh rather than apples or pears. As with the de-named dukes and plutocrats, the point of Naked Man with a Rat is the very opposite of revelation. Like many of Freud's so-called portraits, the subject of this one looks dead, his mouth slack, his pupils glazed and fixed, his skin rendered in a necrotic palette lit by a mortuary light. The naked man exists simply as a surface on which Freud can experiment with the kind of paint he likes, an amalgam of unnaturally strong contrasts, sharp-edged strokes of heightened colour; an unstable concoction of compositions and textures and flesh that seems on the point of falling apart.
I had hoped to write this review without mentioning Freud's paternal grandfather, but it can't be done. Do Oedipus complexes skip a generation? Lucian Freud seems to have adopted Sigmund Freud's practice and couch for the murderous thrill of negating them. The elder Freud's analyses took years and left their subjects exhausted. Various of the younger Freud's subjects – dukes, flash-Harry Soho photographers – also recall the arduous hours involved in sitting for him. "If someone is getting your essence down on canvas," said one, "they are also drawing your essence out of you."
The difference between Sigmund and Lucian Freud is that the former drew out that essence to cure it; his grandson did so to throw it away. What Lucian ended up painting was externalities with their internalities removed. He developed a trademark style in the early 1960s and, for 50 years, applied it, equally and disinterestedly, to whatever happened to pass in front of him: dogs, dukes, sycophants, queens of various kinds. Elizabeth II, whose identity he could not erase, was the only sitter who beat him at his own game. Four years his junior, she had longer experience of being an icon, and of intimidating subjects. It's as well her portrait, if that's what it is, isn't in this show.
National Portrait Gallery, London (0844 248 5033) to 27 May
Next Week:
Charles Darwent sees Catalonia meet Cornwall in Picasso and Modern British Art at Tate Britain
Register for free to continue reading
Registration is a free and easy way to support our truly independent journalism
By registering, you will also enjoy limited access to Premium articles, exclusive newsletters, commenting, and virtual events with our leading journalists
Already have an account? sign in
Join our new commenting forum
Join thought-provoking conversations, follow other Independent readers and see their replies