The Royal Academy Summer Exhibition: The anarchy and ecstasy returns
Once again, the Royal Academy's Summer Exhibition is an exhilaratingly eclectic mix of the astounding and the downright awful, says Zoe Pilger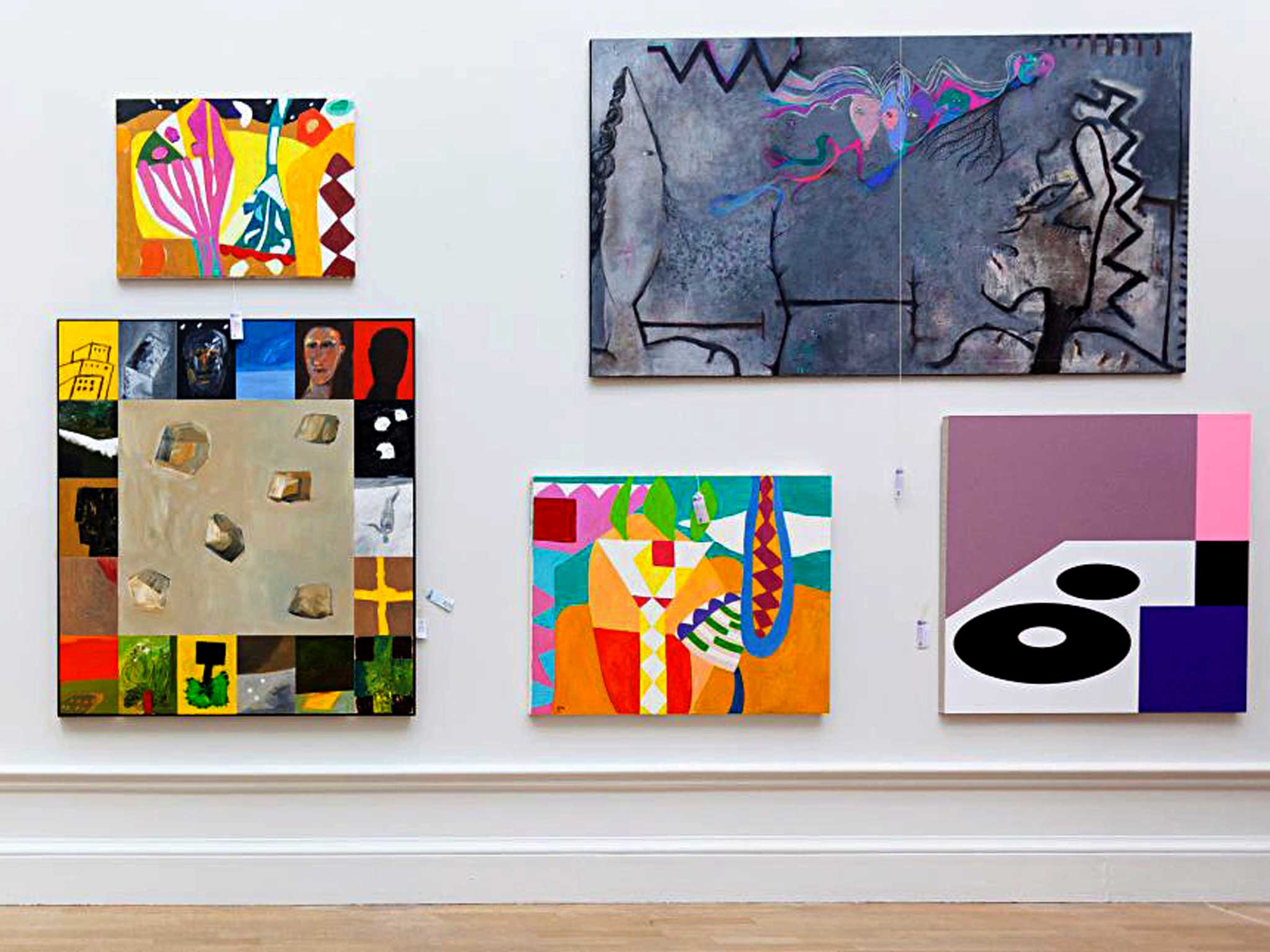 One hundred years ago, on 4 May 1914, the Suffragette Mary Wood turned up on the opening day of the Royal Academy's annual Summer Exhibition and hacked at a painting by the esteemed Royal Academician John Singer Sargent with a meat cleaver while shouting "Votes for women!" The work was a portrait of the author Henry James; Wood smashed the glass and managed to slash the canvas three times. The attack happened around half past one; the crowd in the gallery was thinning for lunch but still those civilised appreciators of culture turned on her. "Lynch her!" they shouted.
This was perhaps the most interesting event in the 245-year history of the Summer Exhibition, which has run without interruption since 1769. A couple of months earlier, in March 1914, another Suffragette, Mary Richardson, had attacked Velazquez's Rokeby Venus in the National Gallery with a meat cleaver, which was a more understandable target – it showed a reclining nude in a typically passive, "feminine" position. But why did Wood attack the portrait of James?
The writer Helena Bonett has suggested that the portrait symbolised the male-dominated artistic elite; the great male artist canonising the great male writer. The portrait also pointed to the "social stagnation" with which the RA was associated. In 1922, the artist Annie Swynnerton became the first female to be appointed an RA since 1768. Now the institution is keen to appear open and relevant.
To be appointed an RA is very prestigious for an artist; it means entering a kind of exclusive fellowship. The visitor to this year's Summer Exhibition, which will open on 9 June, is greeted by the work of 12 new RAs and honorary RAs in the first gallery. There are seven works by women and five by men, a more or less equal ratio which suggests that the curators are heeding the demands of the new wave of feminism. Or perhaps they are simply trying to avoid another meat cleaver attack. In fact, the vast majority of RAs are men.
The Summer Exhibition is unique because it mixes artworks submitted by the public with those by established artists. There were 12,000 submissions this year – sent digitally for the first time. The scale is immense; over 1,200 artworks are displayed in 10 galleries. Each gallery is curated according to a different theme or medium, from architecture to printmaking to sculpture. Paintings are hung edge to edge, salon style, which is a nod to the exhibition's 18th-century roots but also serves the purpose of fitting in as much stuff as possible.
As usual, there is the pleasantly chaotic sense of wandering through a highbrow junk shop, or the private palace of a wealthy and eccentric hoarder, or the exceptionally vivid imagination of someone who is probably mad. The curators' attempt at order often teeters into anarchy. Most of the works are for sale. Some are excellent, many are awful.
The highlights of the first gallery are two paintings by Marlene Dumas – not Dumas at her best, but still forceful and sinister. Helena is a portrait of a little girl with malicious intent. She is staring unfocusedly out of the canvas, her skin a sick, luminous yellow, her presence both inexact and strongly outlined, which is Dumas' trademark. By contrast, Scarlett shows a girl whose features have nearly been erased, subject to Dumas' pale wash of colour, a gesture which seems violent.
Assisted Lines by the German artist Rosemarie Trockel is one of her wool series: straight vertical lines of black wool are stretched over a white canvas, which points to the history of weaving, historically a "feminine" craft of lesser merit than "masculine" painting or sculpture. Red Cape by Chantal Joffe is a large portrait of a woman wearing a red cape, as the title suggests. The painting evokes Little Red Riding Hood, though Joffe's subject seems neither innocent nor lost. Rather, she is aloof.
The next gallery focuses on "painting in its most elemental state"; the viewer is confronted by a riot of random, mostly abstract, paintings shouting from the walls. The ambience is that of an elegantly shabby boho living-room somewhere in north London. It is also an homage to those RAs who died recently, including the artist John Bellany. His paintings are narrative scenes in ebullient colours, spiked with doom.
The Sisters of Eyemouth shows a nonplussed female nude and a seabird in a brilliantly yellow kitchen. In the distance, the sea is vivaciously blue and choppy – the painting may refer to the fishing disaster in the Scottish village of Eyemouth in 1881, which turned 93 wives into widows. Elsewhere, the sombre abstraction of Sean Scully's Doric Night lends a welcome counterpoint to all the clashing colour.
The following galleries veer wildly in terms of quality and tone. I love Paula Rego's Prince Pig Courtship in gallery II – a lithograph of a woman holding a swooning pig. There are great swathes of fey landscapes and whimsically dull figurative painting in gallery VII, whereas gallery VIII feels like a new money Manhattan loft apartment circa 1987 – there are tacky Pop Art renditions of Van Gogh, Marilyn, and a dollar note on the wall. The overall sense is one of stainless steel and minimalist white, more decorative than profound.
Gallery IX is dominated by red and looks like a degree show, with an emphasis on the macabre. There are Tim Shaw's four hare heads, made out of "smoked newspaper" and masking tape; elsewhere, he stages a tiny crucifixion scene made of wax. The room is messy, gothic, likeable – somehow it works.
Thankfully there is a palate cleanser just around the corner – gallery X is taken over by Sensing Thought, a single work by James Turrell. You can sit on a bench in dim lighting and contemplate a single rectangle of light on the wall. Its colour changes from clinical blue to rose, fading to white around the edges. It is pure and synthetic at once – a relief.
The artist Cornelia Parker was invited to curate the final gallery and it is by far the most thoughtful. The theme is black and white. She has created a coherent aesthetic out of disparate artists' works, while making a powerful political point.
Looted Shop Front by Keith Coventry is a bronze sculpture of a large rectangular frame leant against the gallery wall, the suggestion of shards of glass around its inner edge. (The work refers to the 1995 Brixton riots.) There is also a small sign high on the wall by last year's delightful Turner Prize winner Laure Prouvost, which reads: A Splash of Red Paint in Your Face. This points to the mood of the gallery: a burst of subversion, a call to wake up.
The most affecting work by far is In 2013 14% Less Children Chose Art At GCSE Than Did In 2010 by Bob and Roberta Smith (the alias of the artist Patrick Brill). It is a large white board on which a political manifesto addressed to the education secretary Michael Gove is written in black paint. Solo by Ceal Floyer stands before it: a hairbrush on the end of a pole, which is intended to look like a microphone, and gives the comic though poignant sense of a teenager in her bedroom, speaking to the government.
The manifesto makes a persuasive case for the importance of art in our schools, and condemns the process by which children are drained of their natural creativity and "become an insignificant cog in a system of control". The work resonates with the spirit of Mary Wood's impassioned attack on this venerated institution. "From Caravaggio to Amy Winehouse," Smith writes, "Creativity is rebellion".
Summer Exhibition 2014, Royal Academy, London W1 (020 7300 8000) 9 June to 17 August
Join our commenting forum
Join thought-provoking conversations, follow other Independent readers and see their replies