Tracey Emin's My Bed at Tate Britain, review: In the flesh, its frankness is still arresting
Much ink has been spilled on it, but as one of the defining images of the 1990s it still remains remarkably fresh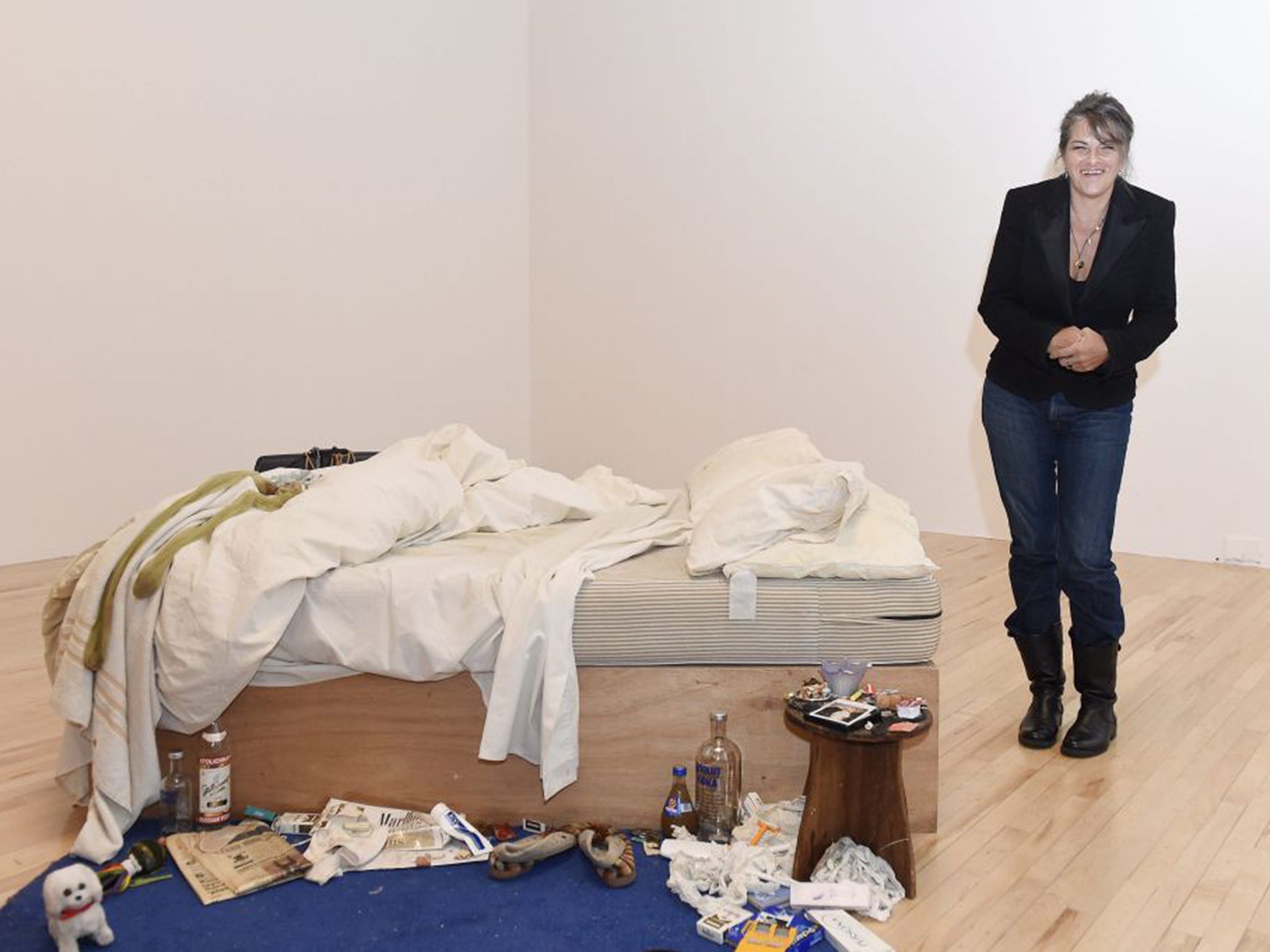 It's that bed again – and it's still unmade. And 16 years after it was first exhibited, it still provokes extreme reactions.
Two male Chinese artists jumped on it and had a pillow fight, a "housewife" wielding a proprietary cleaner had to be forcefully dragged away from it and a distinguished professor has seriously questioned whether Tracey Emin ever slept on it for four whole days at all, given the relatively controlled state of its continuous disarray. You can interpret it as an uncompromising self-portrait of a woman at a time of emotional trauma – or as a turbulent still life – but it is still a bed and all that a bed symbolises and encompasses: sleep, sleeplessness, sex in all its manifestations, birth, death and dreams.
Recently sold for £2.54m by Charles Saatchi, the bed's new owner, Count Christian Duerckheim, has lent it to Tate Britain where it forms part of the gallery's new displays (exhibited alongside Francis Bacons). Emin is thrilled at this development. For her, Tate is the bed's natural home: it first began its very public life there as a contender for the 1999 Turner Prize.
Much ink has been spilled on it (in addition to the bodily secretions that stain its sheets and smear its discarded underwear). But as one of the defining images of the 1990s it still remains remarkably fresh.
In the flesh, My Bed is so much more impactful than the concept suggests. I first saw it at the Saatchi Gallery, where it was liberated from some of the raucous commentary that accompanied its inclusion in the Turner Prize exhibition.
Its frankness is still arresting, with its embarrassing detritus of a life in crisis – vodka bottles, fag butts, used condoms, contraceptives, blood, vomit and tears – while its white draped and crumpled sheets have their own pictorial allure, inviting comparison with classical sculpted drapery and the unmade beds in Titian's and Manet's boudoirs.
Emin is a natural storyteller and her work is deeply confessional. But My Bed is also a constructed piece of art.
The critics who tire of Emin's exhibitionism, her self-flagellation, her sexual adventures, her self-degradation and her emotional pain and chaos, are surely missing the point.
Tracey Emin: The Last Great Adventure is You
Show all 4
Emin takes the unspoken and the unspeakable, and creates an installation that is full of vital visual interest and human vulnerability, while challenging the intellectual pomposity that characterises much conceptual art.
Emin on her bed: The bed hasn't changed but Tracey has
Tracey Emin makes her bed every morning these days, but she was overwhelmed with emotion at Tate Britain on seeing My Bed, an emblematic work of the Young British Artist Movement, return "home" yesterday.
The notorious work – featuring the artist's unmade bed, its dirty sheets strewn with discarded condoms and empty alcohol bottles – is going on display at the Tate 16 years after its unveiling for the 1999 Turner Prize.
"It means a lot to me," Emin said, wiping away tears. "Hopefully the bed will be here in 20 years. That's what art's about. It's about legacy; it's about making something that goes on without you."
Sir Nicholas Serota, director of Tate, described it as "one of the iconic works from the late Nineties". Emin said that after the early criticism she "loved" that it was now highly regarded in the art world. "It shows I was right," she said.
She now tidies her bedclothes: "It's so boring, it's very neat. I'm really OCD."
Nick Clark
Join our commenting forum
Join thought-provoking conversations, follow other Independent readers and see their replies