Turner Prize 2014, Tate Britain - review: Frustratingly timid
The exhibition nods to rich and potentially brilliant ideas, but steps back timid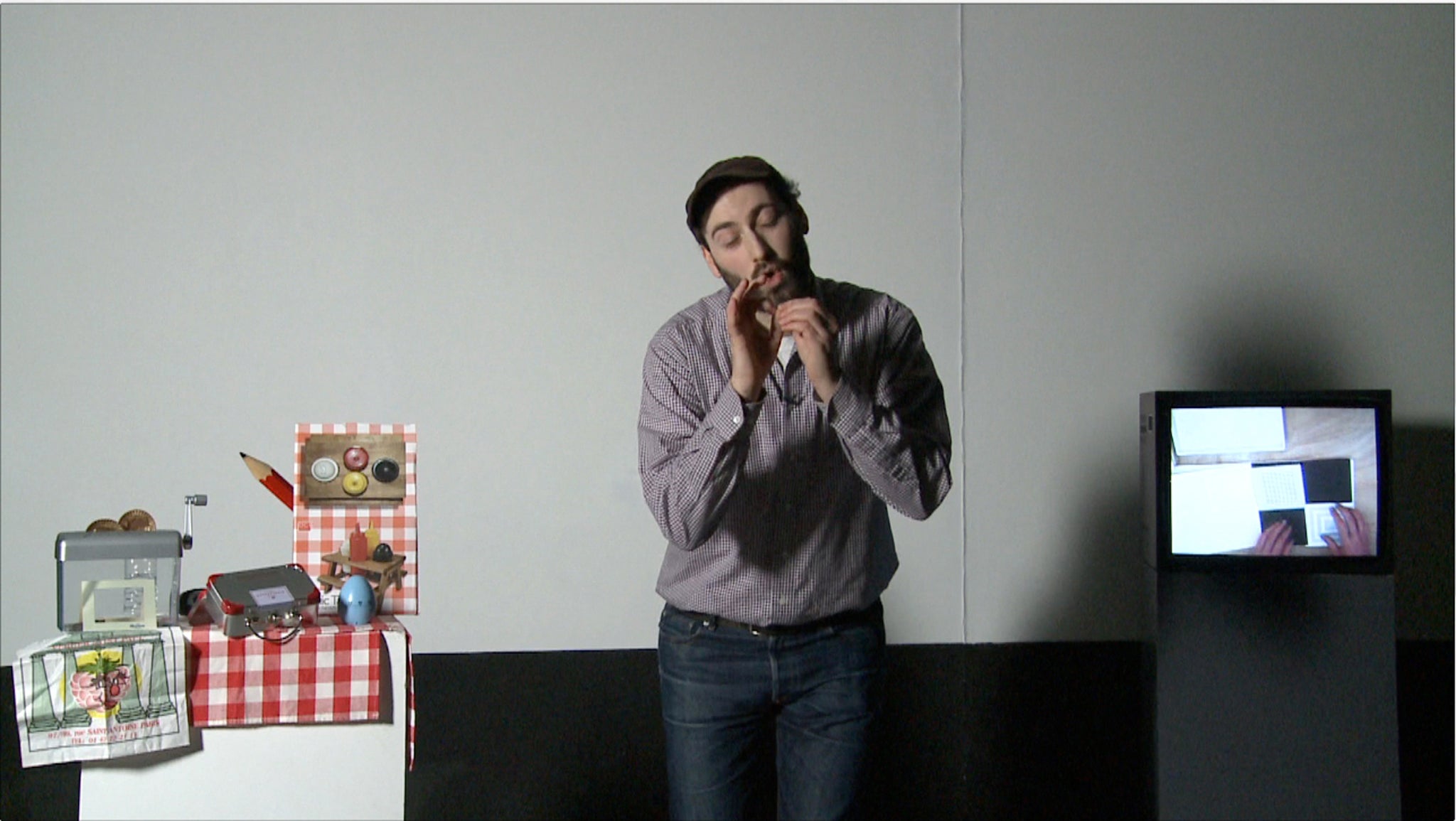 The single moment of wonder in this year's Turner Prize exhibition comes in James Richards' film installation, Rosebud (2013). A flickering black and white series of images on a large monitor show what appears to be a budgerigar perched on a hand, restrained by a delicate chain looped around its owner's fingers. The budgerigar flaps its wings; there is a second of tremulous possibility – will it break free?
Of course it can't break free – the chain will drag it back, but Richards manages to create a sense of drama which transcends the ordinariness of the image. This humble household pet is transformed into a metaphor of flight and freedom curtailed.
Richards, 31, was born in Cardiff and lives in Berlin. His is the strongest of the four installations at Tate Britain that comprise this year's Turner Prize short list – for the budgerigar moment alone. It was the only moment when I became enthralled; for a lot of the rest of the time that I spent looking round this exhibition, I was irritated. Despite the seeming nuance, cerebralism, attention to form and wider political concerns of the work of these four artists, the exhibition swerves too often into the maddeningly derivative and lazily oblique.
This is the Turner Prize's 30 anniversary; every year, four artists under the age of 50 are selected for an outstanding exhibition that has taken place in the last twelve months. Three out of four of this year's nominees are alumni of Glasgow School of Art: Canadian-born, Glasgow-based Ciara Phillips, 38, Dublin-born, Glasgow-based Duncan Campbell, 42, and Southend-born, Stockholm-based Tris Vonna-Michell, 31.
Last year's winner was Laure Prouvost for her magical, intelligent film installation Wantee (2013); all but one of this year's artists also use film and fragmentation, but none achieve Prouvost's command of the medium.
The winner will be announced on December 1 and receive £25,000 prize money. It is a credit to the judges that they have not gone for media-baiting, provocative-for-the-sake-of-it work, and instead chosen the seemingly subtle and difficult. But difficulty must have a point. Too much of this exhibition is underwhelming.
The rest of Richards' Rosebud is a pleasure, however: shots of pages of books from Tokyo libraries, censored due to their erotic content, are made more erotic, stranger, for what is concealed. There is a black and white image of a woman's open legs, the area between her legs sandpapered blank. Eroticism works by omission; what is not seen is often more tantalizing than what is. In this way, the censors' mission has backfired.
Other imagery in the film is sensual rather than full-frontal pornographic: a shot of a woman's bare arms as she rolls across the floor, out of sight; a woman licking a spray of delicate white flowers; flowers rolled over body hair. The overall effect is rhythmic rather than manic, harmonious rather than fractured.
I am a huge fan of the French artist Chris Marker (1921-2012), whose wonderful film Statues Also Die (1953), made with Alain Resnais, was shown as part of Marker's retrospective at the Whitechapel Gallery earlier this year. The film is about the colonization of Africa and the commercialisation of African art, stripped of its ritual function and sold as tourist trinkets. Duncan Campbell has made his own hour-long film, It For Others (2013), which is a "response" to Statues Also Die.
Marker was a one-off; he had a polymath vision and a strong sense of political responsibility. He tried to show that art is never produced in a vacuum, but shaped by power, money, society. I was excited to see Campbell's film because a "response" could mean an examination of similar themes in a new way. We need more artists working in the spirit of Marker. But after about half an hour, I lost patience.
The film engages with political ideas only to mystify them. We get lost in proliferating references to everything and anything: a choreographed dance that expresses the economic equations of Marx's Das Capital, a woman stirring tinned Campbell's tomato soup (reference to Warhol, which is tedious), a shot of textile workers in a factory in Asia, Northern Ireland… Campbell explains his search for what Beckett described as "a form that accommodates the mess."
Whereas Marker's film had a strong central argument, eloquent, angry, and poetic, this film does not. Serious political issues are dissolved into a postmodern miasma. Art film occupies a unique space: it has a freedom of expression not afforded to the kind of current affairs programmes that appear on BBC iPlayer. It can say anything. So why not make a sharp, careful, political film which is also "art"?
My least favourite works in the exhibition are by Tris Vonna-Michell, whose breathless, panicked voice-over accompanies films including (Postscript IV ((Berlin)) (2014), which recounts in fragmented form his mother's childhood in post-war Germany. The subject matter is fascinating but the execution is frustrating; it seems rushed, needlessly abstracted, inviting and refusing the viewer's engagement at once. Perhaps this is the point: again, alienation, the brokenness and impossibility of memory. Still, it grates.
More compelling are the texts and images that Vonna-Michell has arranged in light-boxes; Addendum I (Finding Chopin: Dan l'Essex (2014) points to his enduring fascination with the French sound poet Henri Chopin (1922-1908). Again, this is a work which takes its cue from someone else's creativity. There is a black and white photograph of the back of a closed office door which shows a poster of a tropical beach with a palm tree; an open kinder egg; lines of typewritten poetry, presumably Chopin's: "…repetition, a way out."
Repetition may be a way out of the straitjacket of linear sense and literal understanding, but sometimes linear sense is a good thing; it allows you to take your viewer with you. Vonna-Michell's work seems a hysterical crescendo to Campbell's and Richards'; it's all too much.
Ciara Phillips' installation, Things Shared (2014), is a welcome burst of acid-bright colour; her room has been covered from floor to ceiling with pink, blue, and black handmade screen-prints, showing abstract patterns that "started life as accidental ink blotches," and arrows pointing downwards. The effect is Pop Art-ish; Phillips is influenced by the American artist and nun Corita Kent (1918-1986), who made silk-screen posters in the 60s as part of the social justice movements of the time. Phillips has worked collaboratively with Justice for Domestic Workers, and her art seems refreshingly engaged with society.
However, this installation didn't work for me. It seems stylised but lacking punch, recalling Barbara Kruger's immersive slogan-heavy installation at Modern Art Oxford earlier this year, but without its directness. There is also a sound booth in which the visitor can listen to alphabetized words and phrases: "Paranoids Anonymous, Paranormal Investigations, Passivity..." Like the voice-over of Campbell's film, the tone is school-teacherly; it feels as though you are being subjected to a surreal though dull educational programme from the 70s.
Two framed prints hang on the wall: they spell OK. The catalogue essay explains: "it is almost impossible to ignore the sense of reassurance or agreement in the word the letters O and K spell out, embodying the power of language to transmit a message in its most minimal, reduced form." This is a classic example of artspeak; the word OK is invested with philosophical grandeur.
Surely the point of socially engaged art should not be to tell us that everything is OK? Should not be to reassure us, nor, in the case of Campbell, to riff on a classic piece of political cinema, layering it with more critical theory and thereby diluting its power?
This exhibition is frustrating because it nods to such rich and potentially brilliant ideas, but steps back, timid.
If I had to choose a winner, it would be Richards for Rosebud.
30 September 2014 – 4 January 2015
Join our commenting forum
Join thought-provoking conversations, follow other Independent readers and see their replies