You, Me, Something Else, GoMA, Glasgow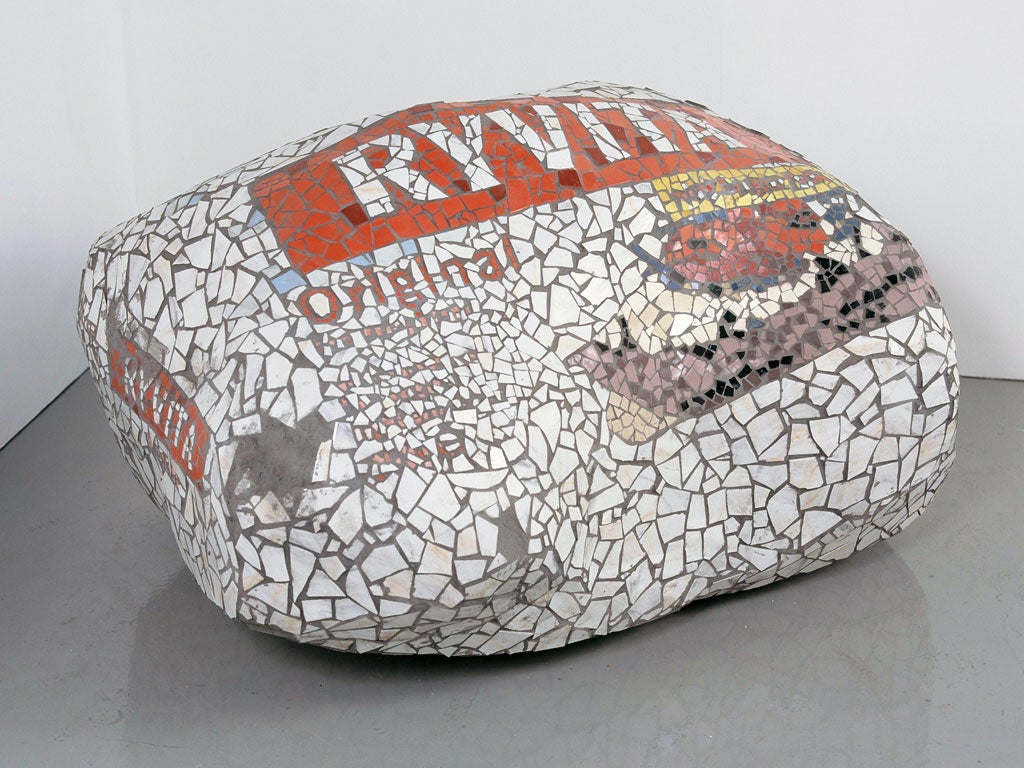 Ten different artists based in Glasgow, all making work that can be classified as "sculpture".
Karla Black, heavily fancied to win the Turner Prize, greets the visitor by the door. Don't Adapt, Detach looks enough like a giant's abandoned shower curtain to confuse the casual visitor; a tangle of what appears to be confetti (although this is not mentioned in a list of materials that includes Sellotape, spray deodorant, glitter eyeliner and hair gel) in a crumpled cellophane nest. Some of the confetti-like matter has flaked on to the floor.
It's typical of Black's work; fragile, unexpected, feminine. (If it was a curtain it would definitely be from a cool lady giant's shower). Black's work is often compared to the pioneering American sculptor Eva Hesse's innovative latex and plastic forms. Black deconstructs her shapes a stage further, then tops them off with a whirl round Superdrug.
Her piece sets a minor note that plays throughout the room. Lorna Macintyre's Apollo, two plangent skeleton forms draped with distressed velvet, is reminiscent of the other Glaswegian Turner shortlisted artist Martin Boyce. Everything about it draws attention to what is not there, or what has just left. A new piece by Claire Barclay, Difficult Beneath, lacks the spikes and sharp edges of her earlier work. The hooks on the wooden panels are polished brass, of an unusual shape not seen in B&Q. They appear neither decorative or functional. The best of her work demands that the viewer question their relationship to the physical world. This one left this viewer scratching her head.
Alex Frost's three Ryvita pieces – a huge Gaudi-goes-shopping mosaic, a small, squidgy, half-formed clay packet and a Warholesque pile of boxes – poke a witty finger at middle-class munching habits. Born in London, he picks on the staple foodstuffs of his southern childhood, sparing a Glasgow audience yet another homage to the Tunnock's Tea Cakes or bottle of Barr's Irn-Bru. Plenty of those in the gallery's gift shop.
It's inevitable that some of the many artists living and working in the UK's second largest retail centre will find the city's spend, spend, spend culture leaking into their work. Andrew Miller's tower of lampshades and wonky skeleton table chandelier could have come from the window of any hipster boutique. Cheery, certainly, but a bit thin.
To 18 March (0141 287 3050)
Join our commenting forum
Join thought-provoking conversations, follow other Independent readers and see their replies