Tate acquires Martin Creed's controversial Turner Prize-winning piece Work No 227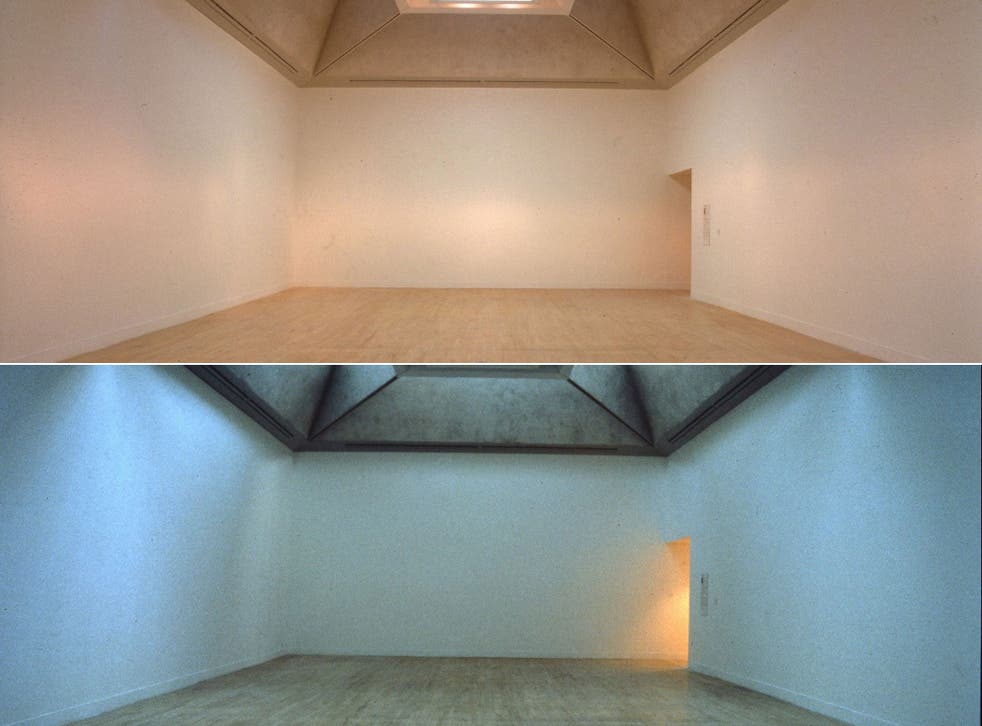 The Tate is to turn the lights back on, and off, on a more regular basis after buying Martin Creed's controversial Turner Prize winning piece from 2001.
Work No. 227: The lights going on and off prompted outrage from the tabloids and some critics when it was first displayed at Tate Britain, with one artist even throwing eggs at the walls to register her disgust at the piece.
Yet the Tate has now bought the work, which consists of an empty room with lights on a time switch flicking on and off every five seconds, for its permanent collection.
The piece was "arguably one of Martin Creed's most famous works," a spokeswoman for the Tate said. "It is widely considered to be his signature work, and is inseparably connected to Tate Britain."
It has been bought with funds provided by Tate Members, the Art Fund and a private donor. The Tate did not reveal how much the work cost. It has been valued in recent years at being worth about £110,000.
Art critic Louisa Buck said: "It is an important work. It is a sober minimalist piece in a long line of artists using every day materials for potent formal and psychological effect. It's not easy viewing."
The lights will go on display from October 21 until the following April before potentially going out on tour around the country. It has proved popular abroad including when it was displayed in the Museum of Modern Art.
The piece was first unveiled in Tate Britain after Creed was named on the shortlist for the Turner Prize over a decade ago.
Newspapers reported on the "outrage" at its inclusion and The Sun, launched its own Turnip Prize, off the back of that year's shortlist.
David Lee, editor of satirical art magazine The Jackdaw said a year after the prize had scraped the barrel, "this year they are scraping the scrapings."
The artist, who was born in Yorkshire and brought up in Scotland, said at the time: "I think people can make of it what they like. I don't think it is for me to explain it" and has subsequently added that the best works "get under people's skin, make them remember them".
Fiona Bradley, director of The Fruitmarket Gallery, which commissioned Creed's Work No. 1059 in Edinburgh, called it a "great work" adding he was now seen as "one of Britain's most important artists. He has a very healthy international reputation."
Creed was quizzed at a recent talk by one member of the audience who said he found the lights hard to understand. Bradley said: "Martin gave an excellent response. He said: 'I do know what you mean. When I go around galleries I can find some work hard to understand, such as Velasquez, so I make work that is really easy to understand, like a light going on and off'. He wasn't taking the mickey."
She added that people would still question whether the work was art, but added: "Maybe our understanding of contemporary art has grown up a bit. I do think it's an important work for the Tate to have. It is his coming of age work."
Creed's is also known for Work No 850 which saw athletes running through the halls of Tate Britain, a work that culminated with Lord Coe taking part to kick off the Cultural Olympiad.
Creed was also behind Work 1197, part of the London 2012 Festival, in which people rang bells across the country for three minutes, including then Culture Secretary Jeremy Hunt, whose bell famously broke half way through.
Register for free to continue reading
Registration is a free and easy way to support our truly independent journalism
By registering, you will also enjoy limited access to Premium articles, exclusive newsletters, commenting, and virtual events with our leading journalists
Already have an account? sign in
Register for free to continue reading
Registration is a free and easy way to support our truly independent journalism
By registering, you will also enjoy limited access to Premium articles, exclusive newsletters, commenting, and virtual events with our leading journalists
Already have an account? sign in
Join our new commenting forum
Join thought-provoking conversations, follow other Independent readers and see their replies